Making a strong impression in male-dominated field
Whenever Kim Miale JD'04 negotiates a contract for a pro football player, she asks him to autograph a jersey for her office wall. One of those clients, Dez Bryant, a star NFL wide receiver who hired Miale as his agent in 2015, added an unexpected inscription:
"To Killer Kim," he wrote.
"That was pretty funny to me," said Miale, a circumspect and soft-spoken 38-year-old who, at 5 feet 4 inches tall, is quick to acknowledge that she hardly seems lethal. "I guess what he meant is I get stuff done."
There is little doubt that Miale (pronounced MY-ah-lee) is getting things done as one of the premiere sports agents in a business that skews 95 percent male. As general counsel since 2013 for Roc Nation Sports, founded by the entrepreneur Jay-Z, she has represented four top-10 players in the NFL draft, including the No. 2 overall selection in 2018, Saquon Barkley, a superstar rookie for the New York Giants.
Those would be formidable credentials for anyone immersed in the cut-throat shark tank that is professional sports representation. For Miale, one of only 42 women certified as football agents in a field with 800 men, it constitutes a glass-ceiling-shattering triumph. As Sports Illustrated put it in a headline in April: "Kim Miale Made History."
"I'm sure my competitors have played up my gender as a negative to signing with me," Miale said. "But really, I treat it as an advantage." For one thing, she said, it helps her stand out in an ocean of male agents. For another, many of the players she recruits come from families with strong female authority figures and role models.
"That makes it very comfortable for them to sign with a woman and have a woman continue to advise them in their business and career pursuits," she said. "And it's very easy for me to forge relationships with my clients' mothers or sisters or grandmothers. Obviously we relate on a different level than perhaps a male agent would."
The test to become an NFL agent
The business end of pro sports wasn't Miale's first career choice on graduating with honors from Suffolk, although she now says, "I can't picture doing anything else."
During her time at the Law School, the Rhode Island born Miale focused largely on litigation and contracts. It seemed like a good career path, she thought, and after graduating in 2004 she spent a year as a clerk on the Connecticut Superior Court. She then joined the Boston law firm Heifetz Rose and set to work as a civil litigation associate.
"But I realized I just wasn't that passionate about it," Miale said. "I couldn't do something that I didn't personally love."
She found herself thinking back to when she had interned with Kristen Kuliga JD'94, who in 2001 became the first female agent to represent any pro football player—Doug Flutie. In a daring step for any young agent, let alone a female one, Kuliga had started her own company, K Sports & Entertainment LLC, in Boston, and was building a solid roster of pro athletes looking for playing contracts and novel marketing opportunities. Kuliga was also eager to mentor up-and-coming Suffolk students.
"Kristen was a tough negotiator and a great example for me to look to," Miale said. "Her success when there were so few women in the business definitely gave me the belief that I could do it too. Had I not interned with her, I wouldn't be where I am."
Miale started researching the NFL Players Association's agent certification test, a lengthy multiple choice exam that focuses on matters as varied as collective bargaining, substance abuse policy, rights and benefits, and the rules and regulations governing sports agents themselves.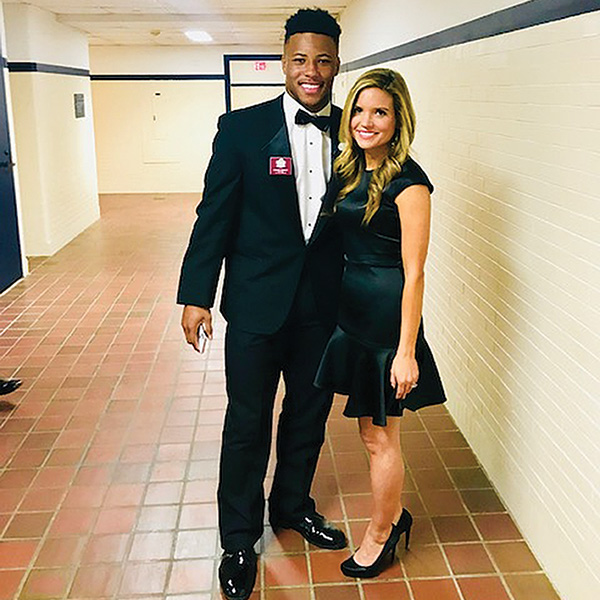 She sat for the test in 2009, one of perhaps two dozen women in a Washington ballroom filled with more than 200 men. That gender imbalance did not throw her off, she said, "because coming into it from a litigation background, I was used to being the only woman in the room." Miale easily made the grade.
A job interview with Jay-Z
Aware that breaking into the top echelons of sports representation can take years of networking and persistence, Miale said she adopted a simple mindset: "Don't let the odds or statistics dictate your goals in life. If you spend time worrying about those things, you're never going to get where you want to be."
By 2013, Miale was living in New York City with her husband, John Kelley JD'03, and working as a contract adviser for an established firm, Madison Avenue Sports & Entertainment. About that time, Jay-Z was looking to add sports representation to his Roc Nation portfolio, and the president of Miale's agency put her name forward.
It turned out that Roc Nation was looking for someone young and motivated, she said, and after a friendly interview and a meeting with Jay-Z she was offered the job.
"The focus for us is quality, not quantity," she said. "We don't try to sign as many as possible. In fact, I get the opposite directive—pick one or two guys who would be a great fit for this agency and focus on them."
Her first big-name client was Geno Smith, a quarterback she signed with the New York Jets. The visibility his signing brought her led to predictable back-biting. Rival agents complained to the players association and the media that Miale had violated union regulations by letting Jay-Z meet with Smith before closing his deal. Under union rules, only certified agents can recruit clients. The insinuation was that Smith had signed only because of Jay-Z's influence.
"I did not anticipate the kind of negativity that went on," Miale said. "It was definitely a challenge at the time." But true to form, she remained diplomatic and unflappable while the union investigated the claim—and dismissed it.
Soon, Miale was representing a bevy of major players. In addition to Smith and Bryant, she landed top-10 running backs like Leonard Fournette of the Jacksonville Jaguars and Todd Gurley of the Los Angeles Rams. Her stature rose even higher in July 2018, when she negotiated a four-year, $31.2 million deal for Barkley.
Negotiating on the "helmet to helmet" rule
When negotiating contracts, Miale draws on her Law School training to protect players from unforeseen pitfalls. While bargaining with one team, for example, she pressed for a provision that gave her client control over his medical treatment in the event of injury. (Citing confidentiality, Miale declined to name the player.) Not long after, the player was injured and disagreed with the team on his rehab schedule. The language Miale had insisted on prevented the team from revoking millions in payments.
In another negotiation, Miale bore down on a provision that said a player could forfeit millions of dollars in pay if he were "suspended by the league for any reason." The language was intended to address players' off-field conduct. But Miale realized the same terms could be cited if a player were suspended under the NFL's new "helmet to helmet" rules, which are aimed at disciplining players for illegal contact on the field.
"They agreed it was a valid point and carved out any suspensions due to this specific rule," she said. (According to NBC Sports, when other players learned of the clause they started asking their agents to negotiate the same protections.)
But most of all, Miale relishes the relationships she develops with her clients and their families. A typical Sunday or Monday, she said, will find her "checking in with them after their game, no matter what, to hear whether they've played well or struggled or, God forbid, they've been injured."
The players are putting "their hopes and dreams and livelihoods in your hands," she added. "You have to take that seriously."