Meeting of the Marketing Minds
Who's who of Boston business featured at annual "Bridging the Gap" event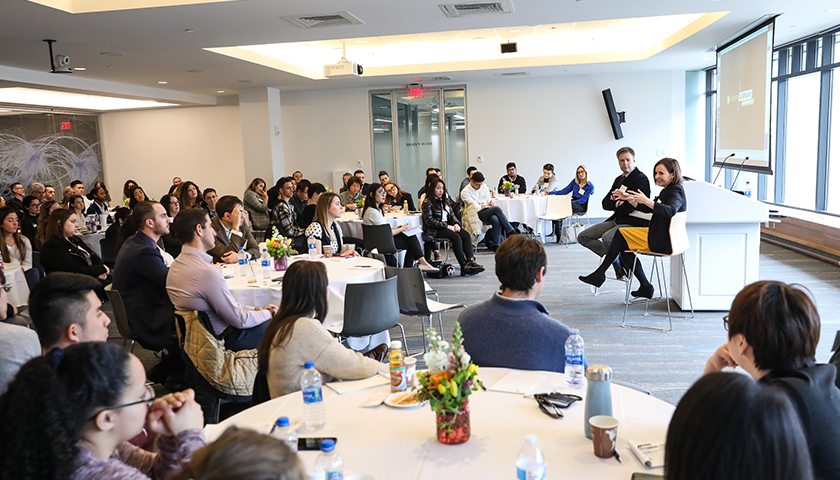 Going with the Flo
She's appeared in dozens of TV commercials. But how well does anyone really know Flo, the Progressive Insurance spokesperson?
Suffolk students and professors learned all about her at this year's "Bridging the Gap: Trends in Marketing" event. Organized and hosted by the Sawyer Business School's Marketing Department, Bridging the Gap brings professionals from companies like Google, Accenture, and TD Garden to share the latest marketing trends and thinking with Suffolk students and professors.
Vallerie Bettini is an executive vice president and marketing director at Arnold Worldwide, the agency that created the now iconic Progressive ads starring the hyper-nice, super-helpful Flo. Bettini took the audience of about 100 guests through the history of Flo and explained just how far-reaching the character has become: She's appeared in more than 160 ads, both on her own and with stars like LeBron James and Susan Lucci. Her Facebook page has 4.5 million likes. And Progressive's business has more than doubled, from $13.6 billion in 2008 to just over $30 billion today.
"I like to share the case, because it's a rare story to have a campaign go on this long," says Bettini. "I feel like you can get every kind of marketing experience on the Progressive business."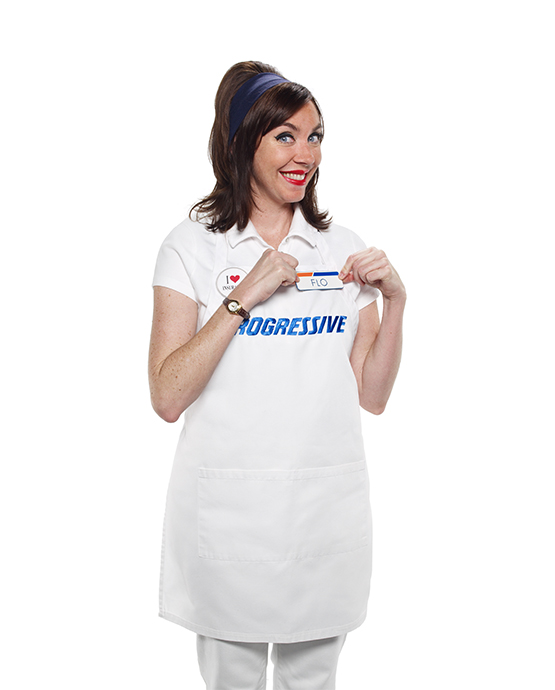 Bettini also talked about her own experience trying to break into the marketing business when her dreams of being the next Joan Lunden on "Good Morning, America," didn't pan out. She interviewed at Arnold seven times before landing a job, something that really resonated with students.
"If I ever get a rejection, that gave me hope," said Loren Desouza, Class of 2019. "She kept going and going and knew what she wanted, especially when her first plan didn't work. It wasn't even the presentation. Her story alone was a 'wow' for me."
Not your father's focus group
Bettini was just one of several marketing mavens to share ideas and anecdotes. Kathy Osthun, vice president of qualitative strategy and innovation at Chadwick Martin Bailey, explained how focus groups have expanded from the old-school two-way mirror setup to include more agile methods, like test-and-learn environments in which clients and customers brainstorm together. Marketers have had to adapt because "consumers are in charge of brands these days, so clients need to work directly with them," Osthun said.
Boston sports fans enjoyed a Q&A between Suffolk's Professor Skip Perham and Jen Compton, vice president of innovation and brand at TD Garden. Compton showed a quick video (a "sizzle reel" in marketing parlance) that highlighted all the changes she and her team are overseeing at TD Garden, everything from new bars and clubs to better T access to more women's bathrooms. She also talked about her company's Business Intelligence Group, which dives deep into audience metrics, trying to figure out ways to engage, reengage, and retain TD Garden customers. "We try to get the data then optimize it to ensure the best fan experience," she explained.
Industry connections
Bridging the Gap is one of the many "real world" opportunities the Suffolk marketing community has to meet local professionals, gain industry knowledge, and build a network.
"Our whole discipline changes so rapidly," says Elizabeth Wilson, chair of the Marketing Department. "It's great to show students new experiences and confirm for them what they're hearing in the classroom. Bridging the Gap is great for our faculty as well to help them maintain and broaden their connections with relevant and exciting companies."
Students, especially, say that the event is helpful, particularly as they begin their job searches.
"To see someone talk about everything we're learning, how they're living it and doing it, is really helpful," said Desouza, who, coincidentally, had friends in high school—male and female—who dressed as Flo for Halloween. "The event helped make it clear: What I'm doing in class is what I'll be doing when I graduate."
Contact
Greg Gatlin
Office of Public Affairs
617-573-8428
Ben Hall
Office of Public Affairs
617-573-8092