University to Dedicate Academic Center in Alumnus Leonard J. Samia's Name
Real estate leader's generous support for scholarships is opening doors for promising students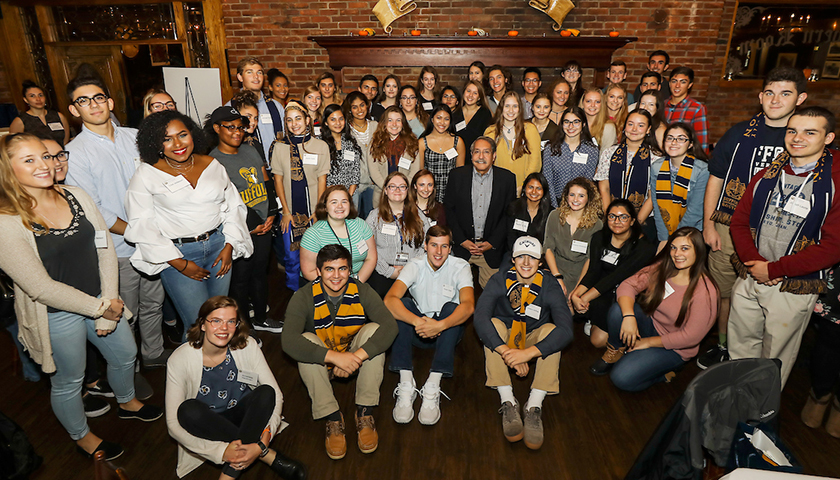 Suffolk University will officially dedicate the Leonard J. Samia Academic Center at 20 Somerset St. in a celebration recognizing the transformational philanthropic leadership of distinguished alumnus Leonard J. Samia and his enduring impact on generations of Suffolk students.
The dedication ceremony will take place at noon Friday, April 12, on Roemer Plaza, 20 Somerset St., Boston. Suffolk University President Marisa Kelly will speak, and Massachusetts House Speaker Robert DeLeo, a Suffolk University alumnus, will offer remarks during the naming celebration.
Samia, BSBA '69, is continuing his longstanding support of Suffolk students through a $10 million gift to the University in support of student scholarships—the largest single alumni gift in the University's history and one that is providing access to a Suffolk education for promising students now and into the future.
The gift funds scholarships that provide access to life-changing educational opportunities for students from Massachusetts who have significant financial need
"We are so very grateful to Leonard Samia and the Samia family for this truly transformative gift, which will open doors for generations of Suffolk students," said President Kelly. "Lennie is so passionate about this University and the education that we provide our students. How fitting it is to have him forever linked to the building that is central to our academic enterprise."
Samia is president and CEO of The Samia Companies, a family-owned residential and commercial real estate company. He began his career as a schoolteacher before achieving the highest levels of success in the real estate industry, and his commitment to education has been evident through his company's offering financial aid not only at Suffolk, but also for the educational pursuits of many of his employees and their families.
Samia has been a major contributor to Suffolk University, with a focus on helping Massachusetts students with financial need achieve their educational goals. Through the establishment of the Bert J. Samia Memorial Centennial Scholarship Fund, the Samia family provides generous support for Suffolk students from Allston-Brighton. The fund was named in honor of Samia's father. Samia also has made generous gifts in his family's name that supported construction of seven lobbies in the academic building that will bear his name.
Samia earned a bachelor of science degree in business administration from Suffolk University; his daughter Olivia graduated from Suffolk in 2012 with a degree in communication and advertising; and daughter Alexandra earned a Suffolk master's degree in business administration in 2011.
"One gains wealth, not to enjoy himself, but to help the needy," Leonard Samia said.
The 20 Somerset building that will bear the Samia name opened in 2015 and is designed to take full advantage of innovations in teaching and learning. Its focus on science and technology, including its labs and active-learning classrooms, prepare students for critically important jobs in growing industries. The building also is a hub for Suffolk's communication program, with cutting-edge production and editing suites and a state-of-the-art social media lab.
"Lennie Samia truly exemplifies the Suffolk story," said Bob Lamb, chair of Suffolk's Board of Trustees. "He remembers where he got his start and holds true to Suffolk University's founding concept: to pay it forward by creating educational opportunity for others. We are so very appreciative of Lennie and his passion for Suffolk University and our students' futures."