Building Something Great
Suffolk celebrates naming of the Leonard J. Samia Academic Center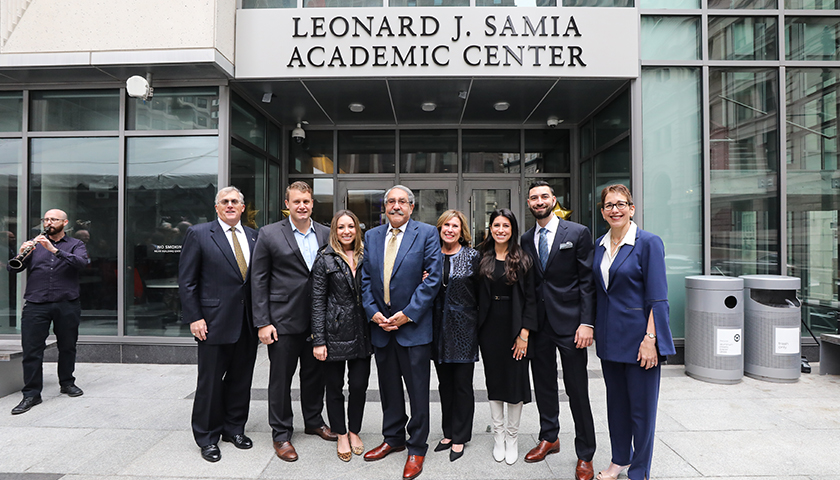 In one way Suffolk University's academic center at 20 Somerset Street has come full circle.
Up until 1930, in the exact same spot as the current building, there once stood the Somerset School, the first public kindergarten in the United States. The University has renewed the site's educational heritage and pays tribute to a champion of educational opportunity by naming the academic center for Leonard Samia, BSBA '69, whose transformational philanthropic leadership has had an enduring impact on generations of Suffolk students.
"How fitting it is that we name this building after a man who experienced firsthand the transformative power of a Suffolk education and who is so deeply invested in helping others access those life-changing experiences," said President Marisa Kelly at the dedication ceremony, which took place on a cool April day with trustees, faculty, students, honored guests, and the Samia family in attendance.
The event was held not just to rename the building but also to thank Samia for his overall dedication to Suffolk, most recently with a $10 million gift to the University in support of student scholarships. Named in honor of Samia's father, Bert J. Samia, it is the largest single alumni gift in the University's history, one that will provide access to a Suffolk education for promising students now and into the future.
"This unprecedented donation for need-based scholarships will help Suffolk continue its tradition of helping deserving students achieve their goals for many years to come," said Massachusetts House Speaker Robert DeLeo in his remarks. (DeLeo is an alumnus of Suffolk Law School.) "This generosity will lead to even greater things coming out of Suffolk University."
A Family of Rams
The Samias have a deep connection to Suffolk. Not only did Samia himself graduate from the Business School, his son Derek studied at Suffolk; daughter Olivia graduated in 2012 with a degree in communication and advertising; and daughter Alexandra earned a master's degree in business administration in 2011.
Not only that, the Samia family has made previous donations to Suffolk, including in direct support of 20 Somerset (the lobbies all bear the Samia name) and through aid to the University's "Samia Scholars," more than 50 of whom were in attendance at the ceremony, easily recognized in their blue shirts.
"Lennie's story is the Suffolk story—providing educational opportunity for another without asking for anything in return, except that others pay it forward," said Kelly.
The ceremony concluded with the Ramifications singing the "Alma Mater" and a Dixieland band escorting the guests inside to enjoy lunch, chat with the honorees, and thank Leonard Samia for his loyal support of the school.
Watch a time lapse video of the old building at 20 Somerset being demolished and the new Leonard J. Samia Academic Center being built.