Rachael Rollins: Know Your Worth and Learn from Mistakes
 Suffolk County district attorney addresses Black Law Students Association.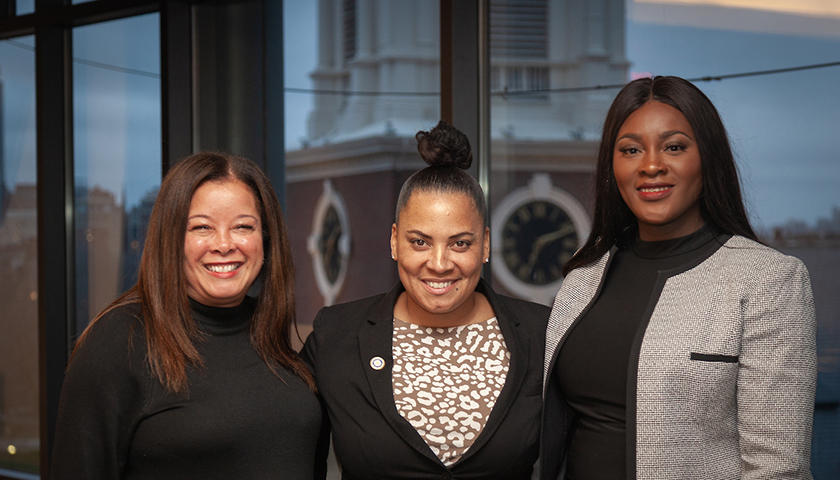 Suffolk County District Attorney Rachael Rollins answered questions about her recent policy reform memo but also offered words of advice to those gathered for Suffolk University Law School's annual Black Law Students Association alumni banquet.
Faculty, alumni, and students appeared to be more interested in Rollins' 66-page policy memo [PDF] outlining programs for mitigating incarceration of low-level offenders than in the political conflict it had engendered.
"This memo is available to everyone," said Kim McLaurin, associate dean for experiential education, as she introduced Rollins. "You can read it yourself….Don't rely on how somebody else has characterized the memo."
Before delivering her keynote, Rollins said she had learned from the previous week's public dust-up with the governor's office "to pick up the phone...I'm excited that we are now talking a lot more. And we had a really productive meeting. …I'm excited about moving forward and overwhelmingly focusing on safety in Suffolk County."
In her talk, she advised those attending to consider the following:
Be grateful
"Any day you wake up and take a breath and have another day on this planet, be grateful." Rollins told her audience she said she had seen more death—11 homicides—in her first 100 days in office than she had seen her entire life. "Every one of those victims, I'm sure, did not wake up that morning thinking their life is going to end."
Be deliberate
"One of the things I learned later in life… is: If you don't make a plan, you can't complain about wandering through your day, your month, your year, or your life...you feel more organized," she said, even if it just means making a list of things to accomplish the night before, and even if you don't end up achieving all those goals.
Know your worth
"Not just monetarily, but as a person. It makes decisions very, very easy for you." She had three job offers she refused because they were not right for her.
"And the last thing I'll say is for women: When you are asking for a raise—when you are saying you need a promotion...do your due diligence. Know the amount you are going to be asking for. Understand why you are asking. Make sure you make a strong argument because if they say 'no' you're in exactly the same position as before you walked in. You have to speak with confidence."
Ignore the noise
Rollins said when she was running for district attorney naysayers advised her that there were too many black candidates, too many progressives, and too many women running, and that she would split the vote. "If I listened to every person who told me 'there's never been a woman'…'you can't win...' you know: doom and gloom. I wouldn't be standing here. Right?"
Always do what's right, not easy
"It's hard to be the only voice when you feel that there is a community that has completely lost hope because they feel they are ignored, or over-policed or over-prosecuted. But I can tell you there are more people listening and every time you stand up and do what is right you are emboldening somebody else to do that or get the courage to do that themselves."
Failure happens
"Where exceptional people distinguish themselves is: We look at a situation, figure out what we did wrong, and we get up and we start moving. When you go through a failure and you continue to relive that, you are not learning from that experience. The answer can never be 'they were all wrong and I was all right.'"
"I'm telling you I'm learning from the mistakes that I made. And I will make more mistakes. They will not be the same mistakes. But you have to learn from it. You pick yourself up and you keep moving forward," she said.