Undergrad Places in National Paralegal Writing Contest
Persuasive essay argues that judges should be appointed rather than elected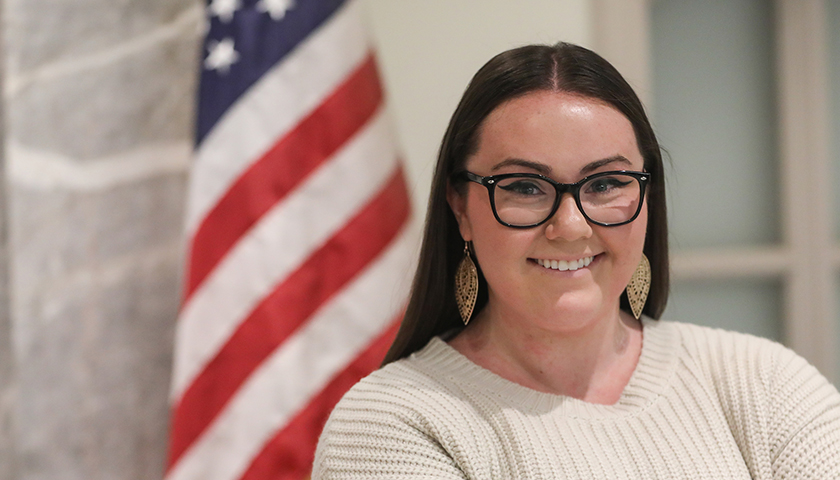 Briana D'Amelio's essay arguing that judges should be appointed rather than elected was so persuasive that it won her second place in a national competition.
Never shy to say what's on her mind, D'Amelio was eager to enter the essay competition sponsored by the American Association for Paralegal Education.
The scholarship contest was open to any student majoring in legal or paralegal studies at a college or university with an active Lambda Epsilon Chi chapter.
Students were asked to write a 500-to-750-word essay on whether judges should be elected or appointed, taking an advocacy position grounded in authority rather than based only on personal opinion and emotion.
Entering the contest "gave me more confidence in myself and the chance to incorporate what I've learned in legal studies, such as legal research and writing," said D'Amelio, Class of 2019, who is majoring in public relations and applied legal studies.
The argument for appointment
In the essay "Justice for the People: Should our judges be elected or appointed?" [PDF] D'Amelio emphasized that "there must be a uniform system set forth that keeps this branch free of being taken over by the outside influences that often plague the other two branches internally. There is otherwise imminent possibility of government downfall.
"This can be overcome by granting recognition to an individual who is qualified, distinguished and entrusted with the faith of our trusted elected representatives to keep justice and fairness at the forefront of this country."
Her essay pointed out that "with around half of the country (24 states) partaking in the practice of appointment successfully for decades, there is adequate evidence to prove that appointment works."
D'Amelio's essay will be published in an upcoming issue of The Legal Educator, a publication of the American Association for Paralegal Education.
Excellence in legal writing
Government Professor Mary Flaherty, D'Amelio's academic adviser and mentor, praised the award-winning effort.
"Briana's essay was complete and concise, which is the hallmark of good legal writing," said Flaherty, director of the Undergraduate Law Major and Paralegal Certificate Program. "With a limited word count, that's not always easy to do."
Gaining from experiences
D'Amelio worked last summer as a judicial intern for the Hon. John E. McDonald, Jr., at the East Boston Division of Boston Municipal Court. Her responsibilities included observing motions, hearings, and arraignments and conducting probation intake interviews.
She is working this semester as a legislative intern for Rep. Adrian C. Madaro (D- Boston). Her assignments range from conducting research on legal matters to corresponding with constituents to assisting on a social media plan.
D'Amelio also is active on campus, with gigs as a teaching assistant and coordinator, vice president of the Public Relations Society, public relations chair of the Commuter Student Council, publicity and promotions chair of the school's Dance Marathon, and president of the Gamma Lambda Chapter of Theta Phi Alpha.
The next step on her journey is law school.
"As a lawyer, I want to be a voice for those people who can't speak for themselves," she said.