Ford Hall Forum at Suffolk University Presents Washington Post Editor Marty Baron
Former Boston Globe editor to receive First Amendment Award
Washington Post Executive Editor Martin "Marty" Baron will speak at the Ford Hall Forum at Suffolk University, which will honor him with the First Amendment Award, the forum's highest honor.
The forum, to be moderated by journalist Meghna Chakrabarti, host of NPR's On Point, comes at a time of consternation over First Amendment rights: The media is lambasted as "the enemy of the people"; campus speakers are disinvited following protests by those holding opposing points of view; and social networks face questions about to what degree they should police content.
The discussion will take place from 6-7:30 p.m. Wednesday, May 1, in Suffolk University's Sargent Hall, first-floor function room, 120 Tremont St., Boston. RSVP
"The Ford Hall Forum honors Marty Baron for his powerful and fearless defense of the First Amendment, one of the greatest constitutional rights in our country," said Susan Spurlock, executive director of the Ford Hall Forum at Suffolk University. "His relentless pursuit of the truth over a storied career and his stalwart defense of journalists, especially in these harrowing times for the Fourth Estate, have resulted in impactful and important journalism with implications for years to come."
During his leadership of the Washington Post, its newsroom has won seven Pulitzer Prizes. Baron formerly was editor of the Boston Globe, which won six Pulitzers during his tenure, including the Public Service award for the Globe's investigation into clergy sex abuse in the Catholic Church. His role in that investigation was portrayed in the movie Spotlight.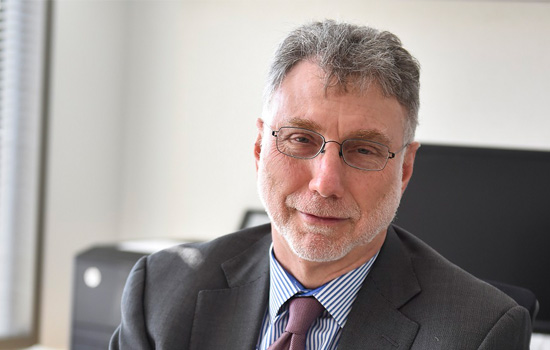 The Ford Hall Forum's First Amendment Award was created in 1981 to honor individuals and organizations demonstrating extraordinary commitment to promoting and facilitating the thoughtful exercise of the right to freedom of expression. Previous honorees include civil rights activist Rosa Parks, Pulitzer-Prize-winning columnist Anthony Lewis, the American Civil Liberties Union, and Congressman John Lewis, a civil rights leader.
The Ford Hall Forum at Suffolk University welcomes audience participation, and the media is invited to cover the event.
Founded in 1908, the Ford Hall Forum is the nation's oldest continuously operating free public lecture series. Its mission is to foster an informed and effective citizenry and to promote freedom of speech through the public presentation of lectures, debates and discussions. Forum events illuminate the key issues facing society by bringing to the podium knowledgeable and thought-provoking speakers.