Andre Silvestre transitions from jet-setting event planner to high end interior designer
Glamorous, bold, and sophisticated are the three words that interior design student Andre Silvestre uses to describe his work.
The native Brazilian's aesthetic couldn't be farther from Scandinavian minimalism, yet his "hygge" infused office design—drawing from the trendy Danish concept that emphasizes coziness and wellbeing—earned him first place at the International Interior Design Association of New England's 2019 student awards.
"Although my style is layered luxury, I like to challenge myself and step out of my comfort zone. I can work in many styles, including minimalism."
Andre Silvestre
Interior Design, Class of 2020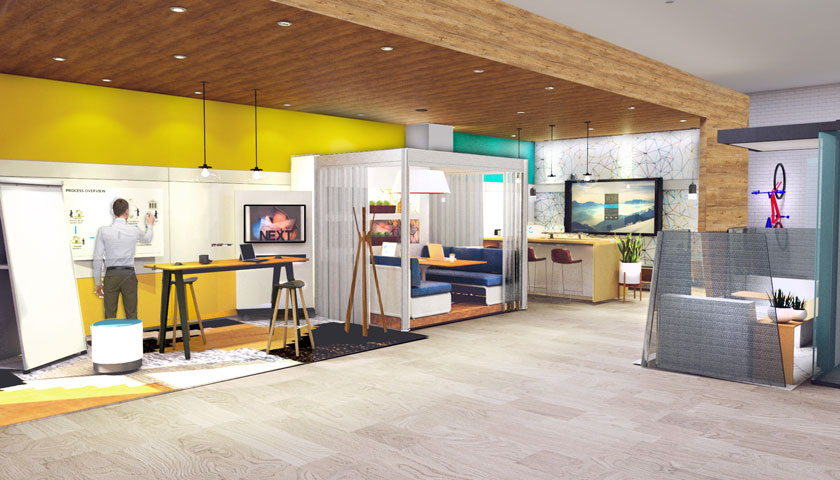 The award is both an honor and an affirmation for Silvestre, who left a thriving event-planning career to enroll in Suffolk University's interior design program three years ago.
Creative origins
Silvestre tried marketing and then journalism during college in Brazil. Neither major excited him, so he ended up spending more and more time on his creative pursuits.
Gigs as a wedding singer turned into jobs planning weddings and quinceañeras. His side job turned into his full-time career when Silvestre left school to start his own event-planning business at age 21. What followed were exciting years organizing high-end weddings in Brazil and several international events, including a five-star hotel opening in Africa and launches of luxury clothing stores.
"I realized what made me successful in event planning was my eye for detail and design vision, and I wanted to focus on that" says Silvestre. "I was fascinated by the United States, knew that I wanted to become a designer, and decided to move to the U.S. to pursue my new career here."
At first the transition from entrepreneur back to student was jarring. "I was freaking out because I thought that design school in English would be challenging." he says. "I had to work hard at learning English. But I know that I am very determined and focused if I'm doing something I really love."
A new language
Working with faculty at Suffolk taught Silvestre, Class of 2020, "the language of interior design." He studied the fundamentals, rules, and software needed to compete in the design world
Several faculty members recommended Silvestre for a 2018 Interior Design Association of New England mentorship, offered to the top four Suffolk students, providing him with a design-industry mentor and access to networking opportunities. Interior design professor Nancy Hackett also suggested that Silvestre submit his real estate office design to this year's student competition.
"Andre is a very individualistic young designer who brings a professional quality to his work," says Hackett.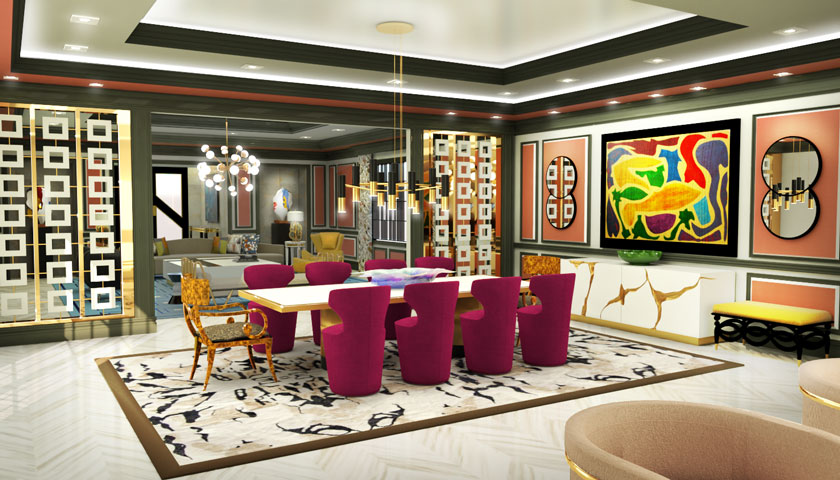 Last summer Silvestre worked part time as a junior designer at Favreau Design, which is housed in the Favreaulous Factory, a Boston interiors firm known for bold, colorful designs with a theatrical touch. There, he worked on a 1,100 square foot Beacon Hill apartment as part of a team that created custom furniture and cabinetry.
He still makes time to push himself further through competitions.
Silvestre recently submitted two projects to the 2019 Sherwin-Williams National Student Design Competition. His residential design—which used the 2019 Sherwin-Williams color of the year as the main inspiration for a New York City luxury apartment—was voted Facebook Fan Favorite and awarded first place.
"As an older student I expect more from myself," he says. "Winning competitions is confirmation that I did the right thing by switching careers."
Note: This article was updated to reflect the outcome of the Sherwin-Williams National Student Design Competition in June 2019.