Career Close-Up
Job Shadow Program offers insights—and the opportunity to impress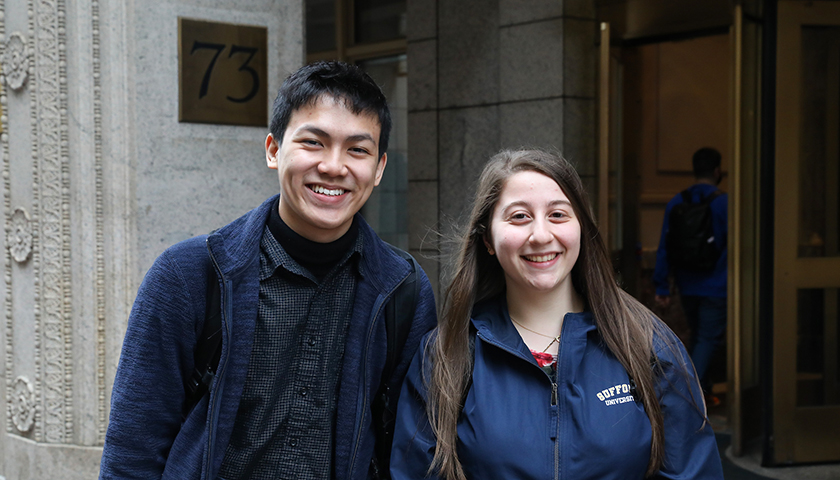 Spending a day alongside a mentor in a profession of interest gives students a lens on career possibilities, and it also can lead to internships and jobs down the road.
More than 70 Suffolk students took part in Suffolk University's 2019 spring break Job Shadow Program, following Suffolk alumni and others who work in industries related to their fields of interest.
One of them was Nancy Chammas, Class of 2022, who had to stay sharp when she visited Boston City Hall to shadow City Councilor
Tim McCarthy
.
"I learned right away that city government is a fast-paced environment," she said. "But the staff made me feel right at home and treated me like I was one of them."
A professional pathway
Last year Mariana Barragan, Class of 2018, was one of the shadows, and she so impressed the day's mentor, a Suffolk Law alumna, that she was recruited to work at her company.

Julie DeLillo hosted Barragan at the Perkins School for the Blind, and the two immediately connected. DeLillo, the director of human resources, offered Barragan a summer internship.

DeLillo then moved on to become director of human resources for the town of Swampscott and Swampscott Public Schools. Last fall, she reached out to Barragan about an open in her office. Barragan applied and is now the human resources benefits administrator.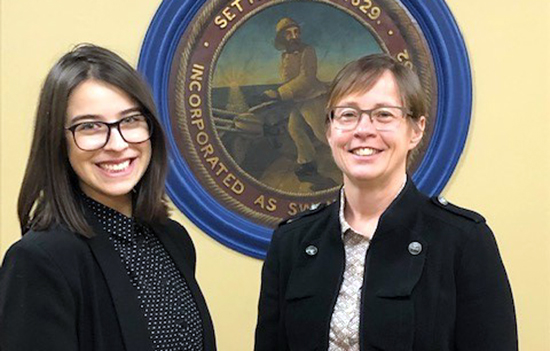 "The Job Shadow Program not only brought me a mentor in Julie, but it also directed me to a career that I wanted to pursue," said Barragan, who majored in Psychology at Suffolk. "Without that opportunity, I wouldn't be where I am today."

"Mariana showed professionalism and enthusiasm when she came in as a Job Shadow student," said DeLillo. "I was very impressed with her inquisitiveness and her interest in learning HR."


Communicating at tech research firm

Timmy Dao, Class of 2021, shadowed alumnus Michael DiPietro, chief customer officer of Lux Research Inc., a firm focused on technology innovation, joining DiPietro at a series of staff meetings.

"Everyone was professional and confident, and I learned how you have to fine-tune the details when making a presentation and communicating with people," he said. "This whole experience was much different than what I would get in a classroom."

DiPietro, vice president of the Sawyer Business School Alumni Board, shared some key tips for Dao to follow moving forward.

"I told Timmy to keep in touch, work hard, use all the resources available to him at Suffolk, and make the most of every opportunity," he said. "He was really plugged in to what I was saying."


International & neighborhood connections

Chammas attended a breakfast with McCarthy, where she was introduced to Seamus O'Domhnaill, the Lord Mayor of Donegal, Ireland. She later accompanied the city councilor to a meeting with his District 5 constituents.

"I observed how Tim interacted with people and how quickly he adapted to different situations," said Chammas, a Government major. "At the meeting, I learned how organized and concise you have to be when conveying your message."

McCarthy felt that shadowing him was a good learning experience for Chammas.

"There's no better learning than hands-on learning," he said. "Any time a student can get involved with an opportunity like this, the better it is for them when it comes to networking and building up their resume. This applies to any field."