Justin Rhuda applies legal learning in teaching teens and advising peers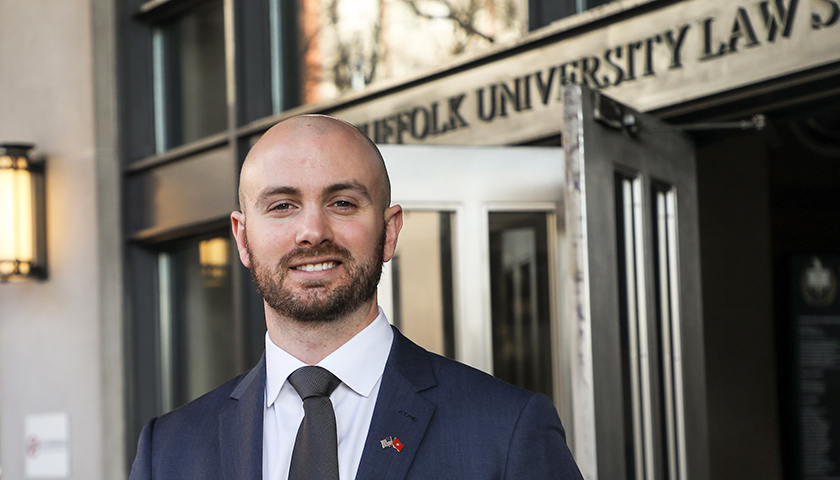 Ductus Exemplo, or Lead by Example, is the motto U.S. Marine Corps officers live by and one that military veteran Justin Rhuda has continued to follow as a Suffolk University Law School student who has brought his ethos of service to the Boston community.
Rhuda who was a finalist for National Jurist magazine's Law Student of the Year and, as of this writing, is the highest ranked student in the day division, will graduate with the Suffolk Law Class of 2019.
Even with these impressive accomplishments, Rhuda is even better known on campus for improving the lives of others.
"What really sharpened any ability I have to make an impact on other people was my training and experience in the Marine Corps," he said. "But in law school, I've learned additional skills that allow me to continue striving to make a positive difference."
Pro bono effort
One of those moments came a year ago when Rhuda helped stop the eviction of a former U.S. Army prisoner of war and his family, who were facing homelessness. "It was great to help a fellow veteran outside of the service," he said.
Rhuda, who was working as a summer associate at Holland & Knight LLP at the time, said that his military training has helped him to succeed in law school. "Law school is very intense and teaches you a new way of thinking and analyzing situations," he said. "I've been able to handle everything because I've looked at each class and everything I'm involved with almost like I was on a mission."

Rhuda was a U.S. Marine Corps captain from 2010 to 2015, stationed for two of those years on a naval ship in the Persian Gulf for a regional offensive operation against ISIS in Iraq and Syria.
He was second in command of a 180-man company, which he describes as "911-style first responders" who would rapidly address crises. He also planned, designed, and implemented a seven-month pre-deployment crisis-response training cycle.
Adviser to homeless vets
Rhuda's leadership continued at Suffolk Law. He worked as an adviser to low-income veterans at a Boston homeless shelter in 2017 through the Veterans Legal Services. It was a role that he cherished.
"The best part of the job was connecting with other veterans," he said. "Once I told them my background, it was an immediate connection that elevated the baseline of trust."

During his second year at Suffolk Law, Rhuda worked as a mentor in the Marshall Brennan program, teaching constitutional law to public high school students in Roxbury. His focus was on "street law," covering search and seizure, stop and frisk, and school/student privacy issues.

"The program allowed students to learn some of the legal tools they need to protect and understand their rights and evaluate situations in the community and learn how to become engaged and productive citizens," said Rhuda.
Launching legal career
Rhuda, who will join Holland & Knight's IP practice as a full-time associate in the fall, said there is a difference between helping teenagers and veterans.
"With high school students, you're trying to help them by preventing a problem from happening," he said. "With veterans, unfortunately, you're trying to help them with a problem that has already happened."

Rhuda has been actively involved as a student attorney in Suffolk Law's Juvenile Defenders Clinic, and he is president of the Law School's Veterans Association.

"Justin is incredibly hardworking and deeply civic-minded," said Dean of Students Laura Ferrari.

"As a top student, Justin had his choice of academic honor opportunities but instead chose to spend his free time helping others in the community and using his leadership skills to improve the experience of veterans in our law school."

Rhuda expects to stay connected to the school that paved the way for a new mode of service.

"Attending Suffolk Law was one of the best decisions I've ever made," he said. "I plan to stay well-connected to the school after graduation and to give back in any way I can."