PreLaw Magazine Places Suffolk Law on A-List for IP and Trial Advocacy
Clinics, externships, journals & more factor in "Top Law Schools" specialty rankings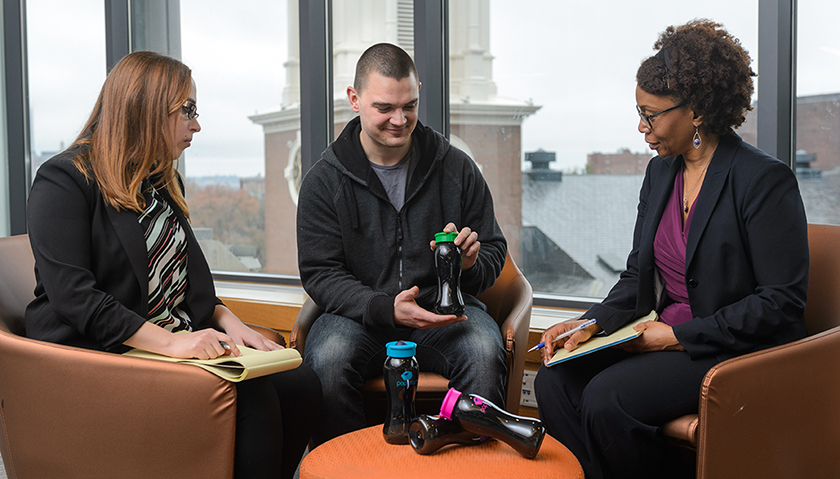 Suffolk Law is listed among the "Top Law Schools" nationally for intellectual property and trial advocacy in PreLaw Magazine's spring 2019 issue. Both programs received an A rating.
PreLaw looked at schools' concentrations, clinics, centers, externships, journals, student groups, certificates, and what it called "other added value."
One of the centerpieces of the trial advocacy program is the school's National Trial Team, which has won the New England regional championships of major national trial competitions 29 times in 34 years.

The success of the trial advocacy program, year after year, is based on a few key factors: a large selection of trial advocacy courses; 15 trial/competition teams; top-20-ranked clinics, many of which put students in front of judges in court; and courses like Pretrial Litigation, Appellate Practice, and Dispute Resolution (the DR program is ranked #16 in the country by U.S. News). Judges who are Suffolk alumni regularly return to their alma mater to teach trial advocacy courses.
IP goes beyond the basics
Suffolk students are able to move beyond the basics of Intellectual Property law by taking specialized coursework focused on topics ranging from "IP for start-ups" to licensing and post-grant review. These practical, niche courses contribute to professional success: Suffolk graduates make up 30 percent of the state's large-firm patent law partners and large numbers of biotech in-house counsel.
Battling Monster Beverage
Students in Suffolk Law's Intellectual Property & Entrepreneurship Clinic put classroom learning to the test in real-world cases. Students in the clinic represent small businesses, inventors, and artists in IP matters. One example: a case against Monster Beverage, the $28 billion soft drink conglomerate. Students' diligent efforts protected the niche blog MonsterFishKeepers.com in a multi-year case before the Trademark Trial and Appeal Board (TTAB). As defense team member Meaghen Kenney told the Washington Post, the best part was that "they have all this money to burn, and I'm doing it for free."

The victory follows another favorable TTAB ruling, in which IP clinic students protected the trademark of women's-clothing brand NautiGirl against apparel giant Nautica. According to the Seattle Times, the three-year pro bono battle saved the students' small business client more than $200,000.

PreLaw is not the only publication to hold Suffolk Law programs in high esteem. U.S. News & World Report ranked Suffolk's trial advocacy program 15th in the country for 2020, the fourth consecutive year it has been ranked in the top 20 in that publication's "Best Grad Schools" guide.