Students Argue Before Justice Alito and Other Judicial Leaders
Suffolk Law National Securities Team climbs to finals; awarded "best brief"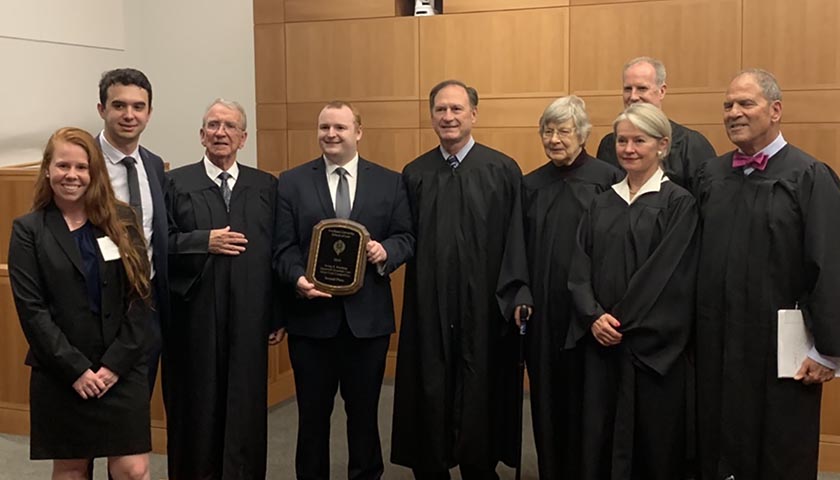 Suffolk University Law School students won the award for best brief and finished second among 30 schools in a securities law national competition judged by U.S. Supreme Court Justice Samuel Alito; U.S. Court of Appeals judges for the 2nd, 3rd, 9th, and 10th Circuits; and a U.S. district court judge. National Securities Competition team members Margaret Stratton, Thomas Wood, and Dylan Woods will graduate next year in the class of 2020.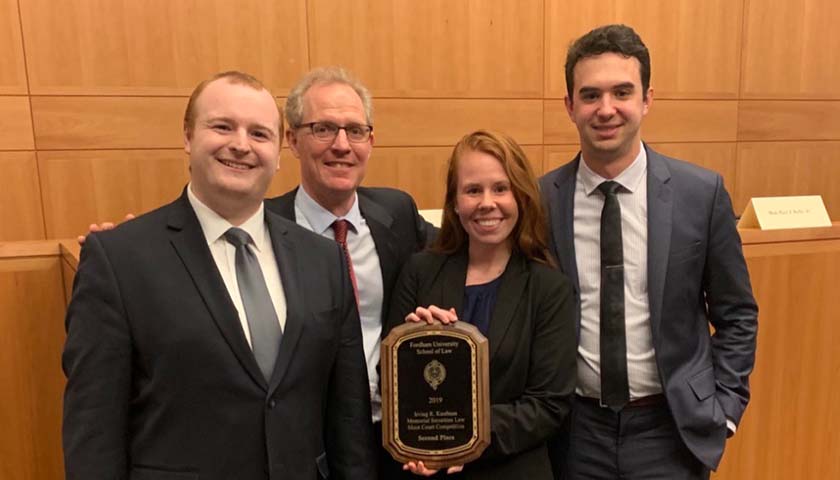 The Kaufman Securities Law Moot Court Competition, held in March, offered Suffolk's team a once-in-a-lifetime experience, according to Wood.
"I started out training for the Kaufman Competition with no knowledge of securities law, and found myself in the finals having a nuanced discussion with Justice Alito," he says. "It's extremely rare for a law student, even a lawyer, to argue before a Supreme Court justice. I'm indebted to Suffolk for helping prepare me for such a significant moment in my professional life."
Intensive preparation
Wood credits the team's success to hard work studying securities law and two-hour prep sessions held several times a week with Suffolk Law alumni and faculty experts. The alumni assisting the team ranged from prominent securities and investment attorneys to a U.S. Securities & Exchange Commission regulator. The preparation helped the team both to understand the nuances of the law and to handle intense, curve-ball questions, he says.
Wood, a judicial intern for Massachusetts Supreme Court Justice Elspeth B. Cypher, JD '86, says he got comfortable delivering oral arguments this year after competing in and winning one of Suffolk's in-house appellate moot court competitions and the Second-Year Mock Trial Competition. Those Suffolk competitions often are judged by expert faculty, law firm partner alumni, and sitting and retired judges. Wood also is a competitor on the school's highly successful National Trial Competition Team, which has won one of the two major national trial competition regional tournaments 29 times in the last 34 years.
Suffolk Law Professor Joseph Franco, a former attorney in the office of the General Counsel of the Securities and Exchange Commission, was one of the team's key advisers. Franco and the expert alumni "were a huge help in getting me comfortable with the substance and nuance of this complex area of law," says Wood.
Gaining comfort under fire
Another student on the team, Dylan Woods, had a different set of problems to overcome. While he had some background in securities law, he didn't feel comfortable as a litigator. "I made all of the classic mistakes during oral argument practice. I came up with a fully typed, several page speech, which I'm reading robotically line by line, swaying and gripping the podium. Looking down, stuttering. Professor Franco, week after week, got me to look him in the eye and, without looking down, make my argument. He's quite a dedicated guy," says Woods, who is a member of Suffolk Law's Transnational Law Review and has a job with the consulting firm Robert M. Curry & Associates in Boston this summer.
"It was quite the radical transformation to get me to a place where I could take hardball questions from circuit court judges and Samuel Alito."
The experience gained from taking high court judges' questions helps prepare you for job interviews, Woods says. The judges tend to "pull you back to a sore spot in your argument," and after facing that, "you feel that you can survive a tough interview question or a grilling from an attorney with more experience."
Prepped for a "Hot Bench"
"It's called a 'hot bench,' when you're getting pointed questions, one after another," says team member Margaret Stratton, "and we went through that in practice with alumni experts and Professor Franco. It was like a contact sport. By the end, we didn't feel intimidated." Stratton will be working as a summer associate at Goodwin Procter and is the incoming editor-in-chief for Suffolk University Law Review.
At the beginning of the team's preparations, Stratton says she was guilty of "speed-talking and cramming in arguments." In competition, she wrote in the middle of her notes, in capital letters, "GO SLOW. SLOW DOWN."
"I learned that it's not enough to just make the right argument. You need to be convincing, deliver with some punch. I felt myself getting better each round." The Kaufman Competition, she adds, "was by far the best thing I've done in law school."
Winning best brief was especially gratifying. The competition rules indicated that the brief had to be written without outside help. "There were three of us, each with a different voice and style and we needed to build something cohesive and persuasive. It was so validating to be called up as the first place team."
After an environmental disaster
The Kaufman Competition features important unresolved legal issues in securities litigation. This year's problem involved a fictional oil-fracking corporation that contended in its required disclosures that it adhered to environmentally sound practices. Its fracking operations subsequently triggered a major environmental disaster.
Students representing the fictional investors and company presented legal arguments on whether the generalized disclosures could be subject to legal penalties when the company was aware of information suggesting potential problems and whether the company's chief executive officer could be held personally liable.