Teaming up to Fight for Justice
Law students and undergraduates work together to help clients
When law student Julianne Jeha presents her first case before a judge in a complex domestic abuse and custody matter, she'll have an unusual colleague by her side — undergraduate student Shai Myers, whose help on the case has been invaluable.
Appearing in Chelsea District Court on her 25th birthday, just a few days shy of her law school commencement, Jeha will seek a restraining order on behalf of a client she and Myers have helped during their time in Suffolk's Family Advocacy Clinic.
Myers, a Class of 2020 undergraduate law major, seized the opportunity to intern in the clinic after taking Professor Mary Flaherty's undergraduate law program course on domestic violence.
"My dad is a retired detective who worked with domestic violence victims and the Department of Children & Families a lot," says Myers. "I like hearing the inspirational stories of people coming back from those situations."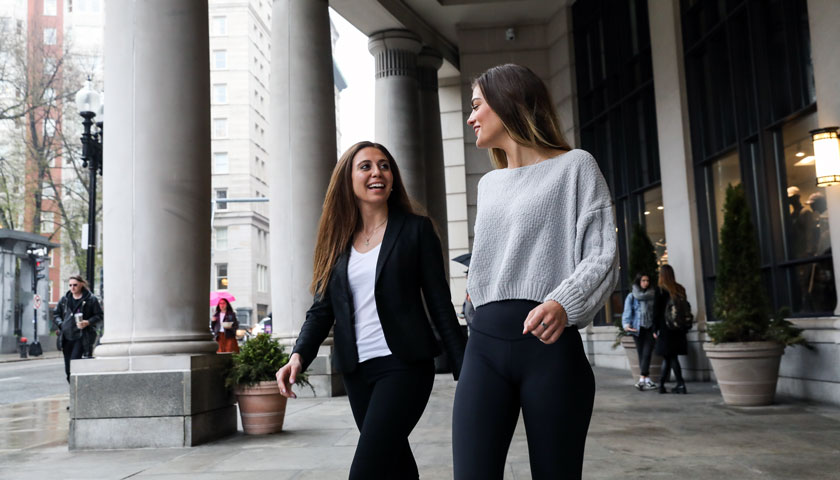 Working in the Family Advocacy Clinic—which handles cases that involve divorce, paternity, custody, visitation, child support, and other family dissolution matters such as abuse prevention cases—allows Myers and her mentor Jeha to make a direct positive impact in the lives of real clients.
A collaborative community
Suffolk's legal clinics give law students hands-on experience with clients under the supervision of faculty practitioners. They also offer underserved populations access to legal advice and advocacy. This year 97 Suffolk law clinic students put in a total of 32,786 hours of free legal service.
Now a partnership between the Law School and the College of Arts & Sciences is building on that success by bringing undergraduates with paralegal skills on board. Students earn hours toward their internship requirement by assisting law students with real cases. The program started last year in the Family Advocacy Clinic and was expanded this year into the Human Rights and Indigenous Peoples Clinic.
With law students balancing their clinic hours with their demanding course loads, undergraduates fill an important supportive role in the clinics, says Practitioner-in-Residence and Family Advocacy Clinic Codirector Chris Butler.
"They attend client meetings, take notes, and travel to courthouses, government offices, and police stations to get records. They act as sounding boards and provide an audience for the law students to practice presentations," she says.
Clinical Professor and clinic Codirector Maritza Karmely says the team works better as "a collaborative community of legal professionals" and agrees that the undergraduates have made substantial contributions to the clinic's work.
"Last year we had an undergraduate student who was fluent in Spanish." says Karmely. "Her presence allowed the student attorney to meet with the client any time, not just during standard business hours when we have a translator available. She could also accompany the client to court and make them feel more comfortable."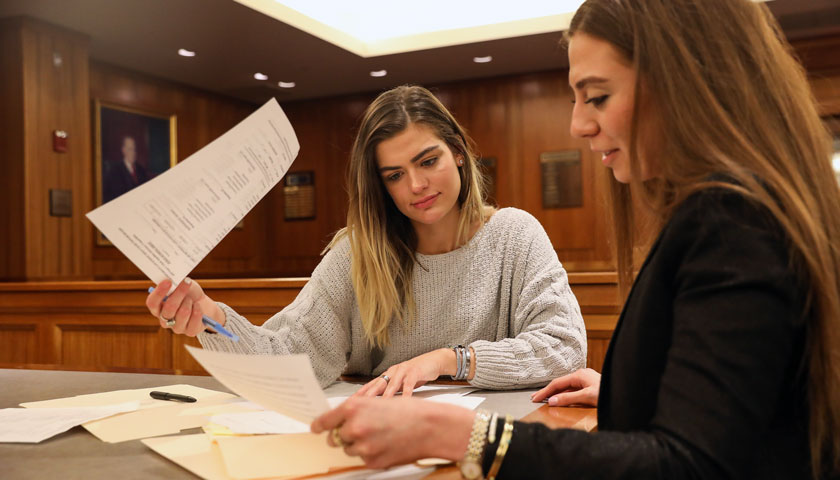 Jeha appreciates the detailed work Myers does to help her prepare—like creating a painstaking timeline of all their client's various Department of Children & Families records, police reports and court orders—and also values her input. "When I consult with a client, I send Shai the agenda, and I'm open to her suggestions. Two minds are better than one."
"Paralegals can do so much," says Flaherty, director of the undergraduate law program and certificate in paralegal studies. "It's wonderful that law students have the opportunity to work with undergrads in that paraprofessional role, because expanding the team increases access to justice."
Supporting the client and each other
At the start of the spring semester clinic internship the law students described their open cases to the undergraduate students. One of Jeha's clients piqued Myers' interest, and the two decided to partner for the semester.
Jeha's client, one of three this year, is seeking visitation rights with her young daughter and protection from an abusive former partner. It's a complicated situation that involves dealing with Department of Children & Families, Probate and Family Court, and criminal court as Jeha and Myers work toward twin goals: keeping their client safe and helping her develop a healthy, lasting relationship with her child.
Myers and Jeha have helped their client through difficult stages of the lengthy process, including sitting with her in court as she waited to testify in her former partner's criminal assault case. The two students recently spent time observing the judge Jeha will face when she requests the restraining order for her client.
The work takes both mental and emotional effort.
"In talks with my dad, I learned that he had a hard time emotionally disconnecting from his cases, too," says Myers. "In this scenario it can be a good thing to feel for people and know what they're going through. We can be their support system in that situation."

One victory so far in the case keeps the pair going.
"When I saw my client in January it was clear she was devastated because she spent the holidays alone. I contacted her daughter's school therapist and she helped set up a time for the mother and daughter to meet. We helped them avoid the frightening process of going through Probate and Family Court to get an official order. It was the first time they'd seen each other in seven months. This mother came to us looking for help to be part of her daughter's life, and I felt like the catalyst for making that happen."
Julianne Jeha
BS '16, JD '19
Win/Win/Win
When the clinics partnership began, Associate Dean for Experiential Learning and Director of Clinical Programs Kim McLaurin expected it would benefit the undergraduates. She didn't anticipate such strong positive responses from the law students.
"Our students love mentoring people who are so enthusiastic," says McLaurin, who notes that the learning experience goes both ways.
"When I was an attorney who hired people, those who struggled were the ones who couldn't work well with the paralegals and other support staff," she says.
One reason for that, according to Karmely, is that delegation is not a skill that comes naturally to lawyers. "This experience helps our student attorneys find the right balance between supervision and micromanagement."
Clients appreciate having a full supportive team working on their cases, says McLaurin, who calls the partnership a "win for everyone."
Jeha will be clerking in the Rhode Island trial courts after graduation and is considering pursuing family law litigation after her experience in the clinic. For her, mentoring Myers was a chance to pay forward the guidance she received while working as a paralegal before she started law school — and to prepare for her future.
"I see myself working in a law firm with paralegals under my wing someday. This is good practice," she says.
As Myers heads into her senior year, she has a new understanding and appreciation for her intended profession.
"The first day was overwhelming, but we learned [law professors] are real people who just have an immense workload. I knew I had an interest in this area, but I've learned so much from the clinic and Julianne. I definitely want to work in the clinic again when my time in law school comes."
Shai Myers
Law major, Class of 2020