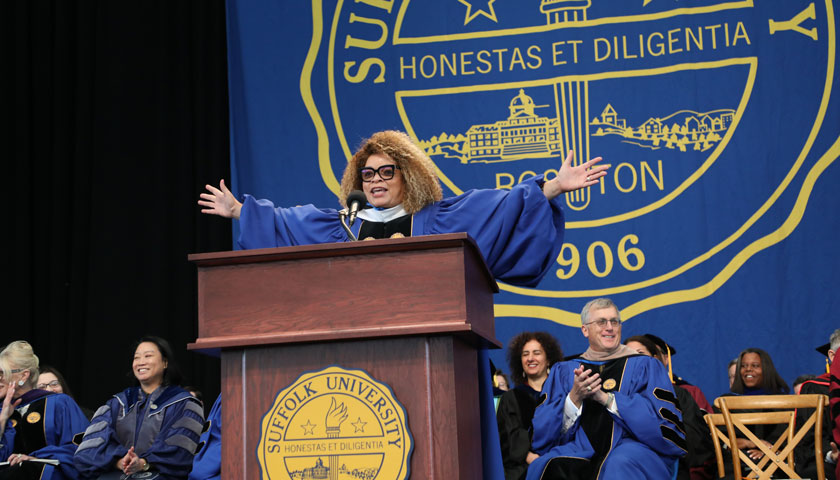 Ruth Carter, Oscar-winning Black Panther costume designer, called on Suffolk University graduates to be lifelong students of their passions, to pursue their goals in service of something bigger, and to look inward for self-validation to develop foundations to sustain them through difficult times.
"Take chances and be unpredictable. You have your whole life to live by the book," said Carter in her keynote speech to Suffolk's College of Arts & Sciences graduates.
Carter, a visual storyteller who has been lauded for incorporating the history of the black experience into her designs and who became the first African American woman to win the Academy Award for Best Costume Design earlier this year, received the honorary degree Doctor of Humane Letters at the College ceremony, one of three Suffolk commencements held at the Rockland Trust Bank Pavilion on the Boston waterfront.
Her speech drew on lessons learned from three decades creating meticulously-researched, character-revealing costumes for film and TV productions, including her Oscar-nominated work on Spike Lee's Malcolm X and Steven Spielberg's Amistad.
"Start today"
Carter recalled leaving her Springfield, Mass., hometown to seek opportunities after college. Detailing the "adventurous time with friends, supporting each other, and figuring out Hollywood" she encouraged the Suffolk graduates to heed the example of her friend and colleague, the late filmmaker John Singleton, director of Boyz n the Hood among other films and television programs.
"John Singleton knew the stories he wanted to tell while he was sitting in the exact same seats you are today. He left his graduation running so he could get on with telling his stories," said Carter.
"You have more resources at your disposal than in any time in history, a great foundation in Suffolk University, and an incredible life experience in Boston. Take from John Singleton's example and start doing what it is what you want to do in this life. Start today."
"You have to look inward"
Carter told Suffolk graduates to take strength from mentors "who believe in your talents and can see you before you can see yourself," but to develop their own sense of worth by pursuing quality, purpose-defining work.
"When times get difficult, you'll learn to rely on that foundation and come back to your purpose," she said, recalling times when she drew on her own strength to weather times of "heartache and heartbreak."
Carter described her pursuit of excellence and authenticity in design as a personal mission to learn as much as possible about African and African American history, literature, and art—drawing inspiration from "playwrights and poets [who] raised me up with their rich stories and made me come alive."
"I realized whether or not the film did well in the box office or became a cultural classic, I was in control of the art I produced," she said. "I wanted to make sure I brought the best of myself, because people will notice when you do well; they may offer you a role of a lifetime."
For Carter, the "role of a lifetime" as costume designer for 2018's Black Panther, which earned her an Academy Award, was many years in the making. She put her achievement in perspective for the undergraduates in the audience.
"After Amistad, it would be 21 years before I'd see my next nomination. That's the entire span of your lives," she said. "During that time, I learned about self-validation and to try to stay true to my calling and purpose. When there is no outside source giving you validation and a feeling of worthiness, you have to look inward."
In closing, Carter charged the Suffolk students to "be in control of the quality of work and art you present. You can write your own story."
A powerful force for good
Speaking on behalf of President Marisa Kelly, who could not attend the ceremony due to a death in the family, Acting Provost Sebastián Royo lauded the graduates' positive impact on their communities and the lives of others.
"You and your colleagues throughout the University registered more than 30,000 hours of community service through volunteerism and service learning projects," he said. "Those experiences have not only been a valuable part of your own education, but they also have made communities, including our Boston community, better. Through your contributions, you have lifted up lives."
Calling them a "powerful force for good," Royo noted the graduating class' service to organizations such as Jumpstart, the Boston Debate League, Habitat for Humanity, the New England Center for Homeless Veterans, the Suffolk CARES food pantry, and many others.
Royo cited examples of students' work to help others and improve their communities, including their roles as polling station volunteers, climate researchers, and assistants in Suffolk's free legal clinics.
Royo also praised the graduates' ability to rise above divisive rhetoric to create an atmosphere of civility on campus.
"When others have expressed viewpoints different than your own, you have been willing to listen and engage in respectful conversation. And that too is a core Suffolk value. The world needs this kind of civility now more than ever.
About Ruth Carter
Revealing a character's essence through costume design has brought Ruth E. Carter accolades as an "essential visual storyteller of Afrofuturism."
Carter, originally from Springfield, Mass., has played a significant role in shaping the personas of characters in more than 60 film and TV productions during a three-decade career. She won an Oscar for best costume design for her work on the 2018 Marvel Studios blockbuster Black Panther, with costumes that not only gave authenticity to an imagined world but also are influencing the world of fashion. The Wakandian attire melds a sci-fi vibe with carefully researched African motifs. Among the influences were the color symbolism of the Maasai people of Kenya and Tanzania and the jewelry of the Ndebele women of Southern Africa.
Previous Academy Award nominations for costume design came for her work on Spike Lee's Malcolm X—one of more than 10 films she worked on with the director and actor—and Steven Spielberg's Amistad. Carter also was nominated for an Emmy for the 2016 reboot of Roots.
Carter's imagination is a key to her designs, but she also is known for her comprehensive research in recreating the clothing of different times and places. She created clothing that might have been worn by a 19th century Spanish queen and by African slaves for Amistad. The look and feel of the civil rights era was recreated for actors playing the Rev. Martin Luther King, Jr., his allies, and adversaries for Ava Duvernay's Selma. And she captured the fashion vibe of 1980s Bedford-Stuyvesant for Lee's Do the Right Thing.
A "Heroes and Sheroes" exhibit of her work has toured the United States in 2018-19, and the fashion industry recently honored Carter for her iconic work in some of the most influential films in U.S. history. She told the industry guests that she was attracted to costume design through "these stories of African-American culture, this story of our journey. When I started, I didn't see very much of us, and I really in my heart wanted to tell my stories."
Carter holds a BA from Hampton University.
Commencement 2019
The College of Arts & Sciences Class of 2019 is made up of 782 new alumni, with 659 undergraduate and 123 graduate degrees awarded. The ceremony was one of three Suffolk commencements held on Sunday, May 19, at the Rockland Trust Bank Pavilion on the Boston waterfront.
The University conveyed a total of 2,137 undergraduate and advanced degrees during weekend ceremonies.
More from College of Arts & Sciences Commencement 2019