A Regional Crisis
Moakley Breakfast Forum explores the Boston area's "housing emergency"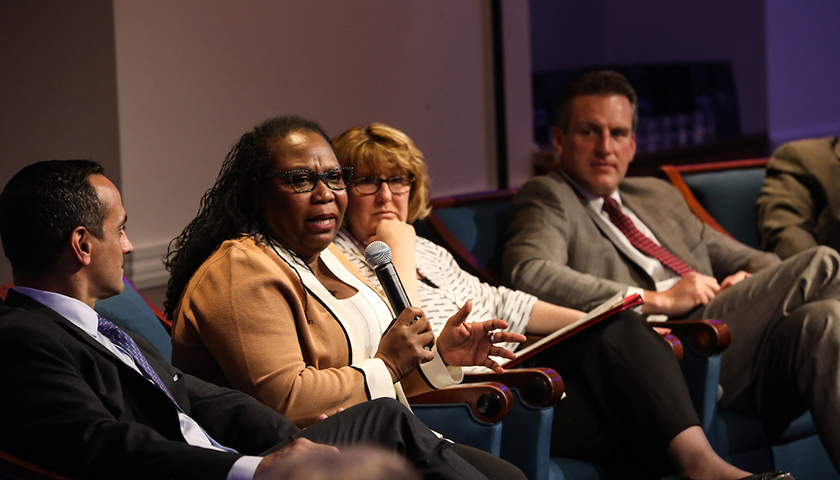 Greater Boston has a dubious distinction these days, one that won't surprise most people: The area is one of the top three most expensive places to rent an apartment in the nation, trailing only San Francisco and New York.
That was just one of the sobering statistics from Jay Ash, former Massachusetts secretary of housing and economic development. He was one of four panelists at this spring's Moakley Breakfast Forum who looked beyond Boston's sky-high real estate prices to examine the multiple impacts that a lack of housing can have.
The "The Greater Boston Housing Dilemma: Who Has Skin in the Game?" forum was cosponsored by the Moakley Center for Public Management and the Ford Hall Forum.
Seven-term Somerville Mayor Joe Curtatone pointed out that the solution is not simply to build more units.
"It's complex," he said. "Growth is not the cause of this problem. There's no linear solution and no linear causation. The housing emergency is the consequence of many policy decisions colliding around how we grow our communities, how we think too provincially, how we fail to invest in transportation." He referred to the issue as a "housing emergency."
Chrystal Kornegay, executive director of MassHousing, explained how her agency helps provide financing for affordable housing in Massachusetts by selling bonds and lending the proceeds to help create low- and moderate-income rental housing. Like Curtatone, she thinks there needs to be a big-picture approach to the problem.
"Thinking about these issues regionally is going to be a huge key to how we move this forward," she said. "We also have to think of them in their entirety and how they're interrelated."
"For our constituents, 'housing' and 'employment' are probably the most sought after resources after 'breakfast' and 'lunch.'"
Karen LaFrazia
President and CEO, St. Francis House
Helping the homeless find homes
"For our constituents, housing and employment are probably the two most sought after resources after breakfast and lunch," said Karen LaFrazia, president and CEO of St. Francis House, which serves Boston's homeless population. "So it's imperative to develop deeply affordable housing."
The organization, the largest day shelter in Massachusetts, is poised to open The Union, which will offer 46 units of affordable housing in the former YMCA building at 48 Boylston Street. As someone who sees homelessness every day, LaFrazia understands how critical it will be to have that space, especially in downtown Boston.
It's not just housing for housing's sake. LaFrazia pointed out the inefficiencies and expense of keeping people in shelters and how having housing leads to better results for drug users and those with mental health issues.
"Through the combined efforts of all the shelters in Boston—as well as the leadership of the mayor and the Department of Neighborhood Development—771 chronically homeless men and women have been placed into housing, and 96 percent of those people are staying housed," she said. "We're saving about $10,000 per person just moving someone from shelter to housing. It's a smart investment, and it's led to much better behavioral health outcomes."
At the conclusion of the panel, Sawyer Business School Dean William J. O'Neill, Jr., presented the 2019 Moakley Public Service Award to partners involved in The Union project.
Contact
Greg Gatlin
Office of Public Affairs
617-573-8428
Ben Hall
Office of Public Affairs
617-573-8092