IRS Agents for a Day
Follow along as Accounting students work simulated cases with real IRS operatives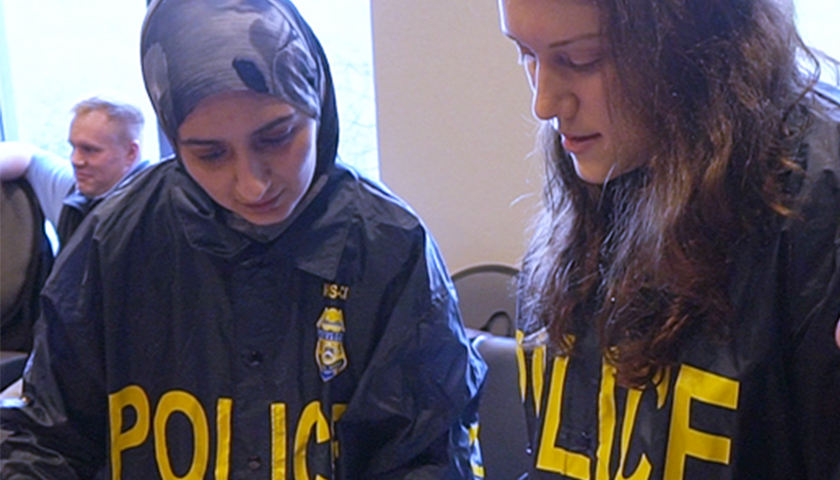 Talk about a taxing day.
Graduate and undergraduate accounting students spent an entire Friday participating in the Adrian Project, a program created and run by the Internal Revenue Service Criminal Investigation Division to give students hands-on experience with forensic accounting.
Eighteen special agents from the Boston field office ran five separate tax fraud scenarios set up across the Suffolk campus. Students had to ask judges for warrants, do surveillance, interview suspects, go undercover, search offices, and even simulate arrests.
"The Adrian Project is a unique way of giving students a completely different kind of hands-on learning," said Tracey Riley, chair and associate professor of Accounting. "It isn't just a game. We're showing them a viable career path."
While it's true that Suffolk accounting students often get to use their skills outside of the classroom—in the Suffolk Free Tax Clinic, for example—the Adrian Project takes the notion of experiential education to a whole new level, putting students in situations that are not part of the traditional pedagogy.
"Special agents are first and foremost forensic accountants," said Accounting Professor Martino Coviello, BSBA '97, MSCJ '04, a supervisory special agent who teaches the "Forensic and Investigative Accounting" course and organized the Adrian Project at Suffolk. "Students experience this firsthand as they analyze financial documents, look for discrepancies, and track financial footprints."
Although some students already are thinking about forensics as a career option, for others, Coviello's "Forensic and Investigative Accounting" course is the first exposure they've had to that kind of work.
"I didn't realize you could work as an investigator in accounting," said Intissar El Hilali, MSA '19. "That was my dream when I was a kid! I always watched cartoons and read stories about being a detective."
On the case
After being deputized as special agents for the day, the students broke into sections to begin their scenarios. One group set out on the trail of a tax cheat, following a lead that took them to a Mailboxes Etc.-type store (the Suffolk mailroom). There they attempted to convince a slacker employee (actually Agent-in-Training Rebecca Limage) to identify the suspect (Agent Thomas Demeo). Using an operation worthy of James Bond, the "employee" said that when the culprit came to get his mail, she would hand him three colored envelopes. That would be the cue for the student "agents" to tail him, which they did, right down Tremont Street. They later "arrested" him.
A different group of students performed surveillance on a suspect named "Natalie Loophole," who was being investigated for filing false tax returns. One of the students even wore a wire while posing as Natalie's client, transmitting conversations back to colleagues who awaited the cue —"It's going to be stormy tonight"—to come make an arrest.
"It felt very real knowing that the people who were guiding us were actual IRS special agents. It was very eye-opening to see that this is what they actually do in the field."
Erin Bourgeois (second from left)
MSA candidate, Class of '20
A third group of students appeared before a judge to obtain a warrant, then arrested a fraudulent bar owner and searched his office for unreported cash. Wearing actual police jackets and brandishing real handcuffs, the students stormed the room and gathered their evidence, all while fending off aggrieved comments from "Chris Shots," the suspect. The verisimilitude was enough to get hearts pounding.
"It felt very real knowing that the people who were guiding us were actual IRS special agents," said Erin Bourgeois, MSA candidate, Class of '20. "It was very eye-opening to see that this is what they actually do in the field."
While it may seem like the students were playacting for a day, all the tactics—from warrants to handcuffs to surveillance—are the same as actual IRS special agents use on assignments. The students experienced something new about their chosen profession and were encouraged to apply for summer internships and to think about forensic accounting as a career. Many of the students were excited by the prospect.
"I'd never done anything like this before. It was so interactive and a really great experience," said Makayla Norden, BSBA '19, who will return to Suffolk in the fall to start her Master of Science in Accounting, with a focus on forensics. "I know now that this is what I really want to do, and I plan on applying for the summer internship they mentioned as soon as I get home. I'm very excited."
Contact
Greg Gatlin
Office of Public Affairs
617-573-8428
Ben Hall
Office of Public Affairs
617-573-8092