Learning through Research
Psychology student's request for an alternate assignment opens a professional pathway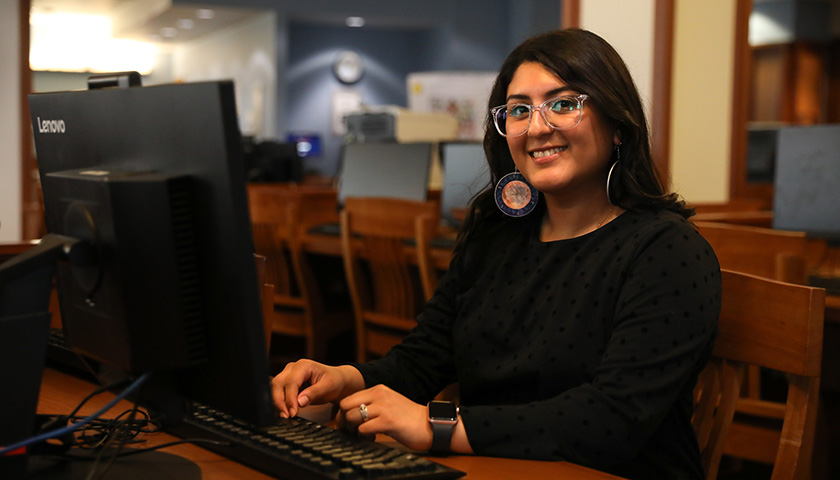 Learning through Research
Isis Garcia-Rodriguez wanted to try a different way of learning about adolescent development, so she approached her professor about alternatives to writing a paper or working on a project.
Psychology Professor Amy Marks was open to the idea and suggested a research assignment.
From that moment on, then sophomore Garcia-Rodriguez, Class of 2019, was hooked on systematic inquiry in Psychology.
"Once I got involved in research, I found a community that I wanted to immerse myself in," she said. "That advice from Professor Marks changed my college experience and started the trajectory of what I wanted to do."
Garcia-Rodriguez continued to pursue research projects, both on the Suffolk campus and in the Boston community, as an undergraduate majoring in Psychology.
"Boston has so many options and opportunities," she said.
Families after trauma
In her initial research project, Garcia-Rodriguez, a McNair Scholar, assisted Kerrie Pieloch, who completed a PhD in Clinical Psychology as a member of the Class of 2019. Garcia-Rodriguez collected quantitative data from parents and their children who had received in-home therapy after experiencing trauma.
Garcia-Rodriguez later teamed up with Marks, her mentor, for research into legal vulnerability in Latino immigrant families. As part of that National-Science-Foundation-funded study, she interviewed Spanish- and Portuguese-speaking families in Greater Boston, collecting data to help determine the psychological impact of legal status on these individuals
"What I liked about this project is that it gave a voice to a mostly minority population," said Garcia-Rodriguez, who wrote her thesis on the study. "What they said helped us learn about their experiences and connect them with resources to improve their daily lives."
Driven and dedicated
Marks has been impressed with Garcia-Rodriguez's research commitment.
"I may have opened the door for her, like so many professors do for their students, but Isis is the one who gave it everything she had," said Marks, chair of the Psychology Department. "She is driven and dedicated, and she took an opportunity to try something new and followed it through to the fullest."
Hospital-affiliated studies
This past year, Garcia-Rodriguez worked as a research intern at the Coordinated Approach to Resilience and Empowerment (C.A.R.E.) Clinic of Brigham and Women's Hospital. While there, she had the chance to do some grant writing and created an educational podcast about trauma-informed care.
She also spent a year as a research intern at Massachusetts General Hospital, where one project entailed transcribing qualitative focus group interviews of people in Mexico suffering with mental health issues and researching what resources were available to help them.
Pursuing a doctorate
In the fall, Garcia-Rodriguez will enter a counseling psychology doctoral program at Virginia Commonwealth University. Her ultimate goal is to become a professor and help inspire others.
"I want to teach classes, mentor students, and run a research lab," she said. "Those would be the perfect three pillars for me."