An Insider's Take on Healthcare
This year's distinguished lecturer in the Healthcare Administration program talks about changes in the business and what MHA students can expect after graduation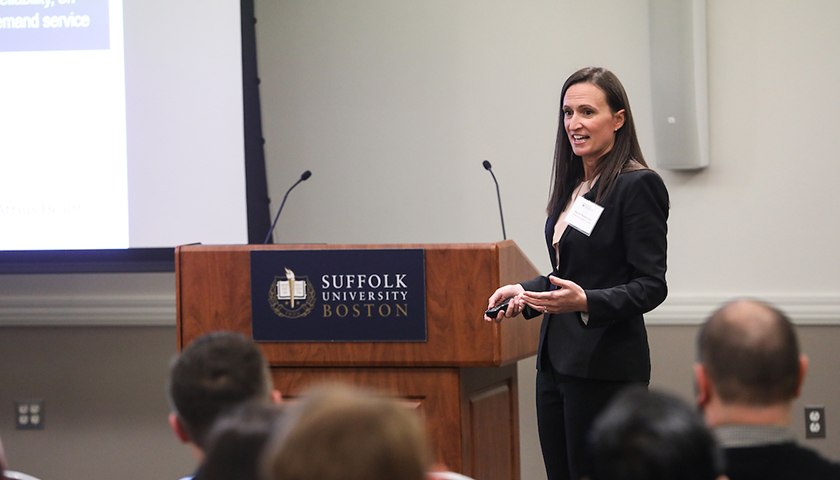 Atrius Health COO Rachel Rosenblum explored how her firm has been responding to the incredible changes in healthcare in a recent presentation to Healthcare Administration (MHA) students, faculty, and alumni. She answered questions after her "Transforming Care to Improve Lives" talk to further the discussion and to let MHA students know what to expect as they launch their careers.
Q: In your presentation, you talked about how patients aren't just patients any more. They have really become consumers. Why is that?
Rachel Rosenblum: People have access to information resources that they've never had before. So I think we need to know what our patients, as consumers of healthcare services and expertise, want. We need to think about how to engage them and how to empower them. Historically, the provider was the center of the care universe. More and more, it's the patient. It's really interesting.
Q: So thanks to things like Google and WebMD, the paradigm of healthcare is changing?
RR: I think that, as information becomes more available and people are paying more and more out of pocket, their desire to identify and utilize high-quality, affordable, expert services will grow. For example, how do they know that provider A will do a better joint replacement than provider B? Or hospital A versus hospital B. Where do they start? How will greater transparency and decision-making tools impact how patients seek and providers deliver care?
Q: What can Suffolk's MHA graduates expect once they get their degrees?
RR: The academic training and real-life work experience Suffolk MHA graduates have prepare them well for entering the healthcare workforce. And, given that they are the most technologically adept generation to-date, there's nobody better to help us transform how we engage and empower our patients and our workforce. They use technology in different ways. They consume services in different ways than my generation, our parents' generation, and our grandparents' generation. So their voice at the table is often pushing tradition to advance in a much more meaningful way.
"What I think MHA graduates need to be thinking about is what unique contribution they're going to make in the healthcare delivery system."
Rachel Rosenblum
COO, Atrius Health
Q: Even with the experiential learning that Suffolk gives all its students, there must be a big difference being in the real world of healthcare versus in the classroom.
RR: Maybe Suffolk students don't have all the on-the-ground experience they will want on day one. But that comes with time. I think the strategic and analytical conversations they have been having in the academic setting prepare them quite well to think about the impact they can make when entering the market. But they must then build the knowledge, skill, and experience to bring their ideas to life. There is real work involved in defining problems/opportunities, understanding why gaps exist, and developing plans to close those gaps. From there, getting plan approvals, engaging the front-line, and driving change. … Professionals who possess both vision and an ability to execute often are the most successful.
Q: Any other advice for our new MHA graduates?
RR: What I think MHA graduates need to be thinking about is what unique contribution they're going to make in the healthcare delivery system. What makes a professional degree in healthcare administration meaningful and impactful in the real world? Lots of doctors get master's degrees: MBAs, MHAs. So do nurses. So do others. What's important is: What are Suffolk MHAs going to bring to the table? Folks who have been in school for many, many years and are now entering the workforce kind of think, "I have arrived." But the truth is, the real world is looking for them to keep delivering.
Q: This is just the beginning.
RR: This is just the beginning. But I think coming in with the eagerness to learn from other people and to find ways to add value very early on is essential. Be the person who can listen well and actually make small changes that have big impacts while learning the skills necessary to make big changes.
Contact
Greg Gatlin
Office of Public Affairs
617-573-8428
Ben Hall
Office of Public Affairs
617-573-8092