Giving Small Businesses an Edge
Suffolk's entrepreneurship programs have launched a series of free small business courses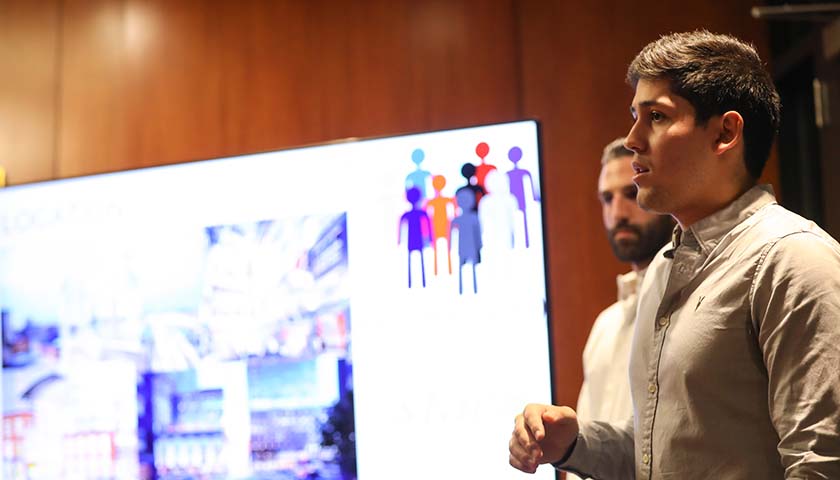 Suffolk University Law School's Intellectual Property and Entrepreneurship Clinic and Suffolk University's Sawyer Business School's Center for Entrepreneurship will provide free law and business education courses for regional small businesses through a grant from the Massachusetts Small Business Development Center at the University of Massachusetts, Amherst.
Many start-ups lack the money to hire professional consultants to advise them on the problems that can sink a new or small business. The Suffolk University entrepreneurship programs, in collaboration with the Massachusetts Small Business Development Center, are determined to help these businesses by offering courses that address business entity formation, small business innovation research grants, intellectual property rights and monetization, marketing and more.

Students and professors from Suffolk's Law and Business schools will provide training sessions at the university's downtown Boston campus starting with the first course, Pitching Your Idea, on May 22.

"Suffolk is ecstatic about this new opportunity, which will allow students and faculty to provide consulting to even more local entrepreneurs," said George Moker, director of Suffolk's Center for Entrepreneurship and an expert in small business innovation research and government-funded, for-profit start-ups.
Avoiding common business pitfalls
The information Suffolk students and professors provide will help businesses get a head start on funding while avoiding pitfalls such as giving away too much equity in exchange for investment or not properly protecting their ideas and brands, said Moker, who holds the Carol Sawyer Parks Endowed Chair for Entrepreneurial Studies.

"Entrepreneurs, especially today, must understand how to leverage and profit from all forms of intellectual property including patents, trademarks, copyrights, business methods, trade secrets and data management and privacy," said Suffolk Law Professor and Intellectual Property Clinic Director Loletta Darden, who will guide the lectures' legal content. "We want to empower businesses and entrepreneurs coming to our lectures to make the most of all of their ideas and hard work."

Georgianna Parkin, state director of the Massachusetts Small Business Development Center, said that Suffolk was selected "for its initiative, leadership in experiential education, reputation and location" and has prior experience in assisting small businesses to be successful.

Massachusetts Small Business Association District Director Bob Nelson said: "The expansion of the Massachusetts Small Business Development Center network with the subcontract to Suffolk University is an exciting development and pathway to expanded Boston-area services."

This type of hands-on public partnership is a big win for all involved, according to Sawyer Business School Dean William O'Neill, Jr. "Entrepreneurs get high-level advice to help their businesses grow, and students, with faculty support, have a chance to apply their knowledge in real-world situations," he said. "It's important, potentially life-changing work."

The Massachusetts Small Business Development Center is funded in part by the US Small Business Administration and the Massachusetts Office of Business Development through the University of Massachusetts Amherst.
-----

Suffolk University, located in historic downtown Boston, with an international campus in Madrid, is a student-centered institution distinguished by excellence in education and scholarship. Suffolk University offers a wide range of undergraduate and graduate programs. Its mission is to empower graduates to be successful locally, regionally and globally.