A Trifecta of Success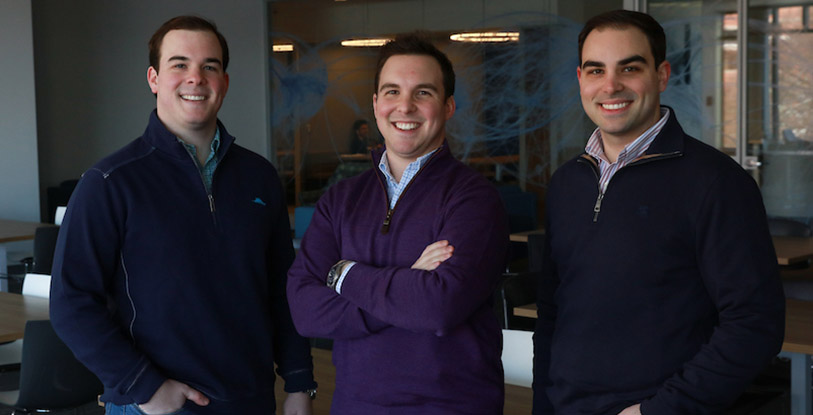 For Thomas, Stephen, and Gary Gaudet, earning accounting degrees from Suffolk University has become a family tradition. The three brothers have attained five among them, and Tom will add a sixth this spring.
Tom Gaudet started his Suffolk career with grand ambitions, namely, to graduate summa cum laude and earn a position at a large public accounting firm. With those undergraduate cum laude honors now under his belt, Tom will earn his Master of Science in Accounting degree this spring from the Sawyer Business School and has a job waiting for him at the professional services firm Deloitte. He is quick to point out that while he has achieved his goals, he has not done it alone.
"A successful life requires a significant amount of help," Tom says. "My parents have always said, 'Be kind to others and work as hard as you possibly can to achieve your goals.' The Suffolk community clearly embodies the lessons from my parents, which makes this school such a wonderful place."
Tom also happens to have an ideal model for success close at hand: his older brother Stephen.
Steve Gaudet is a double Ram as well, having earned his BSBA in accounting in 2012, and his MSA in 2013. Steve had set the bar high, graduating first in his undergraduate class, passing the CPA exam with flying colors, and landing a job at Deloitte. Yet it was a bar that Tom still managed to clear, at least in one respect; he earned his BSBA with a perfect 4.0 GPA. (Steve laments, "No matter how hard I try, I can't give Tom a fight he can't handle!")
Steve, now a supervisor in the Technical Accounting Consulting Group at RSM, also acknowledges the support of others for his success, not only family, but Suffolk faculty as well. He singles out professors like Lewis Shaw, a mentor he worked with as a graduate research fellow, and Tom Whalen, his first accounting instructor, who taught him that accounting is as much about communication as about numbers.
"If you understood the principles, the rules, and the 'why,' and were able to communicate those intelligently, then you could succeed," Steve explains.
Steve—again, much like his younger brother—also happens to have an ideal model for success close at hand: his older brother Gary.
Gary Gaudet earned his Suffolk BSBA in accounting in 2010, and was a member of the inaugural Sawyer Business School Honors Program. Upon graduating, he immediately took advantage of the recently established 4+1 program to garner a Suffolk MSA one year later. For his own professional success, Gary credits advantages like the 4+1 program and a key internship at Ernst & Young, where he still works today.
"Suffolk was incredibly helpful in my obtaining an internship," Gary says. "Without the Career Development Center, I never would have had the opportunity to apply. I was also recommended by the Accounting Department, and I was able to position myself well in terms of my grades and business writing skills that I learned at Suffolk."
The Gaudet brothers don't just acknowledge the help and inspiration they've received throughout their collegiate experiences, they actively repay it. Both Gary and Steve are members of the Suffolk Young Alumni Advisory Board, helping to organize events and develop new programs to ensure current students can get the most of their Suffolk educations. For his part, Tom is doing similar work as a Sawyer Ambassador, recently assisting with an event called "What it's Like to Work at Google." The event featured an alumnus and former Sawyer Ambassador speaking to students about how networking helped him find the job best suited to his professional goals.
Reflecting on the tradition of Suffolk loyalty he shares with his brothers, Tom notes, "I have followed my brothers in every phase of life, from preschool to Suffolk's graduate program; yet we have always found a way to make each experience our own. I watched my brothers mature into outstanding professionals at Suffolk, earn positions at highly touted firms, and truly love their jobs, and I knew Suffolk would be the right place for me to do the same. It was the perfect place to help us develop our definitions of academic, professional, and personal success."