Welcome to Students from All Nations
A message from President Marisa Kelly
One of the first things visitors to Suffolk University notice is the international flavor of our downtown Boston campus. Suffolk students come from all over the world. In fact, they come from more than 100 countries. We have a campus in Madrid and growing numbers of partnerships with higher education institutions around the world. We are one of the most international universities in the United States, with the third-largest proportion of international students among national universities ranked by U.S. News & World Report.
We were pioneers in recruiting and welcoming students from around the world. That welcoming spirit, and a global approach to education, remains at the core of who we are today. In fact, it's one of the things that makes Suffolk so special. We are truly an international university, made up of faculty, staff, students and alumni from around the world. That diversity of backgrounds and perspectives, that vibrant mosaic that makes up our University community, enriches the educational experience for each and every one of our students, whether they come from the Boston area or from across the globe.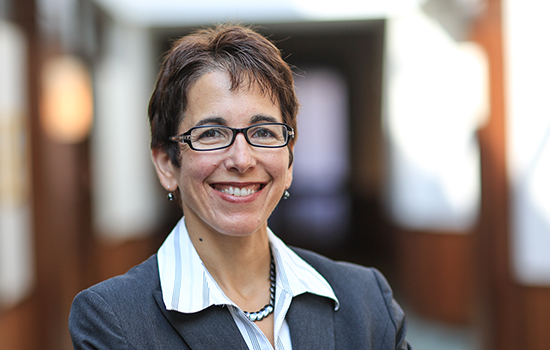 To our incoming students who are attending orientation, and to those who will join us later this summer and in the fall, and to prospective students from around the world who are considering attending Suffolk: You are welcome here.
At a time when students around the world are facing growing uncertainty as to how welcome they will feel at institutions in the United States, I want to be clear that Suffolk University is and will remain an inclusive and international community that greatly values each and every one of our students from all parts of the world. This, too, is core to who we are.
We are a leader in supporting our students with personalized attention from faculty and staff members who are committed to helping students succeed at Suffolk and beyond. We are invested in helping students find new pathways of opportunity. Students here take full advantage of our hands-on, experiential approach to learning and of our urban environment, with all of the surrounding opportunities that it offers. Boston's business, government, civic, and cultural institutions play a major role in the education of our students.
We have more than 90 student organizations, including many that center on international student life and culture. That includes our International Student Association; our Chinese Student Association; a Caribbean Students Network; the Suffolk U. Hispanic Association; The Korean Culture Club; the Venezuelan Student Union; the South Asian Student Association; and so many more.
We have an educational and alumni reach that extends across the globe. Students in our College of Arts & Sciences, our Sawyer Business School, and our Law School study abroad through global travel seminars, faculty-led programs, summer and semester-long programs with partner institutions and through internships. And students who study at our Madrid campus, whether for a semester, for a couple of years, or even for their entire Suffolk career, describe that experience as life changing. Meanwhile, our alumni community is 83,000 members strong and growing across the globe in nearly 150 countries.
At Suffolk University, we are proud of our international diversity, and we view it as a source of strength. We believe in the power of a global education. Whether you are a prospective or incoming student, we know that you will feel at home in a campus community that values the international experience, where the exchange of ideas and perspectives with people from around the world is an education in itself. Suffolk University: #YouAreWelcomeHere.
---
The International Student Services Office (ISSO) team is available to answer questions or provide assistance. Please don't hesitate to reach out at 617-573-8034