WINTHROP, Mass. – Six stand-out members of the Suffolk softball team were recognized for their performance on the diamond this season with All-GNAC nods, the league announced Tuesday afternoon.
The six honorees tie the program record, which was set in 2005, and achieved for the second time, first in the Jaclyn Davis era in 2017.
Jaclyn Flint's first-team nod highlighted the group that saw Kelly Keane and Caitlin Murphy earn spots on the second squad with Grace Boehler, Kennedy Reyes and Ashley Zulla each earning third team accolades. McKenzie McGrath, meanwhile, represented the Rams on the conference's all-sportsmanship team, which was established to honor one player from each team in the league for outstanding dedication to sportsmanship and for their portrayal of good sportsmanship, fair play and positive attitude.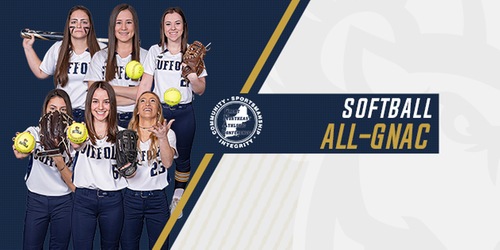 Flint became the second-ever middle infielder to achieve first team status in the Davis era following in Kristin Young's '15 (2015) footsteps. One of the most potent bats in the Rams' lineup this season, the cleanup hitter put together a slash line of .402/.449/.508 with team-best 49 hits to be acknowledged on the league's first team for the first time in her career. The switch hitter brought in 27 runs, good for second on the squad, and scored 23 herself. Overall, the nod is the second for the senior from Medfield, Massachusetts, as she took home third-team recognition as a sophomore in 2017.
For the first time in her career Keane garnered all-league recognition with a spot on the second team. The first base fixture, from Hamilton, New Jersey had a stand-up sophomore season with career-high offensive numbers in every category. Paced by a slash line of .319/.375/.422 she registered 37 hits, brought in 23 runs and scored 13.
Lead-off batter Murphy led the league in stolen bases with 23 swipes en route to a second team honors. The rookie center fielder put together the best batting average on Suffolk's squad, .423, good for fifth among conference bats, while her team-best .508 on-base percentage sat second in the league. In her first collegiate season, she barred 47 hits, scored 32 runs and had 12 RBI.
Playing a new position this season, Zulla earned her third all-league honor in as many seasons and her second third-team achievement. The junior catcher from Columbus, New Jersey brought in a team-high 28 runs on 38 hits and scored 18.
Boehler and Reyes each recorded their first all-conference accolade on the third team. Boehler, a sophomore, who hails from East Freetown, Massachusetts, strung together a .360 average with 41 hits for 20 RBI, 25 runs scored and six stolen bases. Reyes, a rookie from Taunton, Massachusetts, quickly proved herself as the Rams' ace and finished the season with a staff-best 4.00 ERA through 77.0 innings with 40 strikeouts to her credit.
Since joining the GNAC in 1996, Suffolk has earned 84 All-GNAC honors including six players of the year, two rookie of the year, one pitcher of the year, three coaches of the year, 38 first-team, 21 second-team and nine third-team honorees. The Rams have also received 17 all-tournament nods.
2019 All-GNAC Softball;

First Team
C – Devin Scales, Johnson & Wales
1B – Melodies Bailey, Saint Joseph's (Maine)
2B – Amaria Sharon, St. Joseph (Conn.)
3B – Meghan Gavin, Johnson & Wales
SS – Jaclyn Flint, Suffolk
OF – Yuleska Ramirez-Tejeda, Emmanuel
OF – Megan Antaya, Johnson & Wales
OF – Lauren Del Vacchio, Simmons
DP – Maddie Castigliego, Simmons
UTIL – Ellery Rasmussen, Regis
P – Megan Kieselback, Emmanuel
P – Kristen Frost, Johnson & Wales
Second Team
C – Christie Bott, Simmons
1B – Kelly Keane, Suffolk
2B – Ally Mishol, Johnson & Wales
3B – Alex Morgan, Simmons
SS – Jess Stettinger, Albertus Magnus
OF – Olivia Burgos, Emmanuel
OF – Madisyn Charest, Saint Joseph's (Maine)
OF – Caitlin Murphy, Suffolk
DP – Grace Orcutt, Emmanuel
UTIL – Kayla Resto, Albertus Magnus
P – Amaria Sharon, St. Joseph (Conn.)
P – Maddie Castigliego, Simmons
Third Team
C – Ashley Zulla, Suffolk
1B – Kayla McKinnon, Johnson & Wales
2B – Libby Pomerleau, Saint Joseph's (Maine)
3B – Renae Lacroix, Emmanuel
SS – Audrey Esakoff, Emmanuel
OF – Sarah Hoisl, Emmanuel
OF – Danielle Carson, Simmons
OF – Grace Boehler, Suffolk
DP – Naomi Rinaldo, Norwich
UTIL – Michelle Cilley, Anna Maria
P – Hailey Yabroudy, Simmons
P – Kennedy Reyes, Suffolk
Player of the Year – Yuleska Ramirez-Tejeda, Emmanuel
Pitcher of the Year – Megan Kieselback, Emmanuel
Rookie of the Year – Maddie Castigliego, Simmons
Coach of the Year – Brooke Capello, Simmons
Institutional Sportsmanship Award– Rivier
All—Sportsmanship Team
Cam Johnson, Anna Maria
Briana Ong, Emmanuel
Julia Saliba, Johnson & Wales
Nicolette Genkos, Lasell
Brittany Vandergroef, Norwich
Sarah Fawcett, Regis
Mikayla Ramsdell, Rivier
Alesandra Milardo, Saint Joseph (Conn.)
Libby Pomerleau, Saint Joseph's (Maine)
Sydney DeVogt, Simmons
McKenzie McGrath, Suffolk