Students partner with the Neponset River Watershed Association to study wetland health
It's a sunny spring afternoon and a group of Suffolk students are getting ready to go out.
Taylor Templeton's outfit draws envious glances from her friends, and more than one asks where she got it.
The waterproof waders Templeton, Class of 2019, is sporting are the ones she wears every week to do field research with Center for Urban Ecology and Sustainability Professor Hayley Schiebel. They're a little sleeker and have more bells and whistles than the one-size-fits-all togs her peers are climbing into—but the students are all equally grateful for their protective garments as they step carefully into a muddy expanse of urban salt marsh.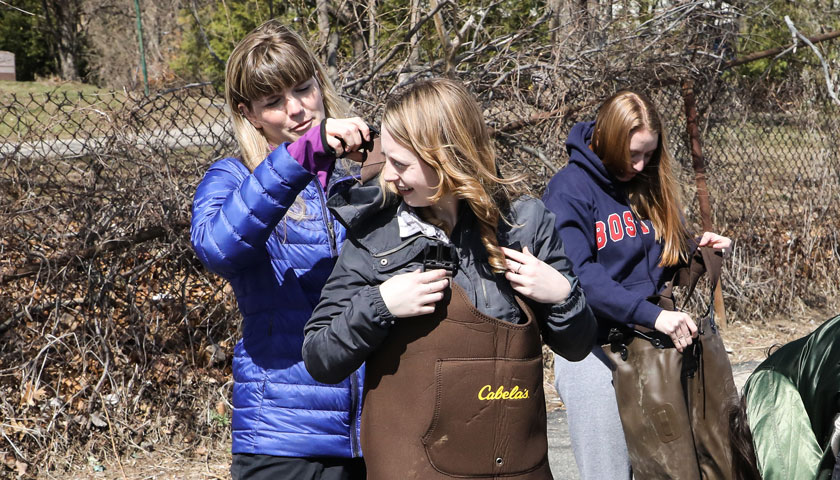 The 120-square-mile Neponset River Watershed extends from New England Patriots territory in suburban Foxborough to Boston's Dorchester neighborhood. It's a source of drinking water and recreation and a habitat for wildlife. It's also the site of a long-running research and monitoring project that has relied on volunteers to collect water quality samples six times a year for over 20 years.
The Neponset River Watershed Association's Citizen Water Monitoring Network trains and deploys 50 volunteers annually to test the water at locations around the watershed. Some work in environmental science. Others are simply passionate about the topic. Volunteers range from retirees in their 70s and 80s to children as young as 12 participating with their parents. They're all contributing to research that can flag immediate and long-term problems with the water system's health.
These volunteers are part of a growing trend in science called citizen science. Training volunteers to collect data can help the general public understand science and the importance of data collection and help scientists collect large amounts of data.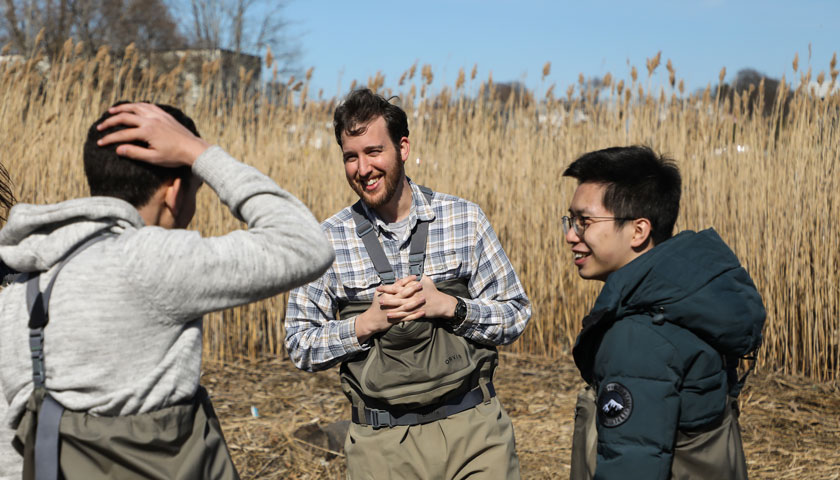 "Over the years the volunteer sampling has alerted us to unhealthy levels of E. coli bacteria, which can make humans sick, and phosphorus, which can reduce the dissolved oxygen in water and harm aquatic life," says Chris Hirsch, who leads the Neponset River Watershed Association's science and environmental monitoring programs.
"This has allowed us to start a 'hot spot' program to track the source of contaminants in water where spikes have been observed and to inform our stormwater remediation programs. The Massachusetts Department of Environmental Protection uses the data as well, relying on us because they don't have the staff to make this scale of sampling possible," says Hirsch, an environmental scientist.
Today the students are fine-tuning scientific protocols they've written to teach volunteers how to gather even more data on the marsh's health as part of a course called Understanding Wetlands through Citizen Science.
They spent the first half of the course learning about the critical role the wetlands play both locally and globally. Now they're in the field working on the citizen science protocols for the course's service learning component.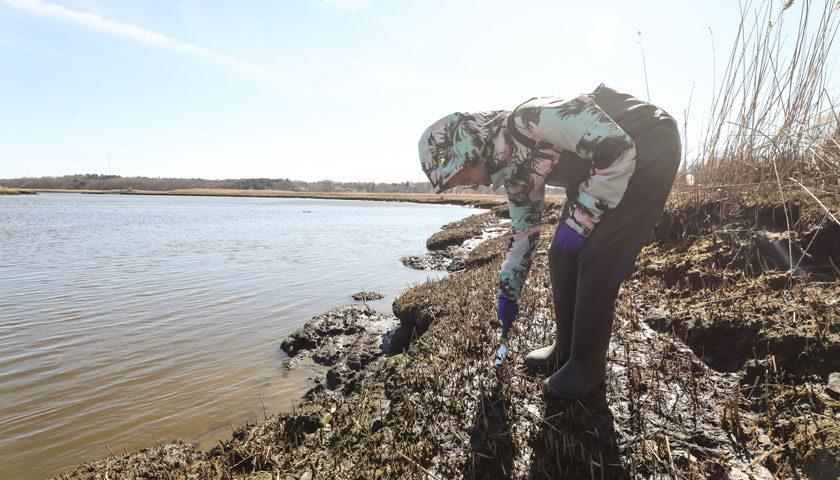 The students separate into topical groups—sediment, water quality, vegetation, and pollution—and swap packets to test the directions on one another. They will meet with real volunteers in two weeks. Each group's final grade depends on how clearly it can articulate the research goals and methods to an audience of non-scientists.
Job switching
Hirsch is eager to know if soil buildup in the marsh is keeping pace with sea level rise and hopes the new protocols, particularly those monitoring sediment and vegetation, can provide insight.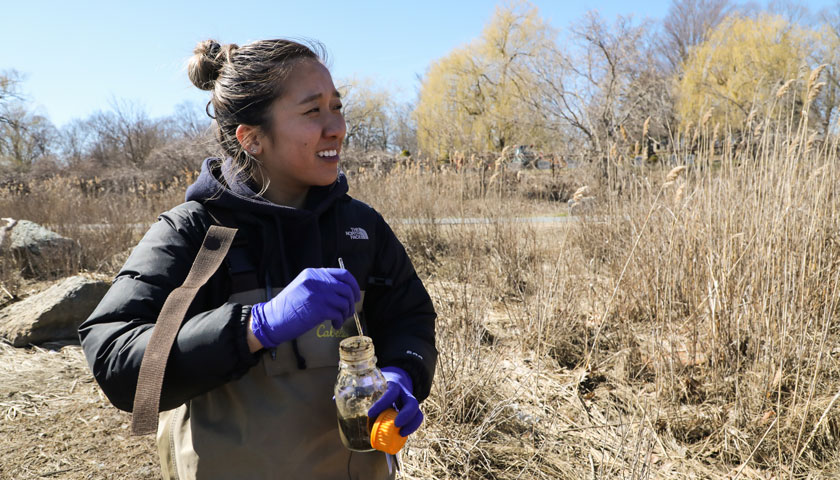 Templeton's group plans on tracking soil salinity, which indicates sea level rise, but today they're following the pollution group's protocol for measuring litter that collects in the marsh. The directions say to start at the water's edge, lay a hollow plastic square on the ground, then count, record, and remove the trash found within.
Immediately, there's a problem.
"Where's the edge?" they wonder, looking at the slope from the top of the marsh to the water below. After some discussion they settle on the top of the steep drop-off as their starting point, making a note about the confusion in their peer review evaluation. It could be dangerous if a volunteer interpreted the directions differently and tried to climb to the bottom of the muddy incline.
That's the goal for today: balancing the need for reliable, accurate data collection while making the process simple and safe for volunteers from varied backgrounds.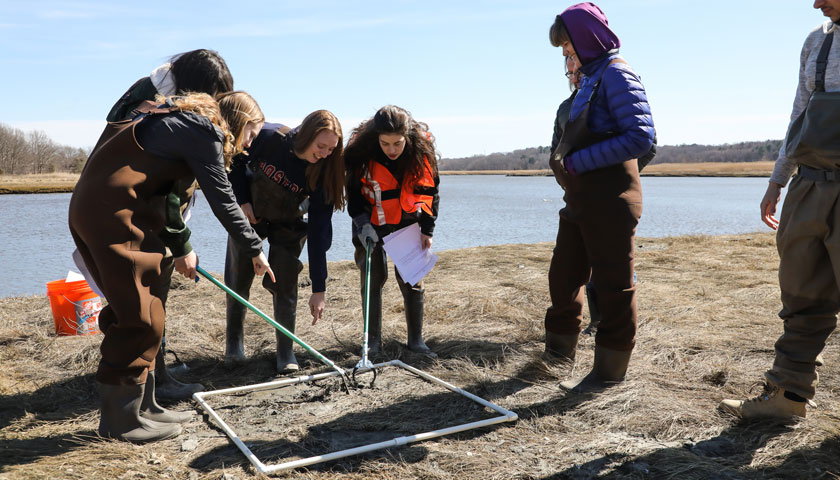 "Technical things we know as scientists are not always apparent to laypeople," says Christian Morris, Class of 2020, an environmental studies major. "This experience helped us to take a step back and forced us to think about how to simplify our message. With environmental issues more broadly, if you're too technical you can't connect with people."
In the field
For Morris the course is a chance "to test the waters—no pun intended" as he does fieldwork for the first time. His group is looking at the marsh's plant life, including the invasive reed Phragmites australis, for signs of climate change. Phragmites australis has a low salt tolerance, so a decline in the otherwise dominant plant would accompany a rise in sea level.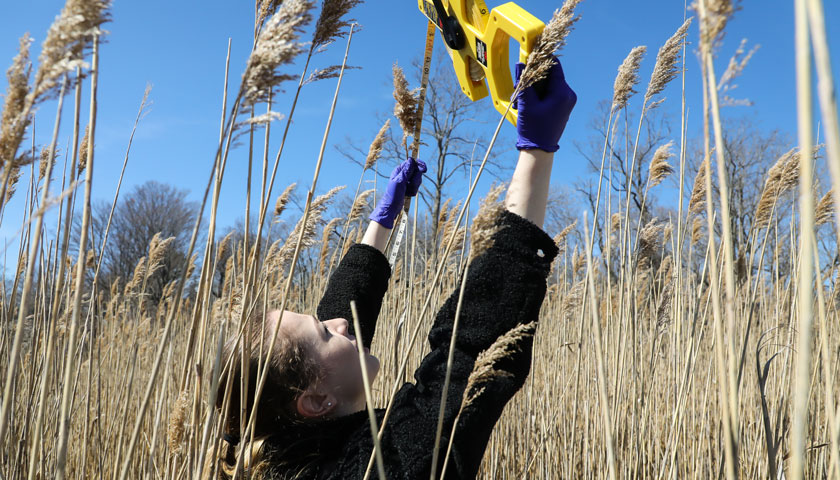 A group of test "volunteers" praises Morris's group's protocol as easy to follow, but they have questions about how to clean the testing equipment. "That was important to consider, because the sensors have to be cleaned properly to produce accurate readings," says Morris.
The free app Templeton's group recommends for recording the exact sampling locations through GPS wins favor with the student testers. The feedback about the protocol is constructive and shows that the research goal is well defined and demonstrates why soil health is important.
Creating volunteer protocols has particular meaning for Templeton, whose father, a geologist, also does water sampling as a citizen scientist. "His volunteer work helps him understand more about the research I do," she says.
The experience has helped Morris clarify his goals for the future.
"Field work is definitely not for me, but that doesn't mean I didn't enjoy it," he says. "Part of being an environmental major is that you can go in so many directions, and now I know I would rather work with large corporations to facilitate change than do research."
Morris is working this summer as a business development fellow at the Climate Action Business Association, helping to promote the positive steps member businesses are making to address climate change. That experience, along with the wetlands course, has Morris leaning toward a role in corporate social responsibility. But he doesn't rule out getting back into the field—as a citizen scientist.
"Citizen science is a great opportunity to do some field work without a major commitment. It brings you closer to the environment and strengthens your bond with nature."
Christian Morris
Environmental Studies, Class of 2020