At the Intersection of Business and Social Change
Community service offers insight into poverty and corporate strategy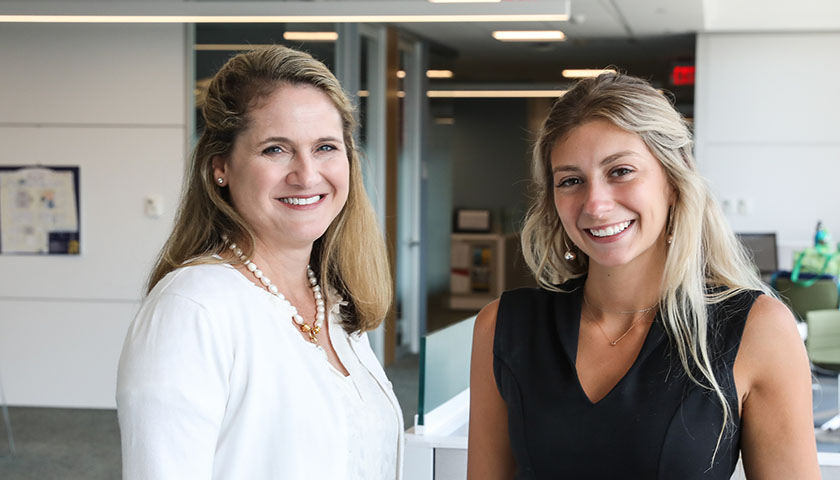 A business class focused on social change moved Kaileen Bernasconi in unexpected ways due to a community engagement option that opened her eyes to issues of poverty in the Boston area.
The Social Change course exposes students to contemporary social issues and movements. It examines the roles of governments, businesses, and nonprofit organizations in addressing those problems. And students may fulfill the Sawyer Business School local engagement requirement by volunteering at a nonprofit as part of the course work.
"At first I was very hesitant and nervous" about volunteering at the St. Francis House day shelter in downtown Boston, helping to prepare food and serve meals to adults experiencing homelessness, said Bernasconi, Class of 2021, who is studying Financial Wealth Management at Suffolk's Sawyer Business School. "But then I was completely blown away."
As she spent time with people in need, she began to see them in a new light. "By doing the work and taking the course, I was more aware of social issues and wanted to actively take part in making change," she said.
And she benefited on a personal level because the experience "helped to improve my interpersonal skills through communicating with other volunteers and with people in the shelter."
Social change and business
Many students enroll in the Social Change course not knowing what's in store for them, according to Professor Aimee Williamson, chair of the Institute for Public Service. The curriculum balances theory and practice and includes case studies, allowing students to see practical examples.
One case involves a boycott threat against Starbucks in an effort to have the company sell Fair Trade coffee.
Case study
"The case describes Starbucks' consideration of the threat, response, and eventual partnership with other NGOs to address some of the issues raised," said Williamson.
"This brings together a variety of concepts that we discuss throughout the semester, including social responsibility, nonprofit advocacy, and collaborations among organizations."
Businesses are subject to a growing number of nonmarket forces today, including government regulations, other public policies, and pressures from citizens and nonprofit organizations, according to Williamson, who said that the growth of the Internet and social media pushes businesses to operate in a more transparent environment.
"What all of this means is that corporate leaders need to think more strategically about social responsibility, including the threats and opportunities posed by social problems, government activity, and nonprofit advocacy," she said.
A new sense of responsibility
The course brought home to Bernasconi how society—and responses to it—evolve over time.
"I learned about reforms and laws that have been created to better serve changing times," she said.
Bernasconi plans to continue volunteering at St. Francis House, even though the class has ended, and she has taken up volunteer effort at two organizations through an internship at Northwestern Mutual,
"I feel the course has helped me to understand that there are so many things that people could be going through, could have gone through, or could be connected to," she said. "Just to be mindful of that is something that is so important and makes you want to help."