Scorin' Horans: Methuen's Matt Horan following in Dad's legendary footsteps
Matt Horan following in dad's prolific footsteps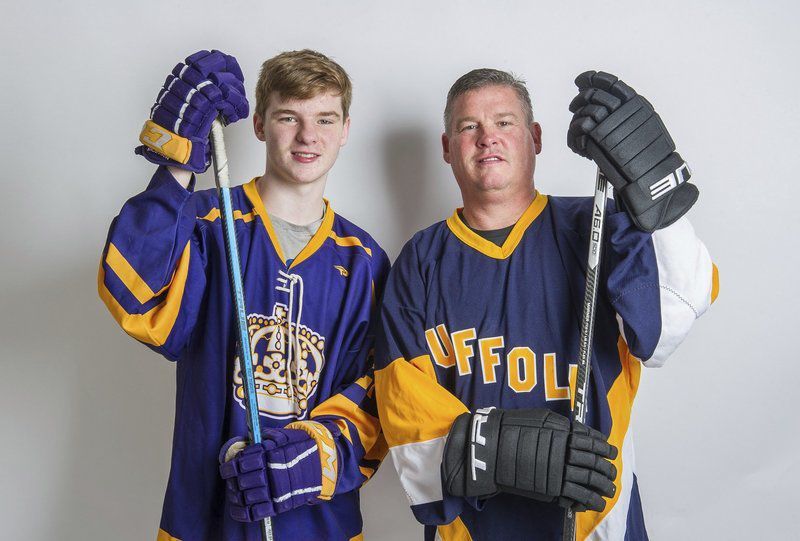 METHUEN — Brian Horan's hockey career was the stuff of legends.
The Somerville High graduate scored 169 goals with 133 assists at Suffolk University in Boston. Even 28 years later, few in NCAA history can match those pinball-esque numbers.
His senior year (1990-91) he scored 51 goals with 53 assists in just 27 games. He said that led the country (all divisions).
He says it was the Boston Globe who gave him the memorable nickname "Scorin' Horan."
Now his son, Matt Horan, who is entering his senior year at Methuen High, is living up to the moniker.
But Matt pointed out with a laugh, "I'm Assistin' Horan,' too!'"
Matt has heard the stories too many times to count.
He said, "Non-stop. Everywhere I went, everyone knew him. I kind of adopted the Scorin' Horan nickname. I like it."
Two seasons ago, Matt was an Eagle-Tribune All-Star with 17 goals and 21 assists for the Rangers. But as a junior he opted for Junior Hockey with the New Hampshire Monarchs U18 teams.
It's a marathon season from early September to mid-March. He held his own despite the big step up in competition with 8 goals and 8 assists in 29 games with the U18 Tier 1 team and 8 goals and 14 assists in 24 games with the United States Premier Hockey League squad.
Tough Decision
Many if not most top hockey players end up in the prep school or junior ranks whether during high school or at least post-high school.
"In high school, 20 games, it's not a long enough season. The kids have to play more," said his dad, who has been a hockey assistant at Methuen for the last six years. "Clint Edinger is the Monarchs head coach. He's been great developing his game as was Bill Blackwell at Methuen."
Matt said of his junior hockey experience, "I'm enjoying it a lot. The players are a lot bigger, stronger and faster. But I've got the hang of it. I like traveling."
And this 17-year-old is racking up the frequent flyer miles like a CEO.
Last year he played in Connecticut, New Jersey, Detroit, Minnesota, Arizona and Cleveland.
While the schedule is ambitious and filled with top talent, there is something about playing before big crowds for the hometown team rather than friends and family in junior hockey.
"It wasn't like Methuen High," said Matt, who is preparing for his second year with the Junior Monarchs. "Methuen was awesome."
He still plays lacrosse for the Rangers. Last spring he scored 23 goals, second on the team to Connor Bryant's 29.
Changing Landscape
So much has changed in high school hockey over the years. Back in Brian Horan's day, the Greater Boston League was a powerhouse and few left for juniors or prep school. Catholic school was about the only other option. And the biggest Catholic school of them all was Matignon.
"It's so funny, I grew up 300 yards from Matignon," said Brian, 53. "But I liked my friends. It was the Somerville Pride thing. I wanted to lead the parade, not march in it.
"The GBL was one of the toughest leagues back then. We kept Arlington and (legendary coach) Ed Burns out of the tourney for the first time in 38 years. It was a 4-4 tie and I scored all four goals. Medford had the Sacco brothers (Joe and David played in the NHL) and Dave Delfino, who played for Italy in the Olympics."
Brian, a regional sales manager for D and D Technologies, said he scored 23 goals as a junior and 27 as a senior with the Highlanders. He was just 5-3, 135 as a junior, which obviously gave scouts concerns. A late growth spurt had him 5-8, 155 at graduation.
An admittedly indifferent student, Horan took a post-grad year at New Prep in Cambridge and headed to Salem State.
He was sick during preseason. He thought it might have been too much celebrating from the 1986 Red Sox "David Henderson homer" playoff game but it turned out to be appendicitis.
He decided to transfer to Suffolk for the much easier commute as "the train was right down the street."
And the rest was history.
Stays at Suffolk
Horan admits there was some thought of a transfer but he had a good thing at Suffolk and stayed.
The Rams practiced at Boston University and it was hard for legendary Terrier coach Jack Parker, who also came from Somerville, not to take notice.
Horan said that Parker once remarked, "I have no idea how you slipped by me!"
After college, Brian played three years in the minors. He led the ECHL's Nashille Knights with 28 goals and 38 assists. For a while, he may have been more popular in Nashville than Johnny Cash.
That may have been more about his willingness to duke it out. He was in the sin bin for 348 minutes in 61 games.
After that, he played roller hockey!
It was quite a ride for Brian and Matt is looking forward to his journey.
"I'm definitely trying to live up to what he did, but I have a long way to go," said Matt.
Horans Are Athletics Naturals
Athletics have always been big for Brian Horan and his Somerville High sweetheart, Cheryl Chaille Horan. Mom is the president of the Methuen Scholarship Foundation.
They have two sets of twins, which Brian jokes "is God getting back at me."
Shaley and Ashley, 23, are both RNs at the Lahey Clinic in Burlington. Both were gymnastics and lacrosse quad-captains at Methuen High.
Ashley was an Eagle-Tribune All-Star lacrosse player (66 goals that year) and walked on at UMass Lowell. She was switched to defense and was the River Hawks' Defensive MVP in 2018.
Hockey standout Matt also has a twin. Keri Horan is a Methuen High cheerleader and was a varsity gymnast when she was still in middle school. As a starting outfielder, she helped the Rangers softball team to the Division 1 state final this spring.
Their cousin, Kelly Horan of Methuen, played hockey for the UConn women's team from 2009-13. The 5-foot-1 forward scored 21 career goals and 36 assists.