Alumnus Commits $1M to Support Suffolk Law Scholarships
To benefit Brockton-area students and those interested in Dominican history and culture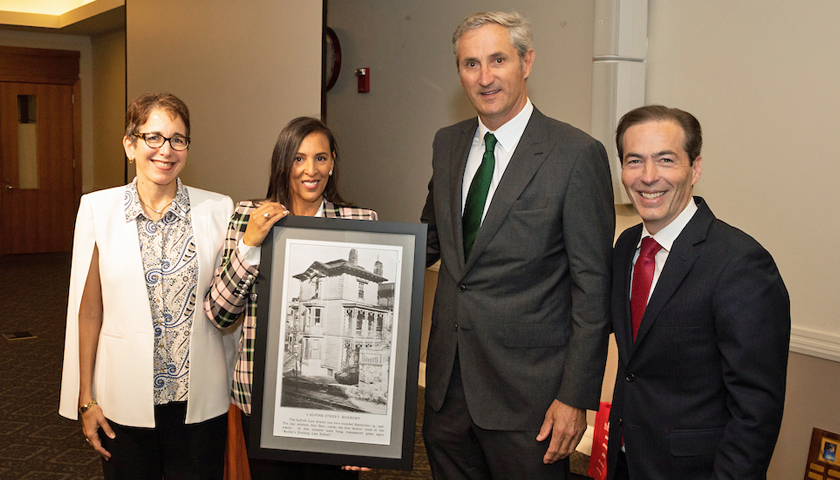 Suffolk University Law School announced today that alumnus Barry C. Cosgrove, JD '85, has made a $1 million commitment to provide scholarship support for Suffolk Law students with significant financial need.
The gift is the latest in Cosgrove's history of generous support for Suffolk Law and reflects his strong belief that students from all backgrounds should have access to the kind of life-changing opportunity that Suffolk Law affords—and that he experienced personally. It also reflects Cosgrove's belief in Suffolk Law's mission and its significant forward momentum.
"I am deeply grateful to Barry and his wife, Ingrid, for this exceptionally generous gift and for their outstanding commitment to Suffolk Law and our students," said Andrew Perlman, dean of Suffolk University Law School. "Suffolk Law got its start more than 100 years ago as a school of opportunity. This gift advances our longstanding mission of ensuring that students of every background, including those with significant financial need, get access to a transformative legal education."
The gift will create the Graciela Rojas-Trabal Term Scholarship Fund at Suffolk University Law School. Named in honor of Ingrid Cosgrove's grandmother, the fund will support law students from Barry Cosgrove's hometown of Brockton as well as law students who have a significant interest in and knowledge of the Dominican Republic's history and culture. Graciela Rojas-Trabal, a hardworking woman of modest means, grew up in the Dominican Republic. She was an exceptionally giving woman who touched the lives of each of her many family members, including grandchildren, nieces and nephews, Cosgrove said.
Boston Globe: $1m donation to Suffolk honors an influential grandmother
"All of them would tell you they had a very special relationship with her," he said. "They would all think they were the special one. This is because she had a remarkable and genuine ability to make people know she cared about them. She raised her own kids and other people's kids as well. She was a giver, not a taker. This will continue her giving."
Barry Cosgrove grew up in the working-class city of Brockton, the son of a single mother and one of five boys. He was the only member of his immediate or extended family who went to college. Today, Cosgrove is a health care venture capitalist and founder of numerous companies, including Davita, the second largest independent provider of dialysis services in the world. Suffolk Law gave "a kid from Brockton" the opportunity to get ahead, he said.
"I lived on the other side of the tracks and never thought I'd be able to play in that league," Cosgrove explained. "Sure enough, Suffolk helped convince me otherwise. I'm very grateful to Suffolk. And I'm really bullish on Suffolk's future."
His thinking behind the creation of the scholarship fund: Students who struggle most with financing an education are often the same students who most need a fair shot at the opportunities that education provides. Too often, tough financial circumstances stand in the way of success.
"Barry Cosgrove's story is a quintessential Suffolk story, and he is using the power of educational opportunity to give back," said Marisa Kelly, president of Suffolk University. "We are so very grateful to the Cosgroves for their generosity and their commitment to fostering student potential."
Cosgrove said schools like Suffolk play an increasingly important role in the world.
"Suffolk really does provide people who do not have significant advantages a chance to catch up and move ahead," Cosgrove said. "And they produce people who have a mindset of serving, and that's a pretty good formula from where I come from. If you look at what graduates of Suffolk Law do, they don't all go to Wall Street. They do much more important things, like doing good for others, and there's never enough of that."
Cosgrove also wants to give back to the city of Brockton through the scholarship fund.
"I feel I owe a great deal to Brockton," he said. "It's a city that's got a lot going for it. There are plenty of kids who deep down have a dream but maybe don't have all the confidence or support they need to follow it through. It seems only fair to me that some these young kids have the same support others were kind enough to provide to me."
The Graciela Rojas-Trabal Term Scholarship Fund is the most recent in Cosgrove's generous philanthropy to Suffolk Law and its students. He is a member of the Suffolk Law Dean's Cabinet, a group of the Law School's most generous supporters who offer the dean strategic input and advice. As a member of the cabinet, Cosgrove established a named Law School scholarship in honor of his former boss John Kuchta of the Kendall Company, which funded Cosgrove's JD studies. He also has given to Suffolk Law through an innovative approach that will benefit the school if his venture capital investments in two separate companies pay off. He has pledged to Suffolk Law 10 percent of all dividends from the companies and 10 percent of his share of the proceeds of any "liquidity event" involving them.
Cosgrove says that this gift structure creates a motivation to make the companies more successful.
"I always have in the back of my head that some people who really need help could get help if I built these two companies correctly," he said.