Hall of Fame Series: Baseball / Rams Supporter Ralph Ferragamo, BA '64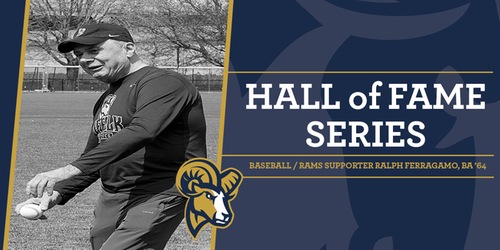 BOSTON – Over the next few weeks, GoSuffolkRams.com will take a look at the student-athletes and team to be inducted into the Suffolk University Athletics Hall of Fame this October. Our next installment features a contributor when he wore blue-and-gold on the diamond and decades later, Rams' supporter and baseball great, Ralph Ferragamo, BA '64.
Ferragamo's days of catching fly balls on the diamond for the Rams are nearly six decades behind him, but his name is still an everyday topic for the Suffolk baseball program.
The 1964 star outfielder had memorable performances during his time in blue-and-gold. There was his second-inning grand slam that helped trounce Lowell Tech, 27-4, a small hit in one of the earliest successful seasons for Suffolk that saw the Rams go 7-5. His most notable outing though was his game-winning catch that upset Boston College and denied the Eagles the opportunity to advance to the College World Series.
Although his finesse on the field was good, it was his baseball knowledge and generosity that made Ferragamo one of the greats.
The three-sport standout from Revere High School learned to give back early on and did so throughout his days on Beacon Hill and beyond by coaching.
He was a known Babe Ruth coach for the Santa Ana Baseball Club in Revere where he managed the likes of Ron Iovanna, who went on to play for the St. Louis Cardinals, and Ricky DeAngelis, a Holy Cross University Hall of Famer.
Ferragamo's work ethic in sports transferred to the work force. After putting himself through Suffolk, while supporting a family, he spent several years as a teacher. With no fear of striking out, he took a swing as an entrepreneur and hit it out of the park, developing multiple businesses in the publishing space.
A year ago, Ferragamo returned to his Rams' roots and made a commitment to establish a fund that will support the Suffolk baseball program in perpetuity and will go directly to support the student-athletes.
To commemorate Ferragamo's gift, he threw out the first pitch of a Suffolk twinbill in East Boston April 14, 2018. Moving forward every April 14 in Suffolk history will be known as Ferragamo Day. Furthermore, his name will live in prominence in the Ridgeway Building, home of Suffolk Athletics, with the "Ralph Ferragamo '64 Baseball Office."
Ferragamo is the 10th baseball player to be inducted into the Suffolk University Athletics Hall of Fame, including multi-sport athletes, and is one of two ball players to be enshrined as part of the 2019 Class.
The 2019 Hall of Fame Class features seven record setting Rams and one unforgettable team. These honorees join 57 existing Suffolk University Athletic Hall of Fames, including 42 student-athletes, four head coaches, eight teams and three special honorees.
The 2019 Suffolk University Athletics Hall of fame Induction Ceremony will be hold on Friday, Oct. 25 at Suffolk University's Sarget Hall Atrium and Function Room at 6:30 p.m. Tickets to the event can be purchased here.
---
THE SUFFOLK UNIVERSITY ATHLETICS HALL OF FAME
The Suffolk University Athletics Hall of Fame will recognize the outstanding achievements of former athletes, coaches and others who have played a most significant role in the history of athletics at our University.
---
For a more insider's look on the 2019 Suffolk University Athletics Hall of Fame Class be on the lookout for the Hall of Fame series, which will be published on GoSuffolkRams.com leading up to the event. Specific publication dates on inductees are below:
Thursday, Sept. 12 – Ralph Ferragamo,BA '64 – Baseball/ Rams Supporter
Thursday, Sept. 19 – Jennifer Harrington, BS '04 – Volleyball
Thursday, Sept. 26 – David Helberg, BSBA '70 – Men's Basketball
Thursday, Oct. 3 – Tommy Lynch, BA '94, Med '96 – Men's Cross Country
Thursday, Oct. 8 – Rick Piracini, BSBA '89 – Men's Ice Hockey
Tuesday, Oct. 15 – Mike Romano, BS '83, MBA '96 – Baseball
Thursday, Oct. 17 – Kate (Librandi) Spear, BS'02 – Women's Basketball
Thursday, Oct. 24 – 2001-02 Men's Basketball Team