Hall of Fame Series: Men's Basketball's David Helberg, BSBA '70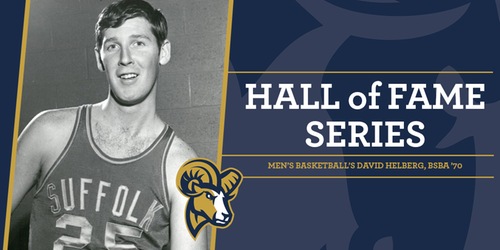 BOSTON – Over the next few weeks, GoSuffolkRams.com will take a look at the student-athletes and team to be inducted into the Suffolk University Athletics Hall of Fame this October. Our next installment features the third 1,000-point scorer in the Rams' men's basketball history, David Helberg, BSBA '70.
Helberg's 6-5 stature put fear in his opponents. But his sensational scoring and defensive determination was loved by his teammates.
Helberg broke onto the Suffolk scene quietly with his name at the lower tier of scouting reports until his junior season when he shot into the Rams' record books.
That year, the center posted a school record 15.0 rebounds per game, a mark which still stands today. His highlight reel performance came Feb. 9, 1968 when he collected 23 caroms in an 80-75 victory over Lowell Tech. His 23 boards marked a program best for a single-game. At the end of 1967-68, he totaled 225 rebounds, another mark for most in a Suffolk season, not to be overshadowed by his offensive output of 19.4 points per game.
During his farewell season, Helberg was the spoke in the wheel for the Rams, leading on both ends of the hardwood. His double-double average of 26.9 points per game (3rd all-time) and 14.2 rebounds per game (7th all-time) anchored Suffolk then and still individually sits amongst the Rams season best, while his combined points and rebounds per game his senior season have yet to be surpassed to this day.
Career milestones came frequently for Helberg, however none more significant than his 1,000th career point in a 100-89 win over Hawthrone. In a game where he scored 39 points, Helberg became the third-ever player to hit the millennial mark. At the time the only other players to reach the feat were 2009 Hall of Famer Jack Resnick (1,071) and Helberg's fellow teammate and 2016 Hall of Famer Jay Crowley (1,332).
Helberg finished his stellar career with 1,074 points (23rd all-time), averaging 23.4 points per game, along with 538 rebounds, for an average of 14.5 boards per game.
In 1970, Helberg received a Bachelor's of Science in business administration. He cites "the anticipation and excitement of playing, with his teammates and friends" as his favorite memory while at Suffolk University.
The 2019 Hall of Fame Class features seven record setting Rams and one unforgettable team. These honorees join 57 existing Suffolk University Athletic Hall of Fames, including 42 student-athletes, four head coaches, eight teams and three special honorees.
Helberg is the 11th men's basketball player to be inducted into the Suffolk University Athletics Hall of Fame, including multi-sport athletes.
The 2019 Suffolk University Athletics Hall of fame Induction Ceremony will be held on Friday, Oct. 25 at Suffolk University's Sarget Hall Atrium and Function Room at 6:30 p.m. Tickets to the event can be purchased here.