Championing a Cause
Devin McCourty makes the case for activist athletes at Ford Hall Forum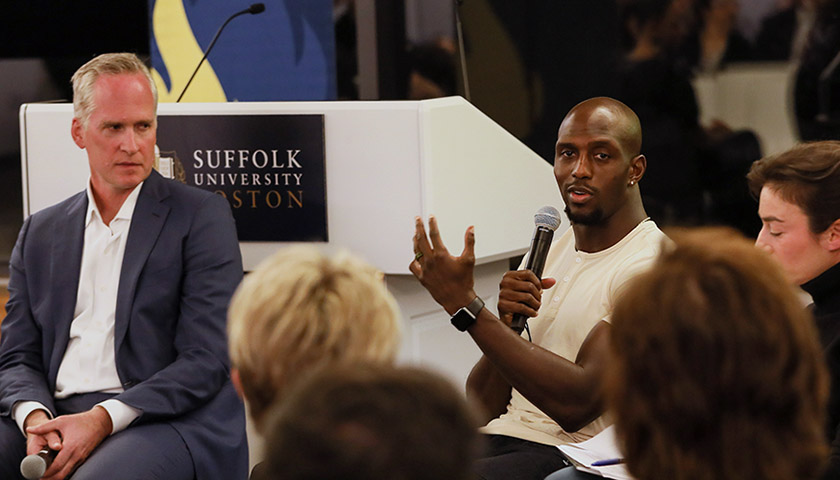 Growing up in the 1990s, Devin McCourty didn't see a lot of athletes publicly taking on tough political or social justice issues.
"You didn't see any of that. I never thought athletes were supposed to do that," the star New England Patriots free safety, who is leading the NFL in interceptions, told a crowd at Suffolk University's Ford Hall Forum Tuesday evening.
McCourty said it was watching a television special on Boston Celtics great Bill Russell that opened his eyes to the importance of athletes' speaking out. He said he remembered hearing Russell talk about "not wanting to come back to this city because of how poorly he was treated."
"Watching that and being a player in the New England area, I was like, wow," McCourty said. "It kind of opened my eyes."
Today, McCourty is outspoken and deeply engaged in social issues and causes, including criminal justice and education reform. He and his twin brother Jason, also a defensive back with the Patriots, have actively supported children and families battling Sickle Cell.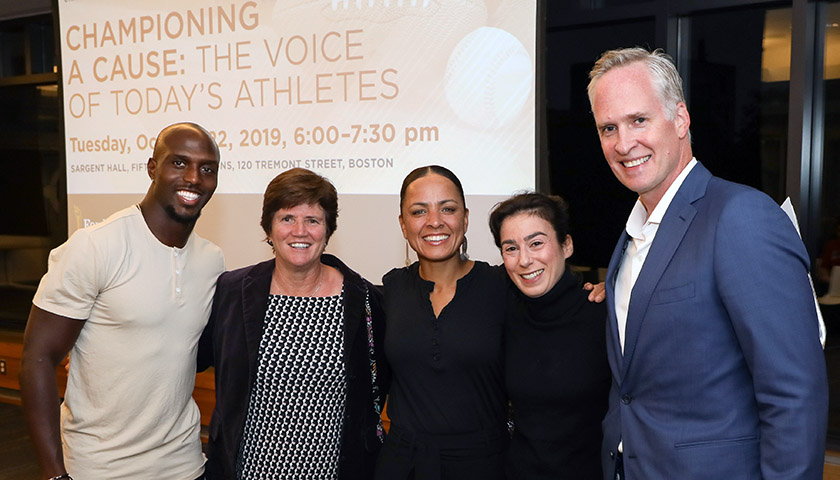 McCourty joined U.S. Women's National Soccer Team legend April Heinrichs, Boston Children's Hospital Trust Associate Vice President Michael Bornhorst, and Boston Red Sox Foundation Executive Director Rebekah Splaine Salwasser in the Ford Hall Forum's Championing a Cause: The Voice of Today's Athletes discussion at Suffolk University.
McCourty said joining other NFL players in speaking out has not always been easy. "Obviously, it came with a lot of positives and a lot of negatives, but I think we've been able to sort through that, and it's a humane thing. Whether it was raising a fist, or we took a knee and we spoke out, people were going crazy. There was uproar–'these guys need to line up and just play football on Sunday, they need to get cut, they need to be traded,' and I think you fast forward to now, and people actually see some of the things we care about. …It has been very humbling, and I think it took taking a step out on the ledge to really see that."
Kaepernick controversy
He got a round of applause when he spoke of his respect for Colin Kaepernick, saying: "I think he became the sacrificial lamb for all of us as players and for a bunch of different causes he believes in, and to this day I have the utmost respect for him because he did things when it wasn't popular. …Whether you agree or disagree with everything he's ever said, you have to have a lot respect for a man that puts his career on the line and now will probably never play again. … But 20 years from now, we'll always be talking about what he did and what he meant to our generation and the generation that comes after us."
Heinrichs noted that U.S. soccer star Alex Morgan, who has become the face of U.S. soccer today, has more than 13 million followers on Twitter. "When you have (that many) followers it empowers you a little bit to start saying what you think," Heinrichs said.
The discussion was moderated by Shira Springer, sports and society reporter for National Public Radio and WBUR and a women's sports columnist.