Benefactors celebrated during showcase of updated Ridgeway facilities
Outstanding student athletic accomplishments –on the court, in the field, and on the ice – were honored during the eighth installment of the Suffolk University Athletics Hall of Fame.
"Induction ceremonies like the Suffolk Hall of Fame reveal the impact that Suffolk University as a whole and our Athletics Department in particular has on the lives of people, including the chance to renew old acquaintances and make new connections," said Director of Athletics Cary McConnell.
"This is an opportunity to honor truly exceptional athletes for their commitment to excellence and Suffolk University athletics."
The Class of 2019 Athletics Hall of Fame inductees include five men, two women, and one team, representing six different athletics programs.
The Suffolk Athletics Hall of Fame, which held its first induction ceremony in 2007, boasts 57 members, including 42 student-athletes, four head coaches, eight teams, and three special honorees.
Hall of Fame 2019 inductees
Former minor league baseball player Mike Romano, Class of 1983 and 1996, and star outfielder Ralph Ferragamo, Class of 1964. Although they played in different decades, both of these performers made a name for themselves while wearing the blue and gold.
Jennifer Harrington, Class of 2004, the first-ever women's volleyball player in Suffolk athletics history to be enshrined as a Hall of Famer.
Tommy Lynch, Class of 1993 and 1995, the first-ever all-region runner in Rams' cross-country history.
Rick Piracini, Class of 1989, whose talents on the men's hockey team cut two-ways; he was a rugged defenseman and the all-time points leader from the blue line in program history (98 points on 29 goals and 69 assists).
David Helberg, Class of 1970, and Kate (Librandi) Spear, Class of 2002, a pair of 1,000-point scorers, were selected to the Hall of Fame for their overall skills and tenacity at both ends of the basketball court during their stellar careers.
In the team category, the 2001-02 men's basketball program, led by head coach Dennis McHugh and future Hall of Famer Jason Luisi, secured its place among the Rams' greats as the first and only team to capture the Great Northeast Athletic Conference (GNAC) title and receive an automatic bid to the NCAA Division III Tournament.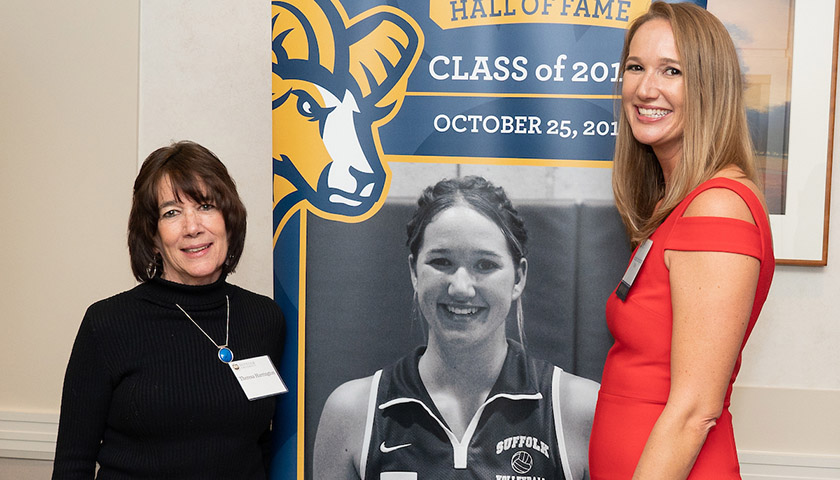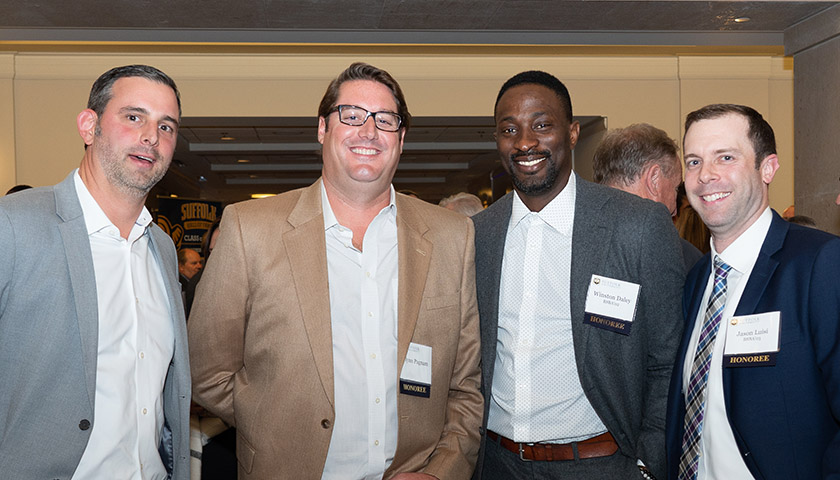 Charles Law award
The Athletics Department preceded the induction ceremony by presenting the 2018-19 Charles Law Student-Athlete Award to Emily Manfra, the first-ever Suffolk student-athlete to achieve All-America status as a runner. This distinguished award honors the late Charles Law, whose work ethic and due diligence embodied what it means to be a student-athlete, both academically and athletically.
Philanthropists recognized
The Suffolk Hall of Fame celebration also recognized the philanthropy of Hall of Fame members Michael S. Smith, Class of 1961, and Larry E. Smith, Class of 1965, who generously funded the recent enhancements and upgrades of the Ridgeway Building.
"The Smiths' legacy at Suffolk reaches for beyond athletics, but their influence on the University's teams and facilities is dramatic," said McConnell. "Because of their thoughtful philanthropy, the student-athlete experience at Suffolk has been greatly enhanced.
"Our student-athletes now call home to a newly renovated facility on Beacon Hill that features new locker rooms, training room, student-athlete lounge, and team film room. They have changed the landscape forever for the Suffolk Athletics Department."