Business School celebrates the legacy of an alumnus' travel scholarship fund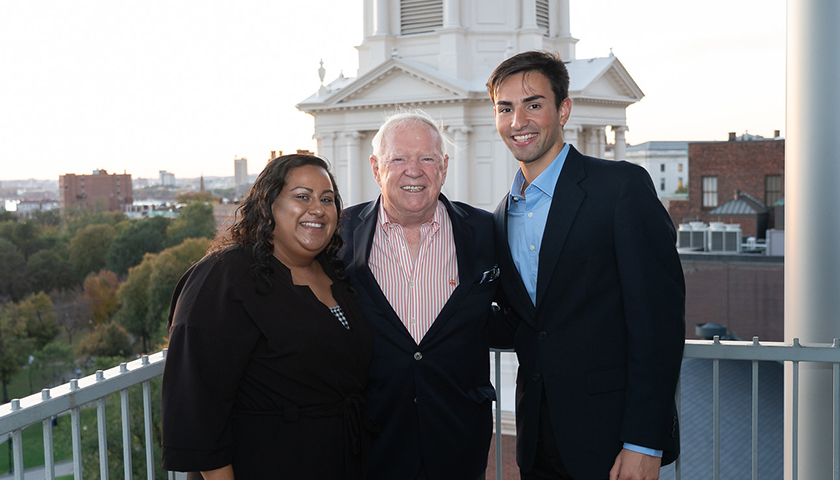 At first glance, Ed McDonnell wouldn't appear to have a lot in common with Mayra Gonzalez, Class of 2021, and Steven Lopez, Class of 2020.
McDonnell's a native Bostonian. Gonzalez and Lopez are the children of Central and South American refugees. McDonnell, BSBA '59, HDCS, '84, spent much of his career building a successful international beverage distribution business. Gonzalez and Lopez haven't even graduated. But Gonzalez dreams of starting a construction business in El Salvador; Lopez wants to work in finance and get an MBA.
But in addition to being part of the Sawyer Business School "Ramily," the three of them relate to each other in many other ways. They're all the first in their families to attend college. They're all children of immigrants. And they've all had transformational moments thanks to international travel.
Gonzalez and Lopez are just two of the 300 students whom McDonnell has helped over the years. His eponymous scholarship fund provides financial assistance for Sawyer Business School students to go abroad on International Travel Seminars. For 23 years, McDonnell scholars have had the opportunity to travel and understand the businesses and cultures of other countries. It's an opportunity that ties in directly with the University's commitment to preparing students to be global citizens.
Some of the McDonnell scholars, along with Suffolk faculty and staff, helped celebrate his generosity at a reception in late October.
A Moving Experience
Lopez and Gonzalez each presented overviews of their trips during the ceremony. Lopez, who majors in Economics in the College of Arts & Sciences with a minor in Entrepreneurship in the Business School, traveled to China with his group. He visited a global incubator called Innoway, where they learned about DiDi, the world's leading mobile transportation platform, and they experienced how WeChat is transforming China into a cashless society. Lopez has even started monitoring the stock price of Yum! Brands after seeing the proliferation of KFC restaurants in China. He also noticed how different the culture of business is in China compared to the U.S.
"We saw lots of economies of scale, which we talk about a lot in economics," Lopez says. "For example, at General Motors I saw how automation worked and how efficient they were. Their investment was more about capital and machinery and less about labor."
Gonzalez and her group visited several businesses in Israel, but it was her cultural experience there that meant the most to her: She renewed her baptism vows in the Jordan River.
"The visit was especially meaningful because we had the chance to walk the streets where Jesus walked," Gonzalez said in her presentation. "There are not enough words to express my gratitude."
Suffolk President Marisa Kelly and Business School Dean William J. O'Neill, Jr., presented McDonnell with a plaque that included thank-yous from many of the students who have received scholarships over the years. In his remarks, McDonnell said he very much enjoyed meeting some of the scholarship recipients and hearing about their trips.
"I am so pleased to help deserving students follow their dreams," said McDonnell after the event. "Their stories overwhelmed me."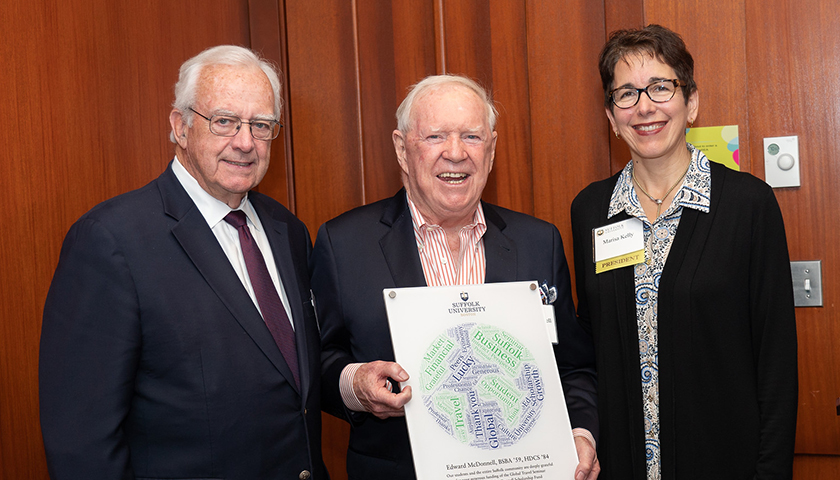 Contact
Greg Gatlin
Office of Public Affairs
617-573-8428
Ben Hall
Office of Public Affairs
617-573-8092