Driving Change and Action Through Data
Five takeaways from the 2019 Public Performance Conference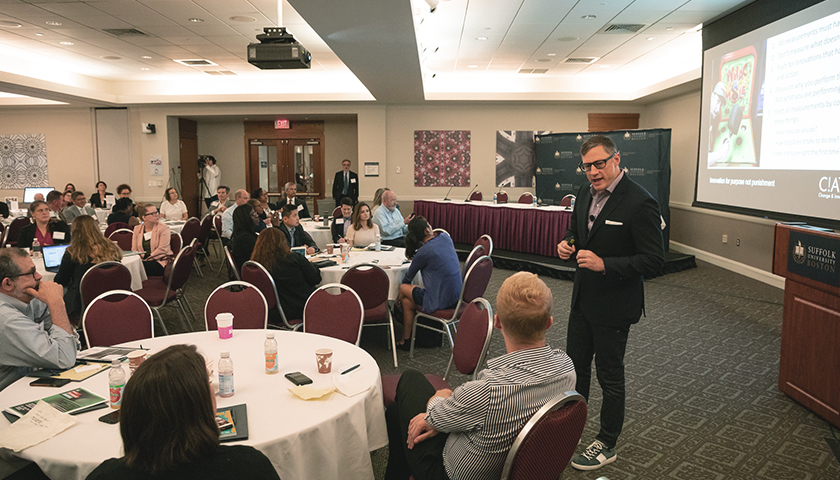 The National Center for Public Performance held its 2019 Public Performance Conference at Suffolk's Institute for Public Service in late September. Speakers and attendees from around the world explored cases and presented solutions from local, state, and federal government agencies, as well as nonprofits and private consulting firms. Here are five takeaways from the two-day conference:
1. Sweat the Small Stuff
"If we each did one better thing every single day, we would see an improvement in our overall work," said keynote speaker Brian Elms. He is a founding member of Peak Academy, which has helped the city of Denver save millions of dollars by empowering city employees to make changes and improvements and solve problems on their own. The key to the innovations? "They're simple, small, and cheap," he said.
Elms explained that communities need to look for incremental change and constantly ask themselves: Can we fill another pothole today? Can we return someone's lost dog so that we don't have to feed and house it? Can we serve another child today? Can we take another person off the street?
2. Being Strategic Is, Well, a Good Strategy
Mark Abrahams, who earned his MBA at Suffolk in 1982, was an early implementer of performance management in the United States, working with Indianapolis, Milwaukee, Boston, and many other cities. His commonsense revelation for these and other communities he's worked with? Set overall goals, preferably in the form of a strategic plan. "What does the community want? What are the major outcomes they want to achieve? And can they articulate that so that departments can develop program plans and goals?" he asked. Abrahams' overall theme was that alignment from the top down leads to better outcomes.
3. Make Your Data Indispensable
In a talk entitled "Don't Throw the Baby Out with the Bathwater," return presenters Anne McIntyre-Lahner and Ron Schack spoke about the challenges that agencies face when a new government or administration comes in and wants to put its stamp on everything. It can cause a lot of disruption to agencies' programs and methods. Good, smart thinking about data can be arbitrarily jettisoned.
One solution to sustaining programs in the face of administrative policy changes is to broaden and diversify the list of stakeholders. "Building external constituencies for the data you're producing within an organization is one of the key ways to sustain the production of data," said Shack. "Because if external stakeholders consistently press for those data, it's hard for someone within the organization to just say, 'Oh, don't produce that.'"
4. (Data) Power to the People
One of the many department projects and priorities on MeghanMarie Fowler-Finn's list is what she calls "Data Power to the People." Fowler-Finn is the performance manager for the Washington, DC, District Department of Transportation (DDOT). With a yearly capital budget of more than $650 million, DDOT oversees everything from parking and bike lanes to school crossing guards and forestry. The dynamic is especially complex because the District of Columbia is a hybrid city-state, which means it has different reporting structures and budgeting challenges than the 50 states.
Fowler-Finn and her team have been working to help people across DDOT use data to make informed decisions, a concept she calls "data power." The goal is to ensure that everyone has a shared truth. Once that's achieved, then everyone can drive measurable change and action.
5. Efficient Silos Don't Make an Organization Efficient
Contributing an international perspective was Prajapati Trivedi, who leads the Economic, Youth, and Sustainable Directorate of the Commonwealth Secretariat in London. He pointed out that performance management can certainly help different parts of an organization run more efficiently, but it doesn't necessarily make all those parts work well together. What's needed to make silos collaborate better are "team targets," or, in other words, making all the silos responsible for a single outcome.
One example he related: When the Indian government wanted to produce more electricity, it had to get five different government agencies to work together. The solution Trivedi's team suggested? Give the agencies team targets and incentivize them to work together. All the agencies were told they would share in the success—or failure—of the project. After that, the government was completely hands-off: the agencies had to handle it themselves. "We defined the goal for the constituencies and told them: 'You're big boys. You figure out how to deliver. It's your problem,'" Trivedi said. The result? The agencies met their targets and produced the extra 20,000 megawatts.
Trivedi will be the program chair for next year's Public Performance Conference, "Emerging International Best Practices in Public Performance Management," which will explore more examples of public performance from international agencies.
Contact
Greg Gatlin
Office of Public Affairs
617-573-8428
Ben Hall
Office of Public Affairs
617-573-8092