Tuition, Housing, and a Job After College? Covered.
Physics student awarded SMART Scholarship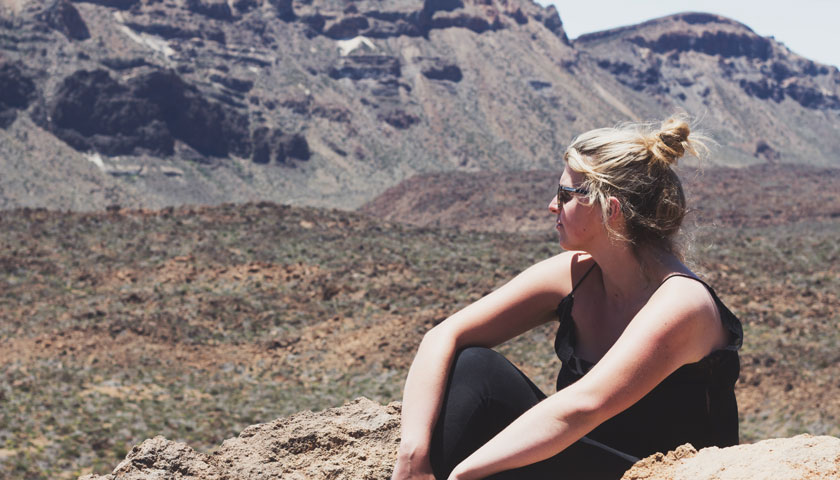 Sophomore physics student Molly McDonough was in class last spring when she received a frantic call from a childhood friend: "Molly, come home. Your house is on fire."
In the days that followed, McDonough and her family dealt with the aftermath of losing their home. As she worked with professors to adjust some assignment deadlines, and as Student Life stepped in to arrange temporary housing, a glimmer of hope appeared in her inbox three days after the fire.
It was an email from the Science, Mathematics and Research for Transformation (SMART) Scholarship Program, a Department of Defense initiative that would cover McDonough's tuition, provide a $25,000 a year stipend for living expenses for the rest of her time at Suffolk, and guarantee her a research job after college. The timing couldn't be more perfect. She took a deep breath and opened the email.
It was a rejection.
Back to work
McDonough took the setback in stride and focused on her finals. She's not one to dwell on disappointment when she can act instead.
"My biggest challenge so far is actually not my house fire, but the time in high school when I had to fight for my place in an AP physics class after getting a bad grade in algebra," she says.
That physics course opened her eyes to how much fun STEM can be when theory meets practice. "We made bottle rockets and built hoverboards out of leaf-blowers," she says, and she was hooked.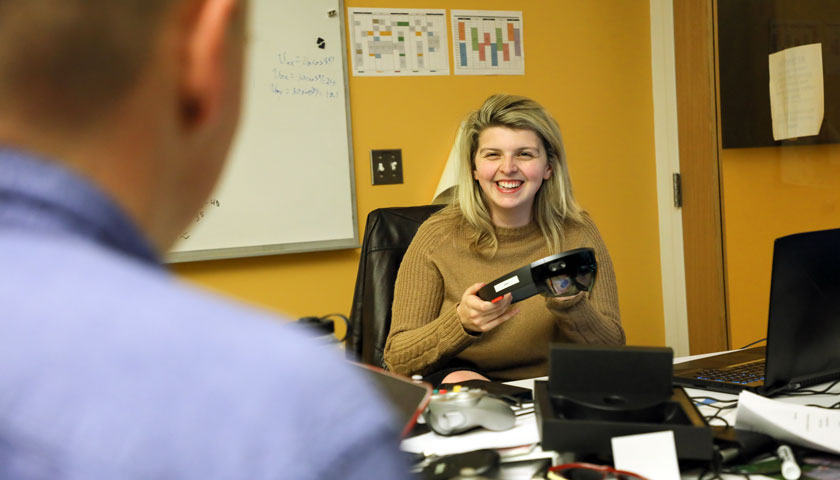 Now an honors student in the tight-knit physics department at Suffolk, McDonough is getting hands-on experience in the Augmented and Virtual Reality lab and as a member of the team conducting nuclear research at Mass General Hospital.
"This environment is ideal for me. I could never be a theoretical physicist, sitting still and pondering the universe. I need to be experimenting and applying what I learn," she says.
Reversal of fortune
Busy with exams, and preparing for a summer internship researching spintronic technologies for processing, storing and transporting quantum information at Penn State—"think basically all the materials in your phone and how to make them smaller and more efficient"—McDonough was surprised to hear from the SMART program in late April. They'd made some adjustments and created a spot for her after all.
McDonough traveled to Wright-Patterson Air Force Base near Dayton, Ohio, in June for her SMART program orientation. She'll be stationed there for 18 months after graduation as a civilian scientist, conducting cutting-edge research in active electro-optics.
Though she can't speculate about the applications of the technology she'll be working on, McDonough says the field includes studying components of imaging systems that could be used someday on airplanes and fighter jets.
"Active electro-optics means that the device has its own light that is projected onto the object and then the sensor measures the light that bounces back," says McDonough. "LADAR, laser radar, is a surveying method that measures distance to a target by illuminating the target with laser light and measuring the reflected light with a sensor. It is typically used by people who are interested in locating and characterizing smaller point targets like vehicles or other manmade objects."
The SMART program allows recipients to complete paid internships at their sponsoring facilities, so McDonough will spend next summer in Dayton working on a material modeling project to study the image resolution of sensors made from different types of materials.
Finding her own path
The SMART scholarship doesn't just solve McDonough's financial and housing challenges. It also broadens her career horizons.
"There can be an attitude in STEM that if you don't go straight to your PhD it's the end of the world. Physics teaches you that there's no single right away to find an answer," she says. "The position I'll take at Wright-Patterson when I graduate opens up a whole industry full of innovative research and job security."
McDonough plans to complete her master's degree in Applied Physics online while working at Wright-Patterson. If she decides to pursue a PhD she can reapply for the SMART program for her doctoral studies. Or she might pursue a post-graduate fellowship in scientific public policy. McDonough is keeping her options open.
Although she values the support of her classmates and mentors at Suffolk—particularly Physics Professor Walter Johnson, who "would write me a recommendation at midnight or offer a ride home while my house was burning"—McDonough prides herself on her independence.
"I feel ownership over what I'm doing and finding my own path. That's what makes me who I am."