A Sirius Conversation
CMO of the world's largest audio entertainment company shares advice and anecdotes with Marketing students and faculty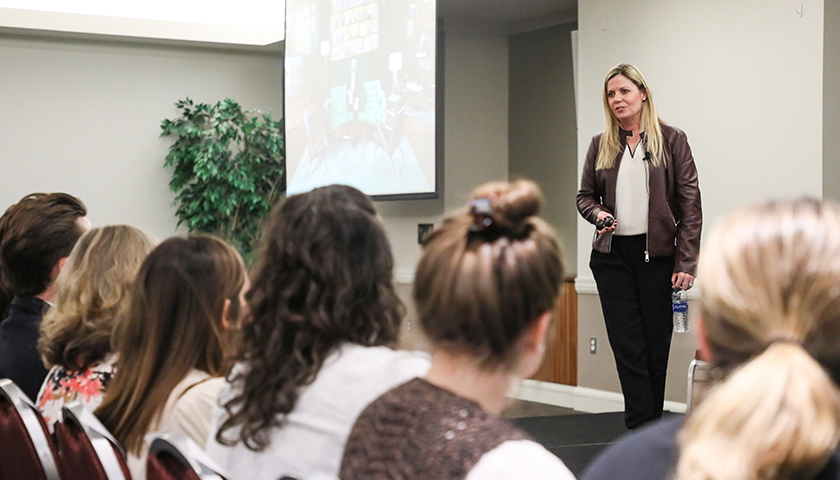 Denise Karkos had been on the job as chief marketing officer for the company that owns Pandora and Sirius/XM for only three weeks when she came to speak to graduate and undergraduate students in Suffolk's Marketing program. Yet the newly installed CMO was full of ideas and thoughts about the recently merged companies, the journey that took her there, and her favorite Sirius/XM channel. After the event, she sat down for a Q&A.
Q: You've made several transitions in your career, from advertising in Boston to L.L. Bean to TD Ameritrade and now to Sirius/XM. In your presentation to the students, you talked about the deliberate nature of those moves.
Denise Karkos: I had the gift of knowing that I wanted to go into marketing because those were my favorite classes in school. And I went to every temp agency I could find and finally got a job as an executive assistant for a group that bought out-of-home billboards. I remember my interview: They asked me, "How many words a minute can you type?" And I had no idea, so I just said something like 200 words, and they hired me on the spot. I had no idea what that meant! Then I worked for a really tough woman who reprimanded me for stapling papers wrong, and I was crying in the bathroom more days than not and thinking, "I can't even do this job right."
But I made sure pretty quickly that that was not going to be my fate. So I made relationships all over the company, did anything anyone wanted from me, offered up my services, helped anyone, and over time built relationships and made it known that if there were openings elsewhere, I was open to that. That became the purpose of every single next job.
Q: So you had a few jobs, expanded your media knowledge to include TV and print and radio, lived in Chicago and then…?
DK: Then I intentionally took a $19,000 pay cut, a big deal for an early-days job when you're not making much. But I did it intentionally because I thought I'd better cut my salary early on to get on broader track. So I did that and then started growing my career at Boston agency Hill Holliday. Then everyone started asking about online advertising, something nobody knew much about in the mid-1990s. So I set out to become the resident expert, teaching our clients and our people all about what digital advertising was. And that took me to Digitas, also in Boston, and a bigger job there.
"My career has always been about: Where can I learn more? Where can I fill in the gaps? Where can I lead bigger teams?"
Denise Karkos, CMO
Sirius/XM
Q: But then you got narrow again in what you were doing.
DK: Yes, I got narrow again doing just digital. So I thought, "Well, I'm never going to be a CMO if I'm only doing media buying. I should go work for a brand." And so I went to work for LL Bean as an advertising manager. From there I went to TD Bank with a bigger, broader job. And, again, it was always about where can I learn more? Where can I fill in the gaps? Where can I lead bigger teams? Then when I turned 40, I applied for the TD Ameritrade CMO's job, but I didn't get it. And as tough as that was, it forced me to look at where the gaps were. So I asked people to tell me what the gaps were so that the next time a position like that opened, I'd be ready.
Q: What was one of the main points you heard?
DK: The feedback was specific: I didn't have any relationships with our board of directors. Now the irony is you can't really get a relationship with the board until you get that C-level job. But I worked with my mentors and I worked with HR to earn visibility at that level. And that way, when the job came up again when I was 42, I was a known entity. And so for the board to approve it was a lot less friction.
Q: So you stayed at TD for ten years and took the CMO job at Sirius.
DK: Yes, it's the biggest jump I've ever made. I made the move to a brand that's kind of very front and center in culture. So I'm eager to see if I can apply my skills to make a difference. Of course, it's a totally different culture, and I'm flexing different muscles, too, to get used to that. But I'm really proud of myself for getting out of my comfort zone, because there's so much risk now in making these jumps. I love puzzles and this is just the biggest puzzle I've taken on. So I'm looking forward to working it.
Q: What's your favorite Sirius/XM channel?
DK: Pearl Jam Radio, absolutely! My husband and I listen as much as we can.
Contact
Greg Gatlin
Office of Public Affairs
617-573-8428
Ben Hall
Office of Public Affairs
617-573-8092