It may be impossible to overstate the complexities of the immigration crisis playing out along the U.S. southern border. There are the legalities associated with the apprehension of hundreds of thousands of migrants during a surge this year that overwhelmed border facilities, along with changes in the asylum application process. The immigration system itself is facing unprecedented pressures, and all of this is playing out in a politically polarized environment.
We reached out to three alumnae in the field and the head of Suffolk Law's immigration clinic to better understand these challenges and how they view the future.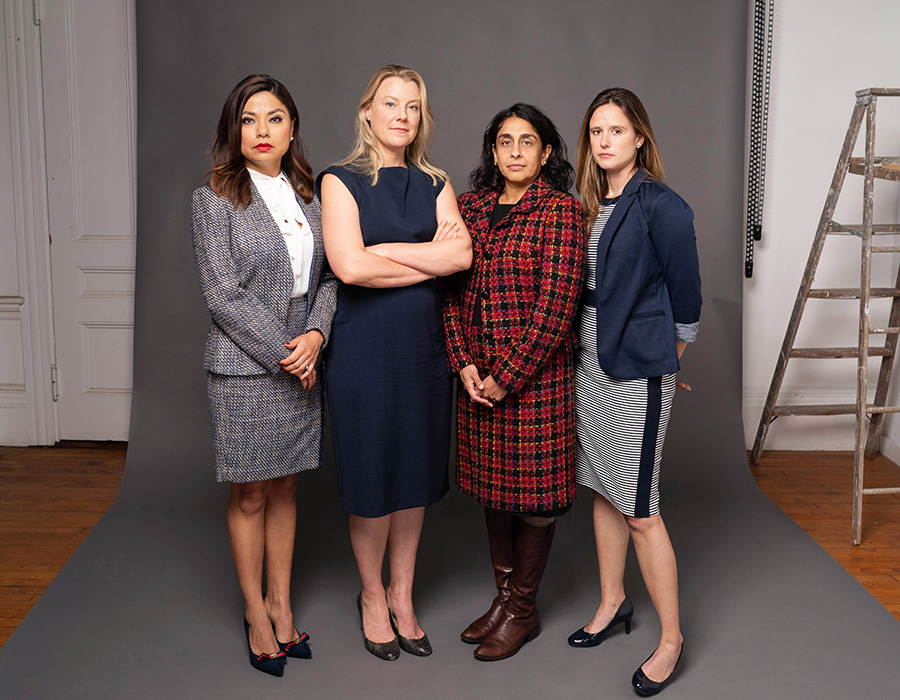 "It Changes You" 
Maybe it was the 18-hour work days or the sight of mothers and children clinging to one another in fear. It could have been the scent of petrol wafting through the surrounding fracking fields or the scathing term "baby jail" used by some to describe the facility. Whatever the reason, the week Alexandra Peredo Carroll JD'06 (below) volunteered at an immigrant detention center in Dilley, Texas, in 2015 was an eye-opener, even for the experienced immigration attorney.
That year, federal judge Dolly M. Gee found that the two detention centers in Texas that the Obama administration opened failed to meet minimum legal requirements for facilities housing children.

"Being witness to those conditions and the way people are treated in our own country changes your perspective in life—it changes you," Peredo Carroll says.
She went to Texas with a group of immigration attorneys from the New England Chapter of the American Immigration Lawyers Association (AILA). Their days at the South Texas Family Residential Center, which opened in 2014 to house women and children from Central America, were spent at the detention facility working with clients. In the evenings, attorneys prepped for bond hearings and "credible fear" interviews. During the latter, individuals attempt to demonstrate that they have a credible fear of returning to their home country.
"I think we all came out of that trip as different people. It was during that week that I realized I wanted to work at a nonprofit doing this kind of work," Peredo Carroll says.
Three months later, she interviewed for a pro bono coordinating attorney position with the Boston office of Kids in Need of Defense (KIND), whose mission is to "represent unaccompanied immigrant and refugee children in their deportation proceedings." Her work for KIND took her back to the border in 2018, to the Port Isabel Detention Center in Harlingen, Texas, after the Trump administration's decision to separate migrant children from families who were detained as they attempted to enter the U.S. illegally. The Trump administration contended that separation would deter families from making the hazardous journey to the United States.
"I thought that I would be prepared," she says. "But what I witnessed, working with mothers and fathers who had their children forcibly separated from them, was truly the worst thing I have ever seen in my life. Nothing in the world could have prepared me for that."
As managing attorney for KIND's Boston office, Peredo Carroll now helps to train and mentor pro bono attorneys representing children in removal proceedings. When asked if she's hopeful about the future of immigration law, she answers without hesitation: "Always hope. I do think there's always hope that the justice system will prevail."
"Lawyers: The Most Powerful Tool" 
Rachel Self JD'04 (below), a legal analyst for Fox News and CNN, has a private practice in Boston specializing in what she calls "crimmigration," the intersection of criminal law and immigration law. She splits her time between criminal trial work, deportation defense, adjustment of status cases, and other immigration matters. Over the last 15 years, Self says she's developed valuable relationships with government officials and prides herself on maintaining them during a tumultuous period for U.S. immigration policy.
Self's approach to representing clients has changed from the past, when she could recommend some clients fill out an application on their own. Now, she says, that suggestion is almost laughable: "For one thing, forms that used to be one or two pages are now in excess of 20 pages, and in some cases there are 10 to 12 different forms that need to be submitted."
In February 2018, U.S. Citizenship and Immigration Services (CIS), the Department of Homeland Security agency that oversees adjustment of immigration status, changed its mission statement, eliminating the phrase describing the U.S. as a "nation of immigrants." A new statement on the agency's website says the office focuses on administering "the nation's lawful immigration system." This change was not lost on immigration advocates and attorneys like Self.
L. Francis Cissna, then-director of CIS, described the revision as a "simple, straightforward statement" that "clearly defines the agency's role in our country's lawful immigration system and the commitment we have to the American people."
"Over the last two years, I've noticed a significant shift within U.S. Citizenship and Immigration Services, away from the spirit of an agency that exists to provide a service," Self says.
So Self throws everything she can at a case. That could mean proactively sending additional application materials before they have been requested, knowing that the process for something like a green card or a visa application has become unpredictably complicated.
"People are paying $2,000 in filing fees just to file applications in many cases, and because the agency is so busy and has so many new directives, there are needless errors being made, which are completely avoidable, and devastating to the client," she explains, citing issues like paperwork that has already been submitted being overlooked and materials being filed under incorrect names. Each error or oversight can derail a process that already takes months or years.
Self believes many of the career government employees tasked with executing rapid-fire policy changes and new procedures are just as confused and frustrated as the attorneys and clients who are forced to adjust.
"I am standing on shifting sand, which means my feet are moving and my advice could change next week," she says.
Individuals who support more restrictive immigration policies often argue that the immigration system is too easily exploited by people who do not have legitimate claims to enter or remain in the U.S. But that doesn't mean one should ignore due process and constitutional violations that result from policy changes, Self argues.
"The way we fight back," she says, "is through the courts."
"It Makes Everything Worth It" 
Janeth Moreno LLM'09 (below) is empowering immigrant communities with the tools they need to know their rights. The founder of Moreno Law in downtown Boston, she's been in private practice for three years. The bulk of her cases are asylum claims, a facet of immigration law that has seen some of the most fundamental changes under the current administration.
In June 2018, then-Attorney General of the United States Jeff Sessions summarily reversed the finding that women fleeing domestic violence from certain countries could qualify as a special social class when applying for asylum in the U.S. Moreno says the announcement immediately eliminated what many immigration attorneys considered a crucial adjudication strategy.
In issuing the decision, Sessions wrote that asylum claims had expanded too broadly to include victims of "private violence," like domestic violence or gangs, so he narrowed the type of asylum requests allowed.
"We've seen more restrictions, more restrictive venues. We don't have the law on our side right now," Moreno says.
Perhaps no system has undergone more upheaval in the last three years than the asylum application process. The Trump administration—citing a system of loopholes that it contends are readily abused—has made it more difficult for people to apply for asylum, instituting in January 2019 what it calls the Migrant Protection Protocols, also known as the "remain in Mexico" policy. This new process requires people to wait at the southern border for their chance to begin the asylum application process. A recent series of agreements struck with the governments of Guatemala, Honduras, and El Salvador is part of a plan to prevent Central American migrants from applying for asylum in the U.S. if they have not first done so in another country.
These additional challenges mean Moreno needs to be sure her clients are even better prepared. To that end, Moreno not only works with local consulates of Colombia, Mexico, Guatemala, and El Salvador but also connects directly with immigrant communities in New England, bringing "Know Your Rights" sessions into neighborhood churches. One lesson shared at the sessions is that immigrants facing ICE agents have the right to remain silent and to speak to a lawyer.
She says it is empowering to share information in an informal group setting, where people feel safe: "I've seen the impact in the communities, it's making a difference. It makes everything worth it."
"The Path Forward" 
Clinical Professor of Law Ragini Shah (below) sees the potential for students to play a critical role in the immigration system. Shah came to Suffolk Law 11 years ago to found its Immigration Clinic, which represents detained immigrants facing removal from the U.S. While there's always been a healthy student interest in the clinic, Shah is seeing an increased interest from incoming students who say they know immigration law is their path.
"Immigration policy has always been sort of harsh, particularly for the population we serve at the clinic, but this administration has brought it into the public discourse in a way that we've never seen," she says. And aspiring lawyers are paying attention. For better or worse, the rhetoric out of Washington, D.C., is sparking dialogue.
Shah's goal in the Immigration Clinic is to select cases for students that help illuminate a larger issue—such as the factors that drive migration from Central America and the human consequences of something like the "remain in Mexico" policy.
She says keeping one's bearings in a dramatically shifting landscape can be challenging, so she wants to make sure her students can feel grounded while they're learning.
"I spend a lot more time reading decisions that are coming down, not just for my own knowledge," she says. "But I'm trying to give my students a sense that, even though policy is rapidly changing, there are legal anchors, so let's find those anchors together."
It's easy to get discouraged working within a complicated system when every day seems to bring changes. Yet Shah finds hope in the community of lawyers sharing advice and banding together to file class action lawsuits against the Department of Homeland Security and other government agencies.
The biggest takeaway for Shah's students often is the connection with their clients. For Shah, it's her connection to her students: "Being a part of this moment and being a part of their journey to becoming better lawyers, I feel privileged."