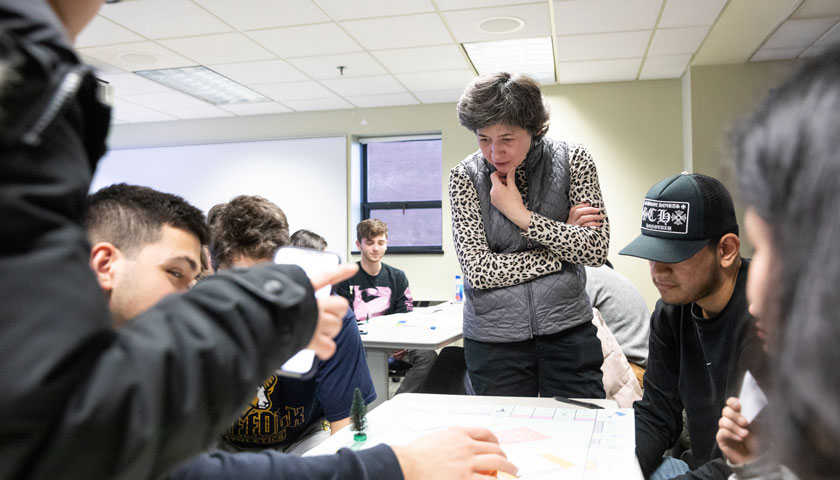 As other students rush around campus clutching coffees and looking for a place to review notes one last time, peals of laughter ring out from the final session of Chemistry Professor Edith Enyedy's class.
In fact, according to finance major Francis Perfetuo, the Chemistry is Everywhere course has "the most fun final of the semester."
Enyedy planned it that way. Since the course is part of Suffolk's undergraduate Creativity & Innovation requirement–designed to teach flexibility in thinking without fear of failure–she wanted to make sure the material was accessible to students from any major. That includes those who might be unfamiliar with, or even anxious about, STEM material.
"If I can get them past their frustration it's a good gateway to looking more at science," says Enyedy.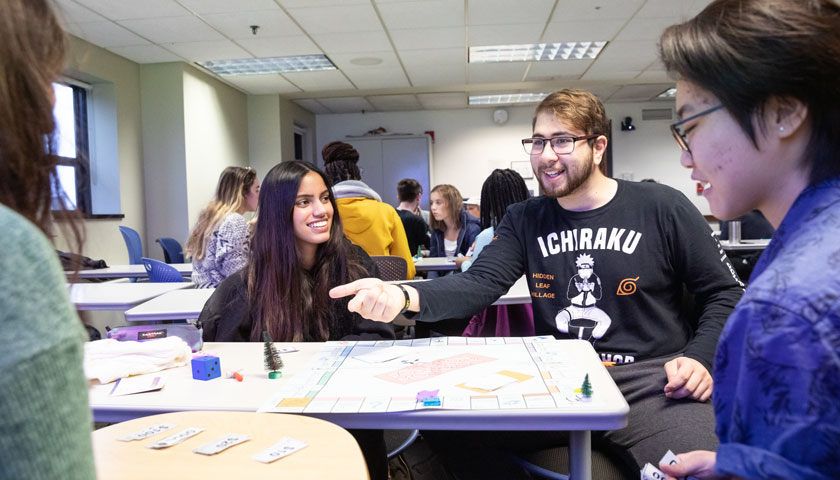 To help alleviate any trepidation, Enyedy turns to something most students are quite familiar with: board games. After slowly working with students to build their basic chemistry knowledge she separates them into groups to design their own educational games.
During the final two weeks of class each group debuts their game and plays a round with their classmates.
Marketing major Jessica Jaeger and her group based their game "Chemno" on the popular Uno card game so that players could grasp it quickly. The project allowed Jaeger to flex her creativity by developing the content, look, and playability of the game.
"That's a huge part of my major," she says. "I learned things in this class that will help me build on my ideas. I've been able to apply the [creative problem-solving] theory to other classes already."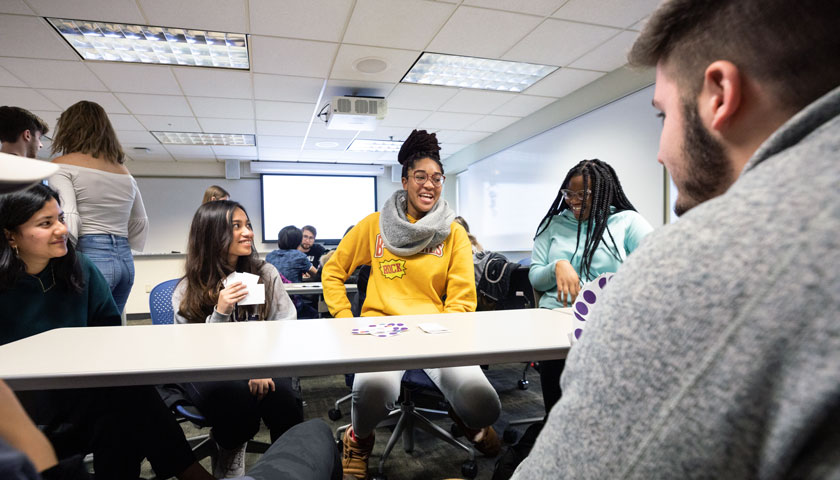 Caden Smith sees his team's "Pollution Monopoly" game as an opportunity to educate his peers about two of his passions: real estate and environmentalism.
The entrepreneurship major wants to work on sustainable development projects after he graduates. As he guides classmates through the details of the game, he hopes to raise awareness through the use of the earth's largest carbon-emitting companies in the board's real estate spaces and by swapping in chemistry trivia for Monopoly's traditional rent payments.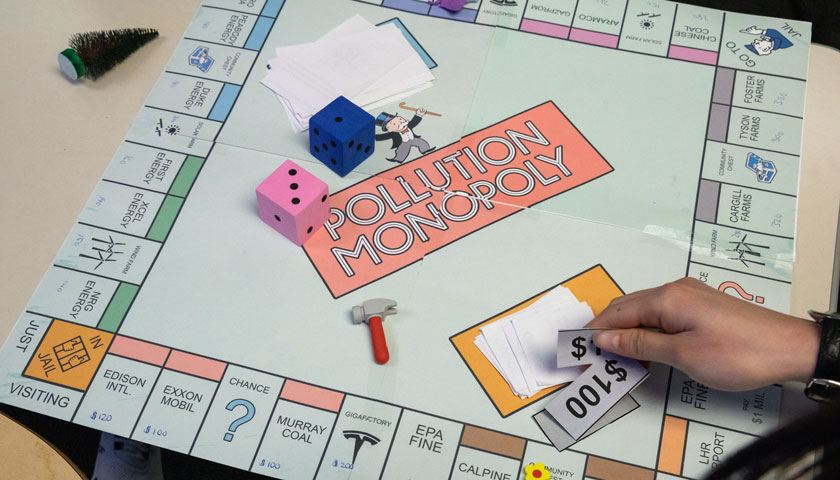 The class has an almost even split between students from the College of Arts & Sciences and the Sawyer Business School. More of them study management and finance than chemistry and biology.
This experience has taught them how to work together to identify and use each other's strengths.
"Game design helps students bring the skills they already have to this project," says Enyedy. "Chemistry is only a tiny part of their success."
Emma Altavesta, Ingrid Aksia, and Kaylee Fife learned that as they designed a chemistry-themed version of the classic game Guess Who? Participants ask questions to identify periodic elements.
"Kaylee is a chemistry major so she brings that knowledge," says Altavesta.
Business student Aksia kept them organized and focused on logistics, while Altavesta used her public speaking background as an undergraduate law major to lead the group's final presentation.
"When we first started we were stressed and no one knew anyone else," she says. "Now we're all friends. This is the best group project I've ever had."