Food for Thought in Madrid
Students learn firsthand about refugees entering Spain as they engage in service learning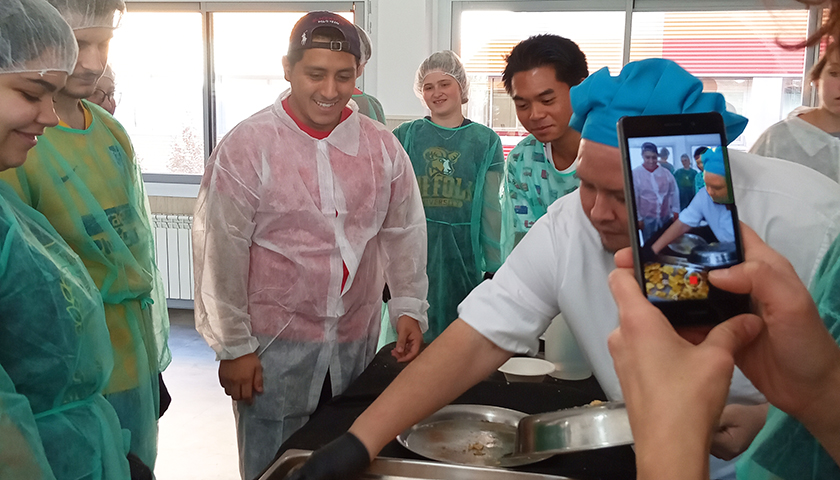 The plight of refuges seeking asylum in Europe is of concern to Autumn Hall, so she volunteered for Suffolk Madrid's inaugural service day at a city refugee center.
"As an International Relations major and an international student I care about the situation of refugees," said Hall, Class of 2022.
Students studying at Suffolk's Madrid campus are embracing service learning through personal and group efforts like the visit to the CEAR (Comisión Española de Ayuda al Refugiado) refugee center, a daylong food drive, a service learning class that included 25 hours of service, and one-on-one English-language tutoring.
Mediterranean refugee crisis
More than 98,000 refugees had flooded into countries bordering the Mediterranean by mid-December 2019, and 1,243 more had lost their live in the attempt, according to the UN Refugee Agency. Nearly 31,000 of these people arrived in Spain.
Hall and 13 other students studying at Suffolk's Madrid campus learned about the refugees' situation during an hour-long talk with an official of the CEAR center, which houses 160 people applying for asylum in Spain or seeking humanitarian aid before traveling north. They learned that most refugee at the center have arrived from Venezuela, sub-Saharan Africa, or Syria. Only one out of four asylum requests are accepted, and the process may take up to 18 months.
The refugee center offers services such as Spanish classes, sports, professional training, and counseling. CEAR also is pushing a change to the Geneva agreements so that certain circumstances caused by climate change and other threats will be recognized as reasons for granting asylum, according to Silvia Salazar, Suffolk Madrid's program development coordinator.
"On top of overcoming the trauma of leaving their homes in extreme circumstances, these refugees need to learn Spanish, find a job, find a place to live and follow the administrative process to legalize their situation," said Salazar.
The students also had a chance to work alongside a Venezuelan chef living at the refugee, "an experience that proved to be a very good way to approach a dramatic situation, from a cultural point of view," said Salazar.
"It was great to have a hands-on experience—literally—making arepas and rice pudding dumplings," said Hall. "I also learned that smashing plantains is very therapeutic, and they turn out delicious."
Madrid Food Bank
Suffolk University Madrid Campus students and staff joined the Madrid Food Bank's Great Food Collection, a yearly November campaign that requires 18,500 volunteers. In four-hour shifts, the volunteers informed supermarket shoppers about the campaign, encouraged them to participate, and collected and organized the donations. More than 5.5 million pounds, or, in Spain, 2,500,000 kilograms, of food were collected, to be distributed to 350,000 people through soup kitchens and charities.
"I was pleasantly surprised by how many citizens were willing to give to those in need," said Abigail Paxton, a Chapman University student studying this year at Suffolk Madrid. "The holidays can be a difficult time for many families, but by donating nonperishable items we can help make these next several months a little bit easier for them. I am so grateful to have been able to give back to the community that welcomed me with open arms when I arrived here."
"I'd donated to the cause before, but never volunteered," said Salazar, who brought along her 6-year-old daughter. "What was going to be a first one-hour volunteer experience for her turned out to be four hours of great help to the Great Food Collection."
Sharing languages
Studying abroad exposes students to new cultures and communities, and Hailey Beyers, Class of 2022, was welcomed into the home of an 8-year-old girl she tutored through the Asociación T-Oigo program Allies in English, which supports development of English as a second or third language for Spanish children with hearing loss who are in a bilingual education program.
"I went to her house once a week and we played UNO, made puzzles, and played her version of Scrabble," said Beyers, a Biology major. "She practiced her English oral presentations with me and read out loud so I could correct her pronunciation. I was delighted that both Macarena and her mum were very quickly loving and welcoming. By the third week, Macarena called me her 'second mum'". I felt very comfortable and it was a lot of fun."
Engaging globally
"The Madrid Campus has done incredible work this year to build up their community engagement programming, including getting the Madrid campus's first official service-learning course designated by the University Service-learning Committee, completing the first Madrid Campus Service Day, and increasing their community partnerships in Madrid," said Adam Westbrook, director of Suffolk's Center for Community Engagement. "It's a great example of how serious Suffolk is about living out its mission and how dedicated we are to community engagement across the globe."
Said Salazar: "The hardest work has been done by students who managed to fit community service in their schedules and be committed to the cause they chose."
Salazar noted that Suffolk alumni Yolanda and Carlos Sánchez also helped the Service Day effort by providing free transportation for the group through their Yolcar bus company.