Creating the Dream
Black Student Union president honored at MLK reception as keynote tells "a tale of two Kings"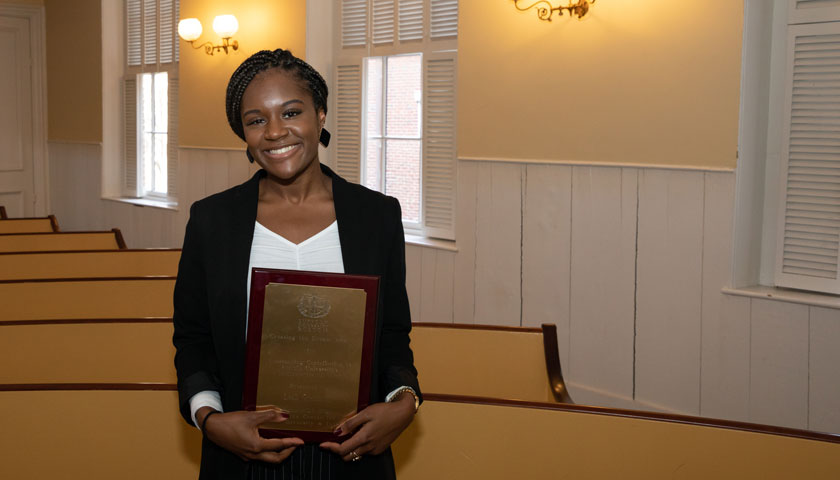 The Suffolk community honored a student leader and was reminded of the profound changes sought by Dr. Martin Luther King, Jr., in a gathering at Boston's historic African Meeting House to honor the life of the civil rights pioneer and to reflect on the true meaning of his legacy. The annual event is organized by Suffolk's Center for Student Diversity & Inclusion.
"A Tale of Two Kings"
Keynote speaker Brandon Thomas Crowley, a scholar of Black ecclesiology, practical theology, and queer theory and a senior pastor of the Myrtle Baptist Church of West Newton, Massachusetts, encouraged the assembled students, faculty, staff, and friends to critically examine conflicting portrayals of Martin Luther King, Jr., in a talk he called, "A Tale of Two Kings."
Crowley highlighted the contrast between the lack of popular support for King during his lifetime with near-universal public admiration today for a "sanitized" version of King that "reduces [his] doctrine of nonviolent resistance to simply 'nonviolence', thereby ignoring his resistance."
"Martin Luther King's true and radical legacy is being whitewashed by people looking for easy absolution," said Crowley, who noted King's support for policies, such as reparations for descendants of slaves, often are omitted from discussions of the civil rights icon.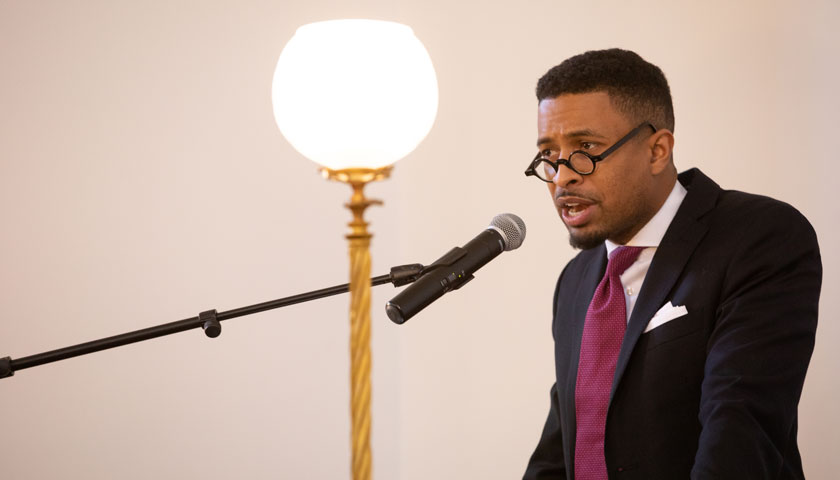 Crowley implored the audience to learn more about King's actual words and actions and "honor his legacy by continuing to attack and dismantle the very systems of this nation that exploit the citizens of the entire globe."
"We must let King live again by being his presence on the earth and teaching this nation to address the enduring legacy of inequality," said Crowley. "We must wake up and recognize that being 'woke' is not enough. We must do more by strategically working to address this created caste system in this country in the form of health care, educational attainment, income and employment, and affordable housing."
Creating the Dream Award
Crowley's speech followed Suffolk University President Marisa Kelly's presentation of the annual Creating the Dream award to Leah Grannum, a Class of 2020 government major and president of the Black Student Union.
The Creating the Dream Award honors the continuing dream of racial equity and collective liberation that King spoke of in his "I Have a Dream" speech during the 1963 March on Washington. The award recognizes the efforts of an individual, organization, or department within the University that works toward creating an inclusive, respectful, and safe climate for members of the University community, with a sustained and tangible impact on Suffolk's communities of color.
Kelly recalled meeting the honoree on a Global Gateway Program trip to Suffolk's Madrid campus during Grannum's first year of college and watching her grow over the years from an "engaged but kind of quiet, kind of shy" student into a campus leader.
In addition to her leadership role in the Black Student Union, Grannum is a resident assistant at Smith Hall, has worked with the offices of Orientation, New Student & Family Programs and Student Leadership & Involvement, has acted as sub-chair of the Program Council's Traditions Committee, and has helped plan events including Senior Week and the Celebration of Black Excellence. Grannum has also participated in the Journey Leadership Program and the Racial Justice Alternative Spring Break.
Citing award nominations, Kelly described Grannum as a leader who creates a welcoming and learning environment in the Black Student Union, works diligently to make non-Black Student Union members feel involved at all the organization's events, and uses her insight and knowledge as a resident assistant to serve as a mentor to first-year students.
"Another nominator wrote that Leah is an outstanding leader. She leads with integrity. Her efforts in addressing and raising awareness about issues of equity, diversity, and inclusion on our campus are done tirelessly," said Kelly.
"She is constantly challenging the status quo in an effort to make Suffolk University a place for everyone —and I know I have seen that firsthand."