Practice Makes Perfect
Counseling students build confidence and therapeutic skills during clinical internships
On a rare carefree night out with friends, Suffolk graduate student Nicole Dion stopped in her tracks when she saw a familiar face at a local bar. It was a client from the substance use support group she manages in her clinical internship.
"At that moment I learned the lesson that working and living in the same community can be problematic," says Dion, who is completing a year-long clinical internship as part of Suffolk's mental health counseling program. She provides one-on-one counseling and co-facilitates group therapy at a Lahey Health outpatient facility.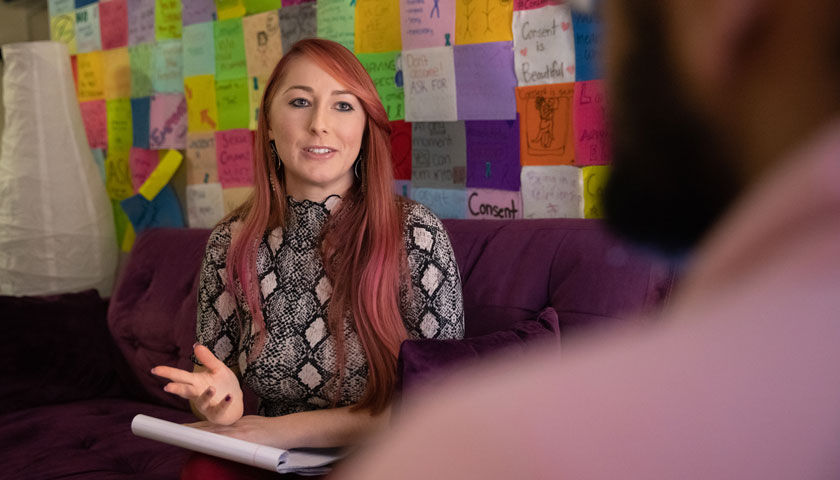 Confidentiality rules prevented her from acknowledging her client, but the client was allowed to address her and did. The interaction left her "stressed" and feeling as if she had done something wrong by putting herself in the situation.
Luckily, part of Suffolk's second-year clinical internship program is a weekly group session that allows students to discuss challenges with their peers and faculty mentor.
"I had supervision yesterday, and I brought it up with Professor Medoff. He was very supportive about it and gave me suggestions for how to deal with it," she says.
Psychology Professor David Medoff helped her develop a plan for talking about the situation with her client before their next group session. Most importantly, he assured Dion she hadn't done anything wrong by simply living her life. Managing personal and professional identities is part of being a mental health counselor, and it's something students can only learn by working in the field, he told her.
"Once you get into it and you start getting actual hands-on experience, that's when you become more positive and feel more comfortable with what you're doing," says Dion.
"One reason I chose this program is because of the structure. I like having a whole year of practicum experience and a whole year of internship at different sites so I get two different hands-on experiences."
Nicole Dion
MS in Mental Health Counseling, Class of 2020
For Dion's classmate Alyssa Williamson, the biggest challenge—and opportunity—of her clinical internship in the Counseling Center at Worcester Polytechnic Institute is overcoming "imposter syndrome" to gain confidence in her abilities as she works with students who are often close to her own age.
"I just have to put aside all of the self-doubt that I have, understanding that I am just another clinician and that I'm being presented with problems that I've been taught how to handle and have experienced before," she says.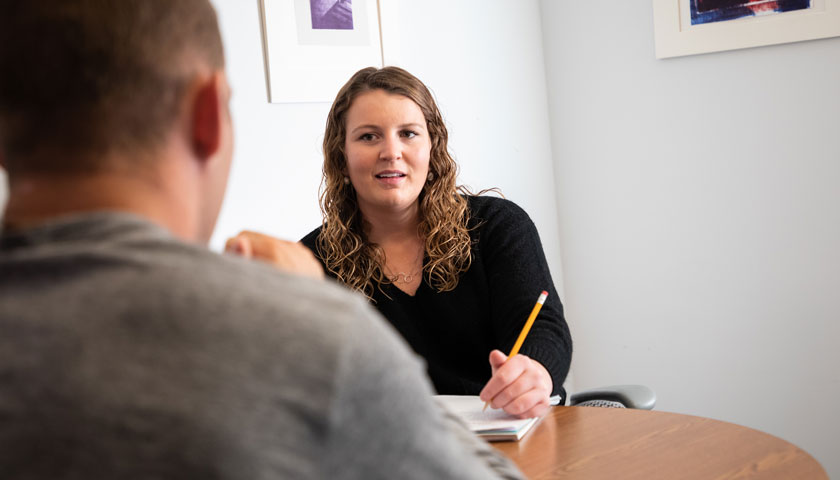 Williamson also works as an assistant softball coach at Suffolk. She says her lifelong experience playing sports helped prepare her for her role as a counselor. "To be a good athlete you need to be empathetic, have leadership qualities, gain in confidence, and also fail sometimes. I think those qualities are also a very big part of counseling and psychology."
Working in a college-based counseling center means helping clients deal with a range of concerns, often practicing time- and anxiety-management skills to help cope with the school's rigorous pace. Many of her clients are international students adjusting to culture shock on top of academic pressures. Each session is helping Williamson develop her own therapeutic style.
Just as in sports, practice is the key to developing as a counselor.
"Getting experience under the supervision of the WPI staff and my Suffolk professors has helped to mold me into the counselor that I am right now. I'm understanding that I'm going to have my own therapeutic style and, although it may not be the same as someone else's, the beauty of counseling is that we have specific styles that fit the needs of specific clients."
Alyssa Williamson
MS in Mental Health Counseling, Class of 2020
Williamson is starting to see her hard work pay off.
"I had one client come in, and he clearly did not want to be there," she says. "He was very closed off. He seemed to be coming in to gain validation and leave. It was one of my first sessions and extremely difficult. I thought 'why am I doing this if I'm not helping him at all?' but by the end of the session he wanted to come back. I was making a difference."
On the more challenging days, Williamson says it's comforting to know that her professors' "doors are always open" and that all of her classmates are going through similar experiences.
Dion agrees: "All of us in the class are able to talk about our experiences and get feedback from each other as well as the professor. That's definitely been the most rewarding part of the program so far, forming connections with the classmates I have. We're all in this together."