How does running for political office impact a candidate's family? Once the election is over, how does a politician hire the best staff, legislate effectively, use social media responsibly, and stay focused on constituents' interests? And in a hyper-partisan age, how can colleagues from both sides of the aisle build relationships and work together to achieve common goals?
These were among the many tough questions asked by Suffolk students and answered candidly by two retired Members of Congress visiting the University as part of the Congress to Campus program, created by the Association of Former Members of Congress to increase civic literacy and participation.
Former U.S. Reps. David Skaggs, a Democrat who represented Colorado from 1987-1999, and Dennis Ross, a Republican who represented Florida from 2011-2019, shared their time and experiences with students, offering a behind-the-scenes look at campaigning, governing, and life in the public eye.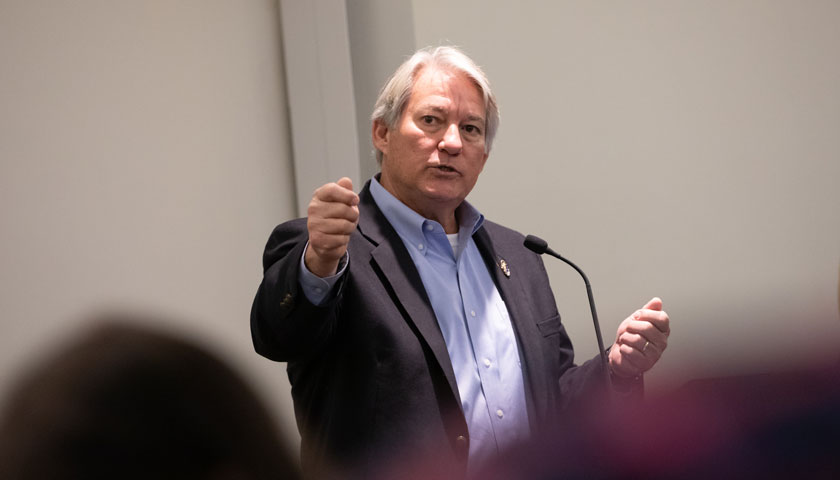 Life lessons
"Don't let your campaign define you," Ross told a packed American Politics & Institutions class as he recounted a difficult episode from his own congressional race when a political consultant advised him to attack his Democratic opponent. After releasing – then quickly pulling – a single negative ad, Ross decided to fire the consultant.
"We launched a positive campaign and ignored my opponents, and that defined me as the positive candidate, which is who I like to think I am. We ended up winning the race," said Ross.
And Skaggs cautioned: "Getting elected is just the start of the political challenges you face."
That kind of conversation demystifies the process of governance and makes it real, says Political Science & Legal Studies Professor Christina Kulich-Vamvakas. "It bridges the gap that students imagine exists between themselves and elected officials, hopefully empowering them to get involved in issues that they are passionate about and to become active citizens."
For Adriano Pucci, Class of 2021, a political science major, seeing the cooperation between the Republican Ross and Democrat Skaggs throughout the program was encouraging.
"In class Professor Kulich emphasizes compromise a lot, and then hearing people from Congress talking about it makes me really understand that's how the real world works. The real world is not Twitter," says Pucci.
The big picture
Over the course of two days, the former members spoke to students in classes and at events on topics that also included navigating party politics and congressional rules, drafting and passing legislation, and the importance of civility and bipartisan cooperation. Their talk on "Real News, Fake News, and Democratic Representation in a Segmented America" drew a standing-room-only crowd.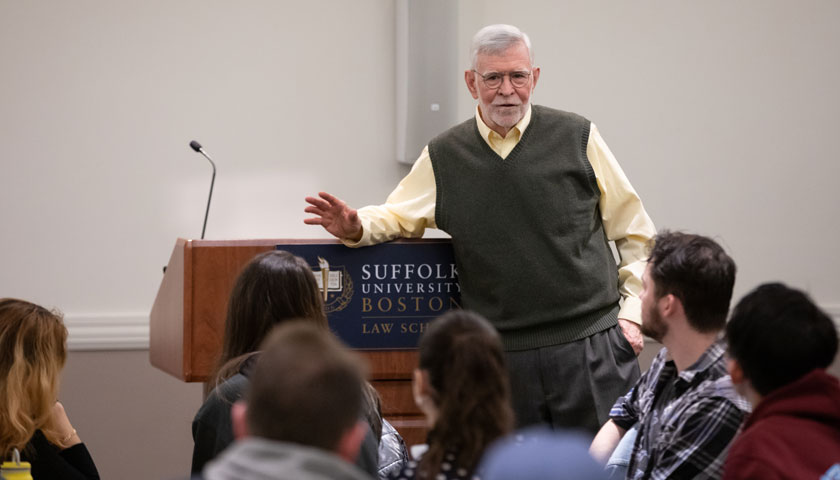 Political science student Callie Battis, Class of 2020, has worked for Democratic politicians and the Democratic National Committee in her home state of Rhode Island. She is concerned about polarization in politics and says she was heartened by the Congress to Campus sessions' focus on bipartisanship and finding common ground.
"Even though we're not in the same political party, former Representative Ross struck me as someone who is open to working together to find solutions, and that's not a message you hear every day," says Battis.
"The Congress to Campus program does an outstanding job of giving students the space and time to hear from members of Congress directly about the joys, challenges, and excitement of public service," says Rachael Cobb, chair of the Department of Political Science & Legal Studies. "Dennis Ross and David Skaggs were a bipartisan team extraordinaire. They demonstrated a love of service, a care for their communities, and a deep commitment to inspiring young people to get involved at any level."
Skaggs said he gained something from the visit, as well: "Hope. I've been very impressed with the students here who, more than in a lot of other places, are ready to engage with us and ask questions and obviously have opinions—and are willing to take their citizenship responsibilities seriously."