Sportsmanship Honors for Men's Basketball
Coach Jeff Juron's leadership brings Schoenfeld Award to Suffolk Rams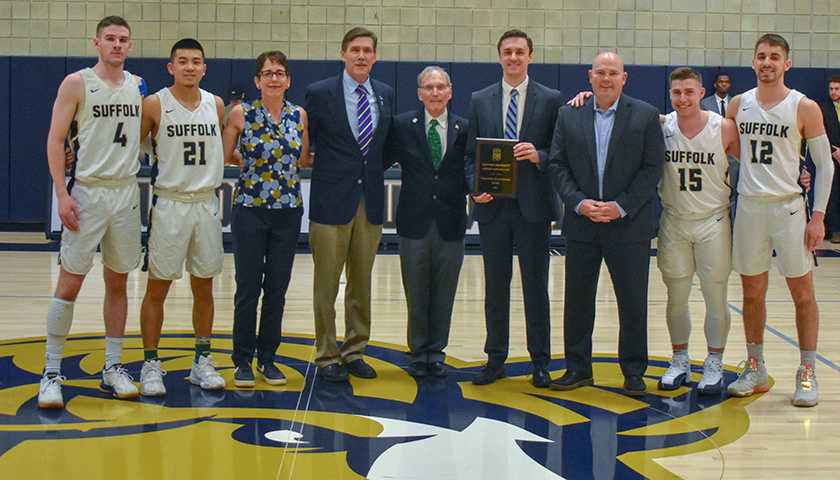 Jeff Juron knows there is more to the game of basketball than x's and o's, wins and losses.
"One of my biggest jobs is to teach my players that they can be fierce competitors while also showing respect for their opponents, coaches, officials, and fans," said Juron, head coach of the Suffolk University men's basketball team. "We take pride in our behavior on and off the court."
The Collegiate Basketball Officials Association recognized Juron's continuous efforts to build character and integrity among student-athletes by honoring him and his team with the 2019-20 Sam Schoenfeld Sportsmanship Award.
He is the first-ever Rams head coach to be recognized with this prestigious award.
Schoenfeld, a former college basketball great known for his high energy, impeccable honesty, and charismatic personality, was a founding father of the Collegiate Basketball Officials Association, and the annual award bearing his name is the highest honor that the association bestows on any collegiate institution. "The award is presented to the college or university, which…best exemplifies the highest degree of sportsmanship, character, and ethics among their players, coaches and spectators."
Praise for Rams coach
Larry Last, coordinator of New England College Basketball Officiating, has seen Juron and the Rams in action over the past three seasons both at home and on the road. He nominated the Suffolk hoop team for the Schoenfeld Award based on how Juron conducts himself on the sidelines and how he interacts with his players.
"If I had a son, I would want him to play for Jeff Juron," said Last.
"He is always so composed during the many emotions of a game and handles himself in such an honorable and credible way. He represents the highest standard of sportsmanship, dignity, and class."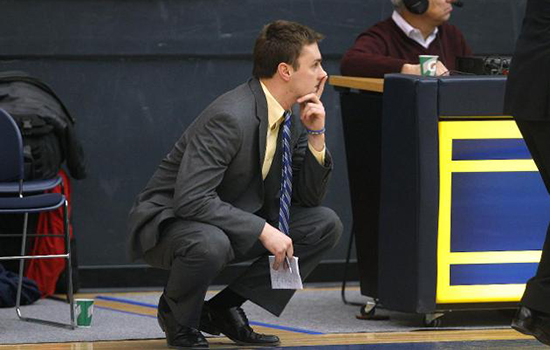 Lessons from the game
Juron, who just completed his fifth season as the Rams' roundball mentor, has had three consecutive winning seasons and was named the 2018-19 Great Northeast Athletic Conference Coach of the Year.
However, beyond the victories and personal accolades, he takes great pride in teaching his student-athletes life lessons through the game that will help them moving forward.
"Playing college basketball is so valuable because it teaches you how to respond to situations that may not go your way—a call on the floor, a cold-shooting night, your role on the team," said Juron. "How you handle those situations is important.
"I try and teach my players that they are going to face challenges in their lives outside of basketball, and that they need to be mature and handle themselves in a responsible way."
Director of Athletics Cary McConnell said that receiving the Schoenfeld Award speakes volumes to the "quality of program" that Juron is building in men's basketball.
"This award brings home the fact that Jeff's program is doing things the right way, and that the student-athletes and coaches represent our department and Suffolk University with the utmost class and professionalism," said McConnell.