Taxation Students Get Even More Real-World Experience
Comprehensive changes to curriculum give them the skills that firms demand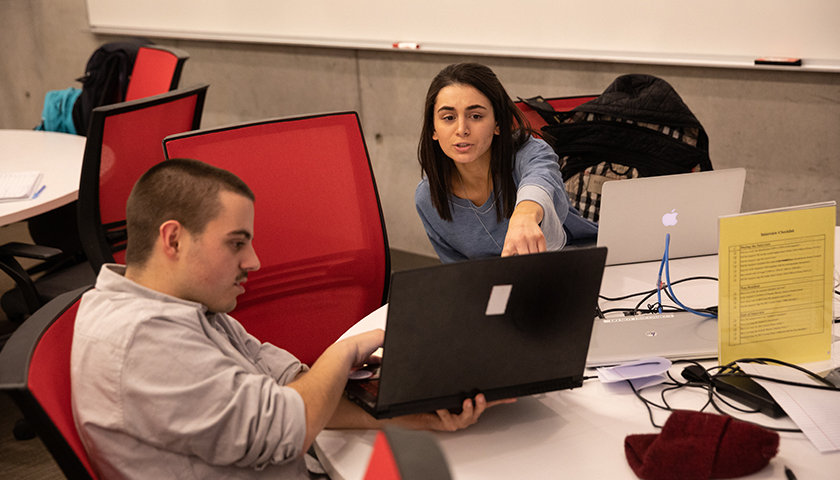 Artificial intelligence has transformed the field of taxation. Tasks that were once the purview of entry-level employees are now handled by AI, which means that students starting out in this competitive field need to have more advanced skills from day one.
"That's what firms are looking for," says Sylvia Singleton, director of Suffolk's graduate programs in taxation. "Students are expected to perform at a higher level coming in the door. They are expected to have critical thinking skills, exposure to the use of technology, and a workable knowledge of tax laws."
In order to give students that competitive edge in the job market, the Business School decided that changes were needed. So a task force comprising high-ranking professionals from prominent local firms performed a comprehensive assessment of the Master of Science in Taxation curriculum. The result? A completely overhauled program that ensures every course in the curriculum is focused on experiential learning and will prepare students for the complexities of current-day tax practice.
"We are disrupting the traditional approach to the study of taxation," says Singleton.
Revisions to the free Suffolk tax clinic
Another area where Singleton has made changes is the free Suffolk Tax Preparation Clinic, now in its 24th year. Undergraduate and graduate students from several business programs assist people from around the city with their returns. One big change Singleton made is that clients can now drop off their paperwork rather than wait three hours for a student tax preparer to complete the return with support from peers and instructors.
"Dropping off a return means our preparers can ask questions away from the client," says Singleton. "When that pressure is taken off their shoulders they become more confident more quickly. That leads to all the students helping each other as they get stronger."
Singleton also reestablished the clinic's connection to VITA, the Volunteer Income Tax Assistance program, which will give students further opportunities to work with community partner programs that help people with their returns.
"For most of the students, this is completely new," says Singleton. "Everybody panics. They go blank. But I tell them not to worry. We're all here to support each other. Just do what you know and then follow it through."
Contact
Greg Gatlin
Office of Public Affairs
617-573-8428
Ben Hall
Office of Public Affairs
617-573-8092