Helping Students During the COVID-19 Crisis
Suffolk CARES steps up to help them manage unexpected costs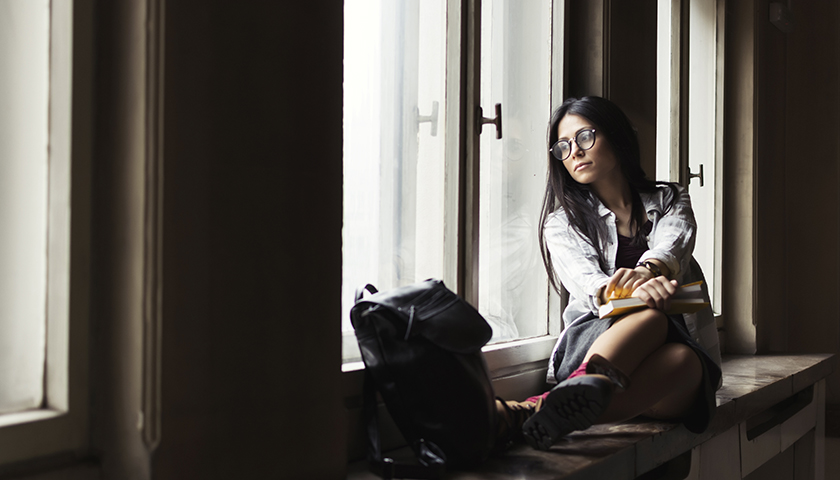 It all happened so fast.
One day, Suffolk students were enjoying spring break and looking forward to their final weeks at school. The next, they were trying to figure out how to make the shift to remote learning while negotiating the new uncertainties of what it means to be in a pandemic.
There were bound to be challenges. And for many students, there were acute financial needs.
So with the support of the entire Suffolk community, the University's Advancement office began a fundraising initiative to help students deal with unplanned expenses as the crisis unfolded. In just over a month, the Suffolk CARES fund has raised almost $80,000 in contributions from alumni, faculty, and staff…though the need continues to be great.
Help Our Students
Donate to the Suffolk CARES program today.
Give Now
"We're always here to support students," says Amanda McGrath, director of student outreach and support. "But during the coronavirus crisis, it's especially important to make sure everyone has four walls, a reliable source of food, and everything they need to continue their studies."
Some students, their parents, or both have lost full- or part-time jobs and need help paying for rent, utility bills, or even Wi-Fi, which, of course, is vital for student success in this time of remote learning.
Shayla Tran, Class of 2020, lost her full-time job as the head bartender at a lounge near Fenway Park. Not only that, her mother is unemployed, and Tran tries to help her out when she can.
"When this happened, I didn't have anything to fall back on," says Tran, a sociology major. "It really cut into my academics. It was just, 'Time to survive.'"
With the help of one of McGrath's colleagues, Tran applied for a grant to help pay rent and bills and now can focus on finishing up her degree.
"It really has helped me," says Tran. "I can literally just breathe now."
Mateusz Madry, MBA '19, is an international graduate student. When his father was terminated from his job in Europe, Madry suddenly needed to find a new source of support. Besides, Madry's fellowship was going to finish up at the end of the school year and he had few prospects for a summer internship with the pandemic flaring. That's when Madry realized he needed help.
"Because I'm an international student, I can't just go be a delivery guy for Amazon," he says. "So I reached out to Amanda, who was very responsive and very understanding about the situation."
Madry is using his grant to pay for rent, groceries, and—something unexpected—his tax-filing fee. Normally he would have used the Suffolk Free Tax Clinic for that. But the clinic was one of many programs that had to be put on hold when the University went to remote learning.
What Madry finds most striking is that, because his fellowship is with the Center for Community Engagement, normally he'd be the one assisting students.
"It's an interesting perspective," he says. "Now I need the support I'd be providing for others."
The Law School has its own Student Emergency Assistance Fund, which has been helping students access essential items, including the technology and supplies needed to complete their coursework.
"I believe we are only seeing the tip of the iceberg in terms of student need," says Law School Dean of Students Laura Ferrari. "This is all so new, and I expect that requests will increase as the pandemic drags on and savings or family resources are diminished."
More than just money
While helping students pay bills is important, the majority of the work for McGrath and the four other Student Affairs case managers is less financial and more logistical.
She and her team, led by Vice President for Student Affairs and Dean of Students Ann Coyne, have partnered with other offices across the University to get students the tools they need to be successful. They have worked with IT to obtain loaner computers for students who don't have them. They have connected students to Counseling, Health & Wellness for emotional support. They have collaborated with telecom to send mobile hotspot devices to students who are having trouble accessing reliable Wi-Fi.
They also help faculty connect with students and get them back on track. In collaboration with the Center for International Programs and Services office, they assist international students with immigration forms and summer plans. And they even have arranged to drive bags of groceries from the Suffolk CARES pantry directly to students' homes.
"In many ways our office is a clearinghouse for members of the Suffolk student community who are feeling the effects of the crisis. Oftentimes we may not be able to directly fix an issue, but we can connect students to the resources that will help them most" says McGrath.
As the pandemic continues and uncertainty about the future lingers, McGrath expects to see an increase in the need for Suffolk CARES services, which are already 26 percent higher than for the same period of March 1-April 16 last year. That means more money will be needed.
"We're working so fast right now," she says at the end of a long week. "But it's important to make sure everyone is safe and has what they need to make it through this challenging time."
Please help our students by contributing to the Law Student Emergency Assistance Fund and/or the Suffolk CARES program. Donate now.
Contact
Greg Gatlin
Office of Public Affairs
617-573-8428
Ben Hall
Office of Public Affairs
617-573-8092