City Gives Approval for New University Residence Hall
Suffolk to convert historic downtown Boston building for student housing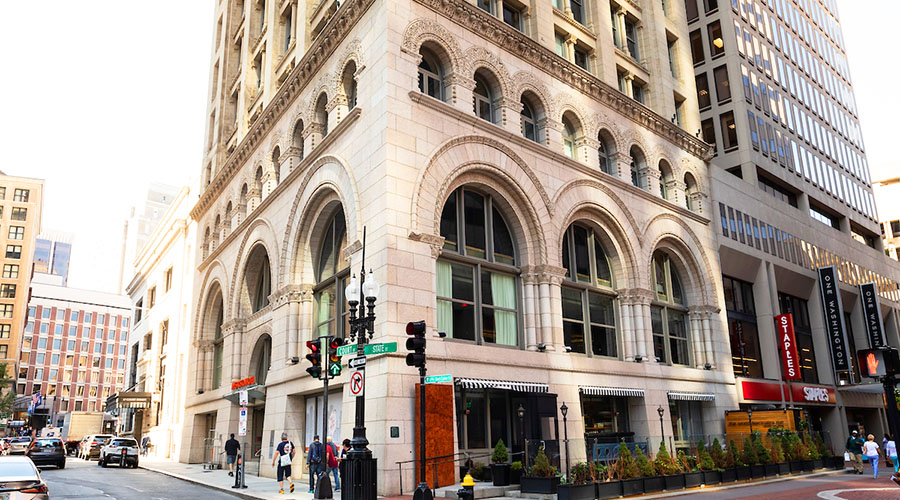 Suffolk University has won unanimous approval from Boston's top planning agency to convert the historic Ames building at 1 Court St. into a residence hall that will house as many as 300 undergraduate students in the heart of one of Boston's most vital downtown corridors.
At its first-ever virtual public hearing—held online due to the COVID-19 pandemic—the Boston Planning & Development Agency board gave the green light to the 1 Court St. Residence Hall project as part of Suffolk's 2020 Institutional Master Plan. The project went through a rigorous, months-long public process and received strong and broad support from neighbors, community members, and elected officials, along with high praise from BPDA board members who spoke at the May 14 virtual public hearing.
"Boston is our home, and we are more aware of its importance to us during this challenging time than ever before," said Suffolk University President Marisa Kelly. "One Court Street is an investment in the future of our students and of this University, and it is a signal of our enduring commitment to this city."
Suffolk purchased the signature building in September 2019. It had previously operated as the Ames Hotel. The University plans to convert the hotel rooms into 114 residence hall rooms that will open to students when the fall semester begins in September, if public health guidance and conditions warrant. Kelly has said it is her hope and intention that Suffolk will offer in-person learning and on-campus residence life in the fall, but likely at lower density, and only in alignment with government and public health guidance.
The 1 Court St. residence hall will have a publicly accessible restaurant and café with outdoor patio, along with multipurpose student lounge and conference room space.
The 14-story Ames Building, built in 1893, was the first skyscraper in Boston and the city's tallest building until 1915. It is steps from City Hall, the financial district, the Old State House and all of the city's subway lines, and within several blocks of key University buildings. With its historic façade that is considered an architectural gem, the building will become another centerpiece of Suffolk's urban campus, helping to further solidify the University's borderless community within the center of Boston.
The BPDA approval moves the University closer to its goal to of being able to house 50 percent of its undergraduate students, said Suffolk Senior Vice President for External Affairs John Nucci, who led the project through the city and community approval process. Nucci noted that renovations needed to convert the building's hotel rooms to residence hall rooms will be minimal.
"This will establish an even greater and stronger sense of campus in the downtown Boston area," he said.
Nucci told BPDA Board members that 1 Court St. will bring students to a part of the city that is currently dominated by office workers, adding to the vitality of the area, much as Suffolk did with its 10 West and Modern Theatre projects in the Downtown Crossing and Theatre District areas. It also furthers both Suffolk and the city's goals of transitioning students from apartments in residential neighborhoods into University housing in the core of Suffolk's downtown Boston campus. "We hope to contribute to Boston's economic vitality by continuing to develop and nurture working relationships with businesses," Nucci said.
The project received strong praise from commenters during the public hearing.
"It is critical that universities continue to increase the number of students in university housing in order to free up badly needed units for families in our neighborhoods," Boston City Councilor Ed Flynn wrote in a letter of support, adding that Suffolk has generated overwhelming support for the project. "Suffolk University continues to be a good neighbor in the city of Boston," Flynn wrote.
BPDA board member Theodore 'Ted' Landsmark, a past president of the Boston Architectural College, commended Suffolk on the project and its master plan and called Suffolk's campus move over time from residential Beacon Hill into the heart of a business, financial, and government area "unprecedented."
"I just cannot think of any other college or university in America that has, in a slow and steady way…rather than simply picking a campus up and relocating into a downtown, done as interesting and progressive a job of satisfying a lot of community needs," Landsmark said. "I just want to commend you, as a person who has been involved with higher ed for several decades, for having found a way of meeting the university's needs, satisfying the city's need, and also enhancing the communities where you folks are located."
BPDA board members also approved a new University art gallery and performing arts space where a coffee shop had previously operated at the street level of Suffolk's 10 West residence hall at 515 Washington Street. The University will convert that into gallery space where Suffolk art students, as well as members of the broader Boston arts community, can display their works. There also will be rehearsal space for University performing arts, dance clubs, and theater students.
"From the street we think this is going to be a very active and attractive good use for that space, and it will contribute to the already existing vitality of the Theatre District, " Nucci said.