Zoom's Silver Lining
Across the Business School, remote learning produces unexpected benefits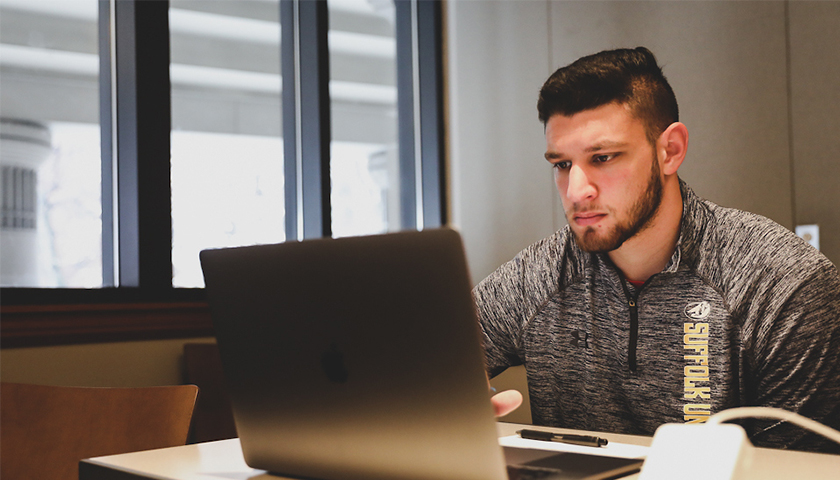 Marketing Professor Pelin Bicen thinks her students' capstone presentations to iRobot in May were actually better because they were done remotely during the pandemic.
Because students were in lockdown for most of the spring, they were able to spend more time on this important final marketing research project. And Bicen was able to help them focus on what was a challenging assignment from a high-visibility client, rehearse presentations more often, and make sure they felt ready.
"Because of the lockdown, I could really help each team much more than I normally would have," Bicen says. "And since they weren't commuting or going to work, they had so much more time to find research subjects, dig into the data, and practice their presentations."
The lockdown also meant that more (and more important) executives from iRobot were able to participate in the presentations—people who might not normally have been there, including the chief technology officer and the director of global consumer insights. Some students felt that having the perceived extra barrier of a screen was actually an asset.
"Our presentation was probably better on Zoom," says Charlotte Jegou, MBA/MSM '20. "There was less stress of being physically present and having to pay so much attention to your body language and who you're looking at. I definitely felt less anxious than I would have had we presented in class."
Remote learning? We got that.
While many colleges and universities scrambled to move their classes online in early March, for many programs in the Sawyer Business School it was a pretty seamless transition. Obviously, some courses had to think the move through more than others. But a lot of the Business School's curriculum already is online. In fact, SBS has four online degree programs, including the MBA, which in 1999 became the first online MBA program in the Northeast.
This isn't "online learning" in the sense that someone just sets up a camera in a lecture hall and points it at the professor. The Business School's online courses are custom designed to make the most of web-based learning.
"The programs are built from the ground up to take a professor's pedagogy and leverage the online experience, which, of course, is very different from in-class learning," says Tracey Riley, assistant dean of online graduate programs for the Sawyer Business School. "Our online programs aren't in any sense 'ground learning lite.'"
When remote learning became the norm in the middle of March, several in-class degree programs simply shifted to the custom online curriculum, and students were able to continue their studies with minimal disruption.
"I'm very happy that there was this alternate way of learning available," says Michaela Mitrano, an MHA candidate in the Class of 2022. "That way it wasn't a complete halt in the semester. I think it was the right move on Suffolk's part to make that shift."
Another example of seamless transition happened in one of Professor Sylvia Singleton's Master of Science in Taxation (MST) classes. Knowing that most MSTs are tax professionals, she wanted to make attending class as easy as possible during the busy January-April tax time. So at the beginning of the semester, she asked Media Services to install a huge monitor in her classroom. That way, if students got stuck at the office, they could at least hop on a Zoom call and attend class virtually. Having the monitor in the classroom ensured those students' inclusion in class discussion and kept them engaged. As a result, when Suffolk switched to remote learning across the board in mid-March, it wasn't a jarring move to migrate to the virtual version of the class.
Rolling with it
One independent study consulting course adapted to remote learning and then found better opportunities. In the course taught by Ken Mooney, BA '77, MBA '80, at the behest of course originator Professor Chaim Letwin, two MBA students were initially slated to work with 25 life science professionals in an accelerator program in conjunction with another university, helping them to develop and commercialize a life science product.
Once remote learning started and the accelerator program was canceled, the students had to pivot from working on potential products to assisting two actual start-ups by helping the fledgling firms figure out their business pitches, assisting in customer discovery for product validation, locating funding, and guiding them with all the other aspects of an entrepreneurial venture.
"These were real 'live' startups. So the students were suddenly in the deep end of the pool," says Mooney. "Instead of working on the theory of 25 different potential products, they were diving deep with these entrepreneurs. This was not a 'phone-it-in' internship. They had to work as if they were founders."
As the University ponders how the fall will look, remote learning is very much going to be a part of the mix. Dean Riley and others in the University are looking for the opportunities presented by the potential changes in course structure. As Riley notes, "We are well positioned to provide a teaching experience that in many cases is as good as, if not better than, traditional on-the-ground learning."
Contact
Greg Gatlin
Office of Public Affairs
617-573-8428
Ben Hall
Office of Public Affairs
617-573-8092