Politics in the Time of Global Pandemic
Suffolk and WGBH launch novel summer course for first year students and virtual lecture series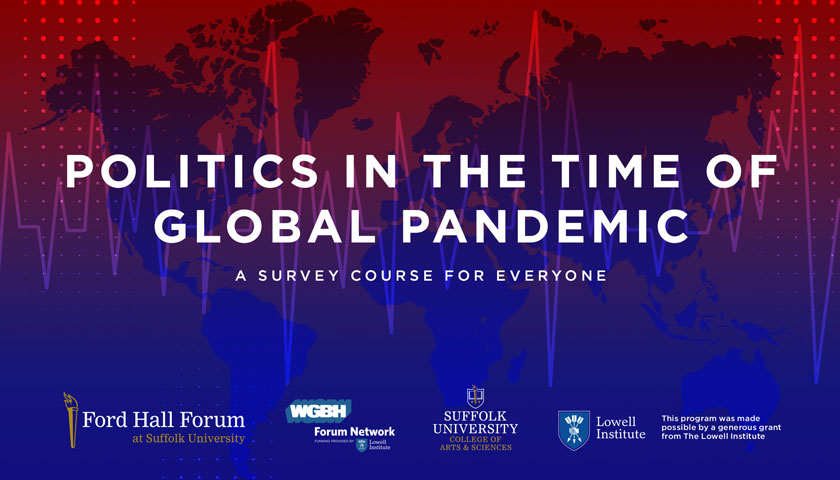 The coronavirus pandemic has created unprecedented challenges across the globe, impacting everything from daily life to the future of elections, government institutions, and political systems.
Suffolk University's Political Science & Legal Studies Department, Ford Hall Forum at Suffolk University, and WGBH Forum Network are bringing together experts in political science and public policy to explore the myriad issues, iniquities, and responses to the pandemic in a novel free online course and nine-week virtual public lecture series. Nearly 150 first year students from almost every major will break into eight smaller groups to discuss different aspects of the pandemic with four expert faculty members, student teaching assistants, and classmates.
"The pandemic is affecting all of us," says Professor Rachael Cobb, chair of the political science & legal studies department. "This course will provide an opportunity to understand it in a deep and meaningful way, to share the experience with other people, and to gain context from experts from around the world. We want our students and audience to be engaged, and also feel a greater sense of power as they learn."
It's also a chance for students to earn college credit and connect with peers from programs across the university before they start the fall semester.
"As our new students start this chapter in their lives it's important for them to develop relationships within our community. This is a way to welcome and situate them, and also talk about these really big issues in a supportive environment," says Cobb.
All the students will convene for a weekly public lecture, co-hosted by Ford Hall Forum at Suffolk University and WGBH -- hearing from experts from around the country and the world, and engaging in important dialogue through Q & As.
The weekly series is free and open to the public.
The partnership is also a way for Suffolk, Ford Hall Forum, and WGBH to further their organizational missions by providing public access to important information.
"The Ford Hall Forum at Suffolk University has a storied history of providing free events that bring pressing issues and experts to the public," says executive director Susan Spurlock. "I am delighted to welcome our Forum audience into our Suffolk University virtual classroom. Partnering with WGBH to present these lectures on a virtual platform widens our reach and proves that while technology might change, the need for quality public programming is as pressing as ever."
Public Lectures
The public is encouraged to register, attend, and contribute questions and comments during this free interactive series.
Past event:
Comparing Patchwork Responses to Pandemic
Misinformation Wars
Upcoming event:
From Quorum to Proxy: Governing, Representing and Campaigning Remotely
Wednesday, July 8, 2020 at 4:00 p.m.