Pandemic Ends One Opportunity but Leads to Another
Summer intern collects COVID-19 oral histories for Cape Cod archive project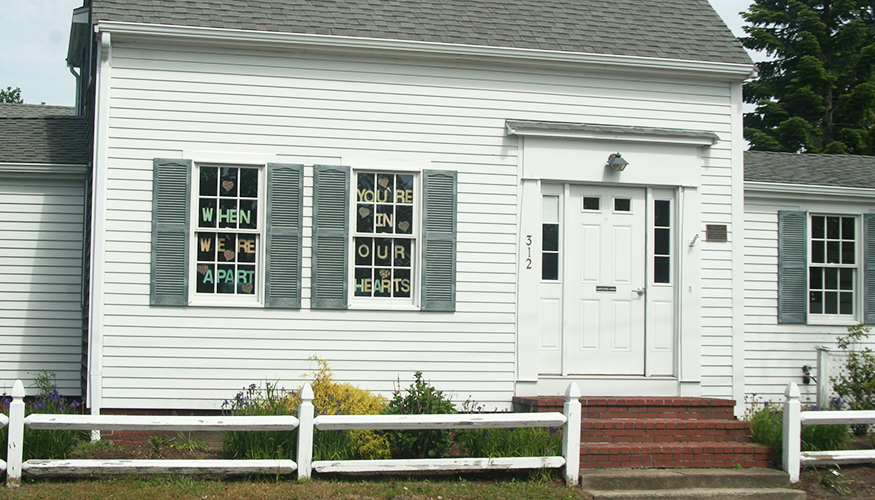 One of Lucy Pollock's favorite moments of the spring semester was interviewing Amy Heller of the Historical Society of Old Yarmouth before the coronavirus hit.
"We really bonded over our mutual love of history," said Pollock, Class of 2021, who connected with Heller for a paper and was impressed with the society's expansive list of programs and community outreach.
When Pollock's summer internship was canceled due to the pandemic, the first person she reached out to was Heller, who soon put the Suffolk history major to work on a timely archival venture, the COVID-19 Stories Project.
Pollock, who lives in nearby Brewster, now finds herself interviewing the society's trustees and the citizens of Yarmouth about how the worldwide coronavirus crisis is affecting them and their Cape Cod town.
"I think the people who record history have a lot to say about how it's portrayed, and I want to do my best to make sure that the portrayal I'm giving is as accurate and inclusive as possible."
Lucy Pollock
Class of 2021
A moment in time
Pollock's responsibilities include conducting phone and Zoom interviews and taking photographs, all of which will be digitally stored in the society's archives for future generations.
"I never thought I was going to have the opportunity to gather primary sources," she said. "This is the best way to connect with our history, because these are the words of real people and photos of how things really are during this historic time."
Reflections on a "difficult time"
A Yarmouth school district counselor told her: "Seeing the kids and talking with them was the best part of my day. I send emails to my students to see how they're doing and offer them tips and strategies to make it through the difficult time that we're going through right now."
On the reopening of Massachusetts, a society trustee said: "We support the governor's deliberate, phased approach. It's important that we not squander the shared sacrifices made by state residents and businesses over the last several months by rushing the process."
Another resident said: "Frontline workers, people working at grocery stores, and truckers all deserve the respect they have received."
Pollock also has documented how Yarmouth residents have safely participated in Black Lives Matter protests along with members of the local police department.
"Lucy is very inquisitive and she always wants to learn more," said Heller. "The experience she is gaining in this project is so valuable because she is learning about people in such an important time in history, and she is making contacts that will influence her in the future."
Thoughtful observer
Professor Patricia Reeve, chair of Suffolk's History Department, believes Pollock and her summer internship are a perfect match.
"Lucy is such an engaged human being who thinks about and applies what she learns," said Reeve. "She is also curious and creative and has excellent critical thinking skills."
This past semester, Pollock took Reeve's creativity & innovation course, The Curious & Open-Hearted Historian. She learned about the 1918 flu and how very few primary sources were attached to that event because the federal government was sheltering its citizens.
This is one reason that Pollock finds her present role with the historical society so rewarding.
"Although I'm studying and documenting experiences from just one town, I'm truly honored to collect primary sources and be part of history in this way," she said. "I think the people who record history have a lot to say about how it's portrayed, and I want to do my best to make sure that the portrayal I'm giving is as accurate and inclusive as possible."