Public Administration graduate brings medication and education to his home country of Guinea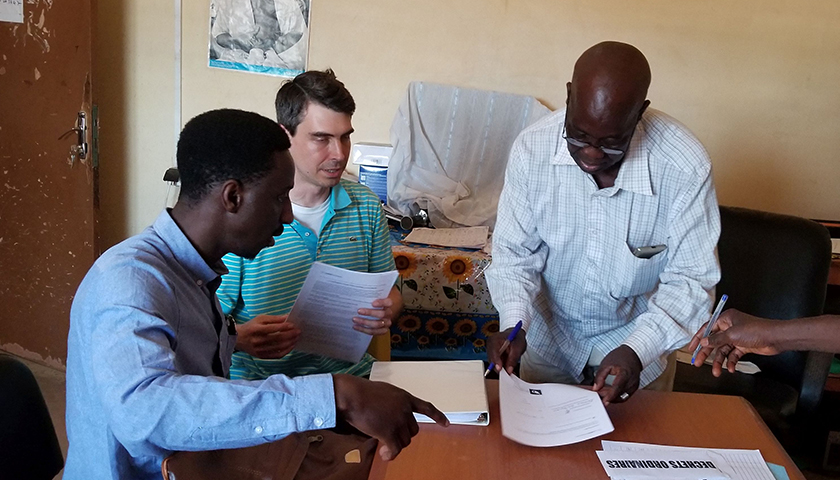 Once a year, Dr. Moussa Cissé, MPA '17, loads up several suitcases full of medicine and medical supplies, boards a plane at New York's JFK airport, and makes a 12-hour journey to Conakry, the capital city of Guinea.
From there he heads out to visit regional health centers in the African nation, meet with patients, and educate clinicians in the field. Cissé's goal? Education, intervention, and prevention of heart disease, which, according to the Centers for Disease Control, is one of Guinea's leading causes of death. Cissé knows that fact all too well.
"My father died of a heart attack because the hospital was far away, and first responders didn't know CPR," Cissé says.
So in 2017, Cissé, who also has an MD, started a nonprofit called the Cardiovascular Health Initiative. Working with a team of seven, Cissé spends most of the year raising funds and collecting medical donations in the United States and then travels to Guinea for about a month. Not only does he share the medicine with up to 400 patients, he spends time educating them about heart health. He also teaches basics like CPR and first aid to health care providers in the six regional medical centers that he visits.
"Because the medications are so expensive in Guinea, the fact we are able to provide them for free means people have been able to manage their diseases and be more engaged in their treatments," says Cissé.
Infectious vs. chronic
When it comes to Africa's medical challenges, most of the global attention is on combating infectious diseases like Ebola or malaria. But Cissé is one of only a few health care professionals in the country—or even the region—who focuses on chronic disease.
Suffolk Professor Peter Martelli serves as Cissé's adviser and a trustee for the nonprofit and has traveled with Cissé to Guinea, as shown in the photo gallery below. Along with delivering medicine, the Cardiovascular Health Initiative is researching the longer-term approach that the clinics take with their patients. How do they keep their records? How do they follow up with patients? How does health information get communicated?
Martelli says they also try to intervene and help connect people to resources.
"We simply ask the clinicians what they need," he says. "'Can we get you masks? Defibrillators? Can we help you find someone who knows how to read an echocardiogram?'"
Although the Cardiovascular Health Initiative is still in its early stages, its impact is already being felt, even after only three trips, and people in Guinea are grateful.
"It was amazing to see our reception at the regional hospital in Kankan," Martelli says. "Not only did the prefect greet us and a press crew film our donation of a few carry-on bags of medication, but the medical staff was also fascinated by the research and wanted to support the project. To me, it's clear that the Cardiovascular Health Initiative's work is making a real difference."
Despite the challenges that the pandemic has brought, Cissé is intent on continuing the nonprofit's work. "Helping people is a question of the heart, and my heart is in Guinea, particularly for low-income individuals," he says. "So I feel happy about what we do at the Cardiovascular Health Initiative. I did it for my father, and I am sure he would be very proud of what I have done."