Welcome Home, Rams
Suffolk community gathers virtually for inspirational opening celebration
New and returning Suffolk students, along with faculty, staff, families and friends, came together – virtually instead of in person – to kick off an academic year that President Marisa Kelly said would "be rewarding in ways we could never have imagined before the start of this pandemic."
Despite the change in format from the traditional academic convocation, this year's unique celebration was as meaningful as ever for the newest members of the University community, the Class of 2024.
The welcoming event offered a powerful and inspirational message of resilience for students who have had to face the tragedy and disruption of the pandemic.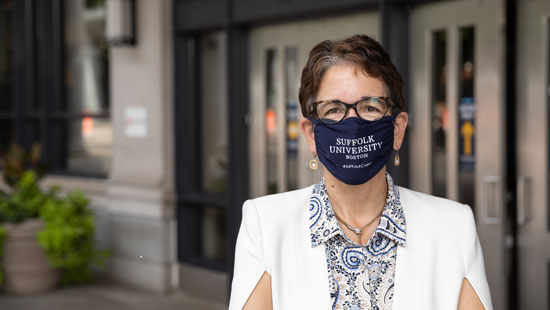 Boston Strong
Speaker Adrianne Haslet, a professional dancer who lost her left leg below the knee during the 2013 Boston Marathon bombings, talked about cultivating the strength to overcome obstacles with the support of the Boston community.
Since her leg injury, Haslet has beaten the odds in stunning fashion, returning to the dance floor and winning her first competition back, as well as running in the 2016 and 2018 Boston marathons. She even appeared on Dancing With The Stars.
As she reflected on the physical and emotional effort it took for her - a "non-runner" adjusting to life with a prosthetic leg - to attempt the Boston Marathon course for the first time, Haslet praised students for their resilience in the face of the pandemic.
"Sometimes the hardest part is just getting to the start line. What got me to the finish line is thinking about all the things that got me there. You have to be the one to rally for yourself and have others rally around you."
Haslet shared a number of life lessons with the Suffolk community that she had "to learn and relearn" during her recovery.
"When someone tells you something cannot be done, it is more of a reflection of their limitations, and not yours."
Haslet closed by telling students: "Your life can change in a matter of 3.5 seconds, but it's up to you to make every second count after because, believe me, they do."
"Suffolk's has never been a typical university experience."
President Kelly emphasized her excitement for the start of the academic year and the "life-changing educational opportunities" that await students throughout the University.
"Over the past six months, you have faced extraordinary adversity, disruption and in many cases heartache," she told students. "And yet, whether you are taking courses online, face-to-face, or both, you have chosen to be a part of this great community. In the face of real challenges, you are choosing to make a better future for yourselves and to make a difference in the world. You are resilient. You are courageous. And you are relentlessly pursuing your dreams. And that, to me, is more than exciting. It is inspiring.
Kelly acknowledged that this would not be a typical university experience. "Then again, Suffolk's has never been a typical university experience. We have always been proudly atypical and distinctive," she said stressing the University's experiential and creative approach to learning, its urban environment and the adaptability of its students and graduates. "None of that changes with the pandemic. In fact, we are doubling down on it," she said.
Kelly stressed that this is a monumental time in this nation's history for students joining or returning to Suffolk, particularly when it comes to issues such as the public health crisis and racial injustice.
"We as a University have work to do to combat racism and to foster equity," said the Suffolk president. "This is a transformative moment that requires all of us to act. We will not stay silent on this issue, but instead, we will continue to take real action toward meaningful change."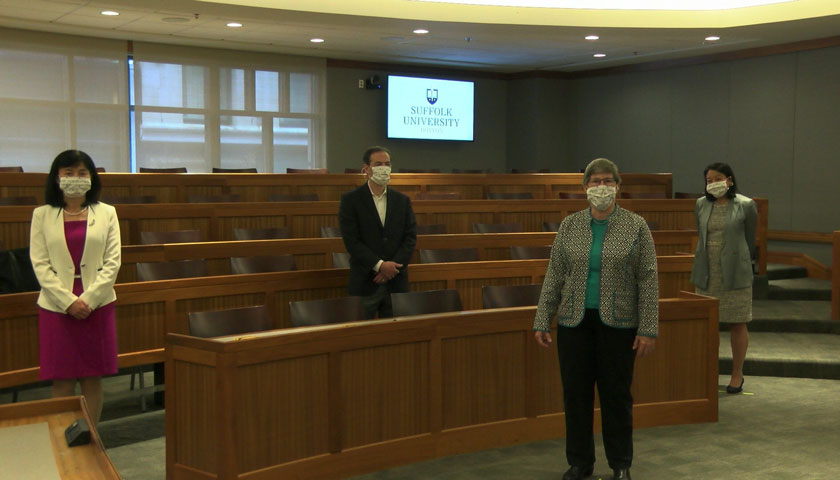 "Your opportunities remain endless."
Suffolk's Student Government President Karine Kanj-Elassafiri, Class of 2021, took part in the welcome-back event from her home in Lebanon. Through a recorded message, she encouraged new and transfer students to get involved as much as possible in the Suffolk community.
"Getting involved will help you feel secure and at home," she said. "It will help you meet people locally and from around the globe."
Kanj-Elassafiri, a government major, challenged the Class of 2024 to make the most of the next four years.
"You got accepted to Suffolk for a reason," she said. "Stay safe, follow the rules, work hard, and start painting your unique Suffolk experience."