The Degree Made the Difference
Armed with a Suffolk Executive MBA, the sky (or the C-suite) is the limit for this Business School alumnus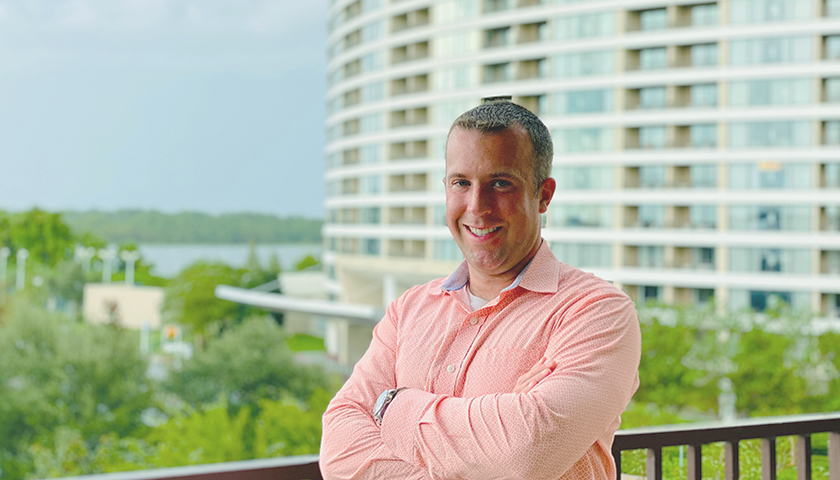 Matt Chamberlin, BS '11, EMBA '19, started working at Liberty Mutual just a couple of days after his undergraduate commencement. He's been there ever since, rising steadily through the ranks.
Along the way, he's learned the nuts and bolts of the insurance business, first as an adjuster, then as a litigation specialist, and then as a manager. But at a certain point this government major sensed there were gaps in his business knowledge.
"I didn't have any formal business education," Chamberlin says. "I was able to teach myself a lot, but I was clearly missing skill sets: true accounting, true finance, operations, strategy."
So he decided to enroll in the Suffolk EMBA program partly because he already knew the University well. Plus, he was attracted to the all-day Saturday class schedule and the flexibility it gave him to continue working full time. And once he was in the program, what he really liked was having a diverse cohort, which became a learning experience in and of itself.
"What makes the cohort so exciting is everyone comes from very different places," says Chamberlin. "Although we deal with all the same issues, to see all the different lenses and all the different ways of thinking through things based on everyone's array of experience was really rewarding and engaging for me."
Chamberlin says he's still close to his cohort, going to each other's weddings and talking frequently. "We're like a family now," he says.
Direct results
Chamberlin can draw a line from his EMBA experience to further success at Liberty Mutual. "I was lucky to experience immediate job growth throughout my Suffolk journey," he says. "It allowed me to fill in those gaps and speak with confidence and to feel good about the abilities I had."
He began managing the construction liability department, which oversees and insures some of the biggest construction projects around the world.
Then he was named strategy director for the company's commercial clients across the world. In the summer of 2020, he was promoted to vice president and moved to Celebration, Florida, to oversee operations for all of Liberty's commercial customers. Chamberlin believes he wouldn't have been promoted to those roles if it wasn't for his EMBA.
"I was at a ceiling where I'd maxed out what I was going to do without going for an MBA, so it absolutely got me to that next level," he says. "And once you're at that level, you have endless possibilities. That's what's cool about the program: Now I've got that credential, and all the way up to a CEO role is fair game."
Contact
Greg Gatlin
Office of Public Affairs
617-573-8428
Ben Hall
Office of Public Affairs
617-573-8092